Photoshop is everywhere. If you see a picture in the media, chances are it has been digitally enhanced in some form or another. Most people's general understanding of photoshop is that it is used by photographers and can fix issues with lighting and color. What they are not aware of however, is how many people actually use photoshop, and the extent to which they can use it.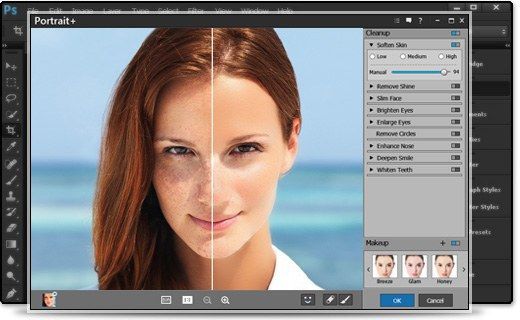 Some of the common professions that work with post processing programs alongside photographers include web designers, graphic designers, advertisers, magazine editors, modeling agencies, book cover editors... The list goes on and on. We see it used on magazine covers, in articles, on billboards, on TV, in websites, and just about everywhere in social media. It portrays the media's idea of "average", while simultaneously setting standards for ideal thinness and beauty. We are told these bodies portrayed through digital manipulation are "real people", and we should aspire to look just like them.
What do these "real people" actually look like however? That would take hours of pressing an undo button in photoshop to discover. The picture we are given shows all types of alterations, including but not limited to, slimmed down thighs, shrunken waists, limbs that have been stretched out to look more lengthy, lightened skin tones, and any traces of acne, scars, bruises, cellulite, birthmarks, or "imperfection" has been removed. Along with all of this enhancement, body parts are often replaced with those of another person, with the end product resulting in an almost unrecognizable person. Over time as photoshop programs have gradually evolved and become more available, the use of digital enhancement on images shown in the media has grown to a much greater extent.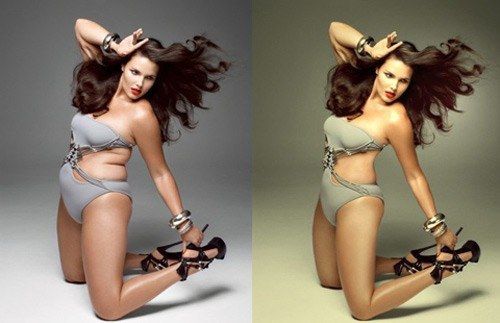 Okay, so what? What's wrong with using a brush to make someone look a little skinnier or clear up their face of acne? Why is this an issue? Because it's not just "making someone look a little skinnier." It's setting a standard for beauty and ideal bodies that is simply unrealistic. These images of people are put into the media for society to look up to as role models. When the average American views an image in the media of a flawless model, they compare themselves to that model, scrutinizing every part of their own body. And what do they see? Every little thing wrong with himself that the media has now deemed as a "flaw." This potentially leads to a negative self image, no matter how confident that person is with himself. This is especially prominent in females, who are under the constant pressure to look like models in the media. Even in ads that promote being healthy and working out to achieve the look you want, models are photoshopped to look more toned and muscular. While this is more of an issue with females than males, men are still victims of the editor's eye.
The average American stumbles upon over 3,000 advertisements every day, with images of idealized female beauty at the center of many of these. Failure to live up to these perfected expectations is inevitable, because these images are based on a level of flawlessness that does not exist. Studies have shown that young women and girls who are exposed to beauty and fashion magazines are at greater risk of developing body image issues or worse, full-blown eating disorders. Depression and eating disorders have been proven to be directly linked to society's exposure to the way people are portrayed in the media. And the age at which society starts to develop body image issues has increasingly gotten younger and younger. In a paper written at the University of Sussex, it was said that in a survey of over 500 adolescent girls aged 9-16, nearly 70% believed magazine pictures influenced their idea of the ideal body shape, and 47% of the same girls wished to lose weight as a result of this. These alarming statistics show a direct correlation between what we are shown by the media, and how we view ourselves. Yet nothing is being done about it.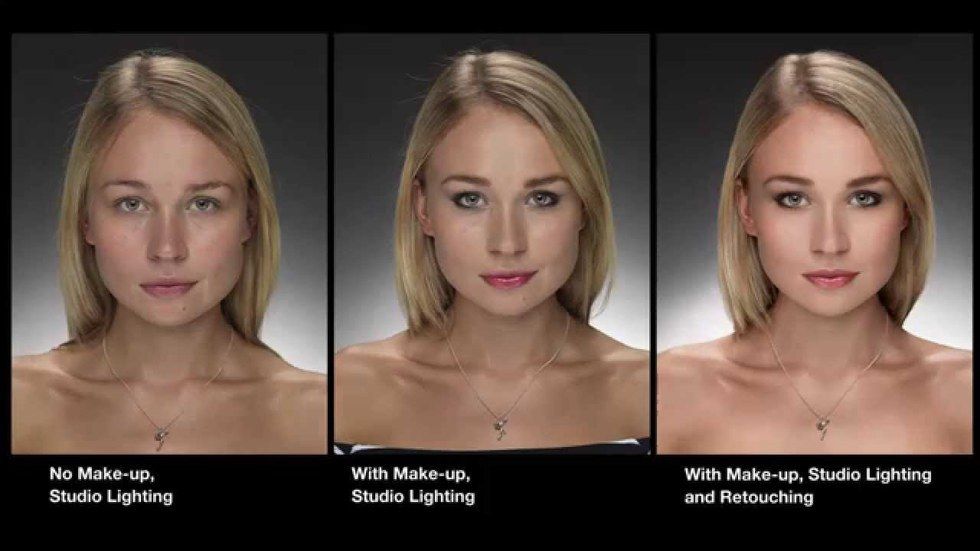 By providing these artificial illustrations of flawless models, society is taught to fear even the smallest of imperfection on their body. The retouching of images is essentially never disclosed to the end viewer, and as a result we are led to believe that this is what the models actually look like. Surveys have shown that most people do recognize the fact that images in the media have been photoshopped, yet the same surveys continued on to show that even with this knowledge, people compare themselves against the images, and have a negative view towards themselves after viewing the images. Exposing society to these "ideal" people has a negative impact on body satisfaction, whether we would like to admit it or not.
In a video published in 2012, on "body evolution", society was given a glimpse at just how 'real' the final product of the model looks. The video took form of a time lapse, showing the process of photoshoot-photoshop. The world watched as the model was transformed in photoshop, with tools altering her entire body shape, facial features, and skin tone. The final product? An airbrushed, stretched out person.. Literally. The video went viral, and the public was in an uproar. Yet even after that, the media continued to use the same amount of photoshop they always had, and the public went on with their daily lives.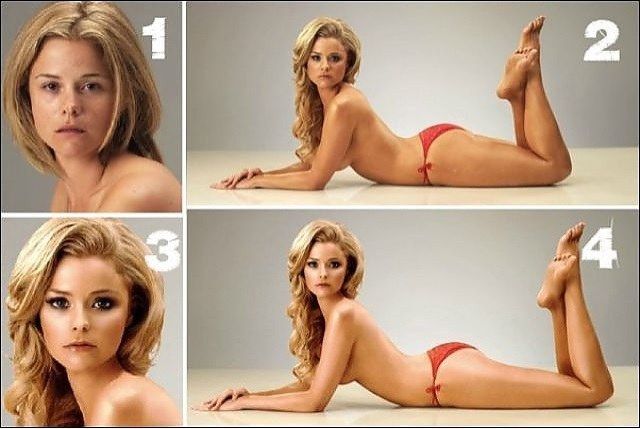 So what can we do about this? Obviously the use of photoshop can not be stopped in its entirety, so how do we separate fantasy from reality? By educating the population on this ongoing issue, through social media, campaigns, presentations, etc. Dove started a "Movement for self esteem", blasting the media with all kinds of videos, pictures, commercials, and ads that featured people showing their real selves and what they thought. Aerie started putting girls on their bags, with "This girl has not been photoshopped" to show that they swore off the use of photoshop in their promotion. And all sorts of hashtags have blasted social media over the years, such as #ImNoAngel, #Fitkini, and #BodyPosi to promote self love. The NOW Foundation (National Organization for Women Foundation) started a "Love your body Day", which "challenges the message that a woman's value is best measured through her willingness and ability to embody current beauty standards." The media needs to put out more disclaimers about images that have been photoshopped, and start promoting healthier looking models. We need a wider definition of beauty, not one that has been slimmed down and airbrushed.
While beauty may be in the eye of the beholder, for now, it is in the eye of the photoshopper.