I know the cool thing to do on the Internet nowadays is bash 2016 and say it's been a bad year for our government, but it hasn't been ALL bad. In fact, in the world of mental health policy, 2016 shaped up pretty good. The Helping Families in Mental Health Crisis Act passed the House in July, and it helped solve many of the administrative woes people struggling with mental illnesses deal with, including codification of Medicaid coverage for inpatient mental health care, HIPAA education programs, reports and transparency on parity, and grant programs.
The bill was a great step in the right direction, but we can't stop there.
The bill's counterpart in the Senate, The Mental Health Reform Act (S.2680) still needs to pass this year, and if it doesn't pass both the House AND the Senate soon, the process will start all over, because Congress is about to have a major turnover thanks to the election. If it doesn't pass before the "lame duck" period, all the momentum will be lost, and all the advocacy and voting up to this point will have been for nothing.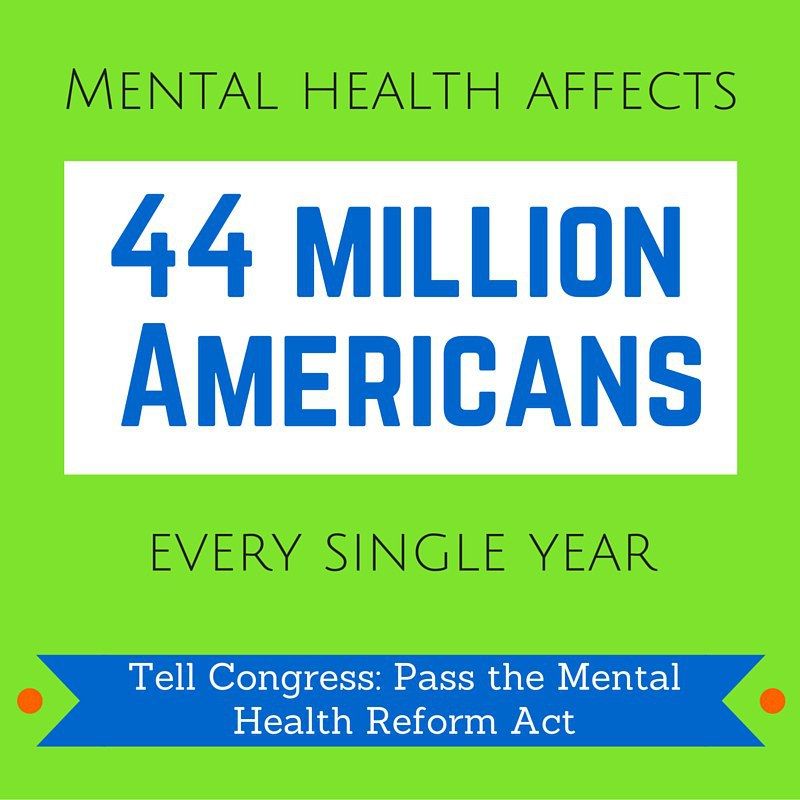 1 in 5 Americans suffer from mental health problems, and 73% of Americans say lack of access to mental health care is a problem in our country. This bill will expand access to mental health services, increase suicide prevention efforts in schools, increase the mental health workforce, integrate health and mental health care, strengthen the community crisis response system, and so much more. It would make a positive difference in the lives of 44 million Americans.

There are SO many ways you can help ensure this bill gets through Congress! If you have time, a phone message to your Senator is easy. Dial (202) 224-3121. Press #1 and enter your zip code. It's also easy to write a letter to your Senator's office.
The most college-student friendly way to get involved, however, is as simple as a tweet! Most Senators are on Twitter now. Its how they stay #hip and #turnt. Use a hashtag to help ensure your tweet is seen. Something as simple as "Dear @(Senator's twitter handle)- I urge you to help support the #MentalHealthReform Act, S.2680" can make a difference, not only in getting the bill passed but also in spreading awareness, as followers of both yourself and your Senator will see you advocating for mental health reform.
I know it seems like Senators ignore these things, but they don't. Believe it or not, most Senators have a heart, and they want to do what their constituents want. Mental health affects so many of us, and this bill will help those who suffer get past all the administratie and legislative hurtles they currently face, not to mention it will increase education and outreach so in the future, less people will have to struggle with depression, anxiety, eating disorders, drug abuse and more. Senators are meant to represent our voices, so reach out to yours and make sure your voice is heard.