Shortly after Kaihla's sister made her a dating profile on Bumble (despite her fear of being catfished), she matched with Shanna, and their chemistry was quickly undeniable. So much so that only a month and a half into dating, Shanna told her best friend "I think I'm going to marry her," and eventually, the nonprofit worker and elementary PE teacher duo proved this to be true.
In the fourth episode of a new docuseries called "Pandemic Weddings" by SoulPancake, the couple opens up about how they met, the difficulties of canceling a non-refundable wedding of their dreams (that took a year and a half to plan), as well as the pain of having family members who didn't support their marriage use the pandemic as a convenient excuse not to come.
Despite it all, the two soulmates eventually wed and had not one ceremony but two pandemic-approved ceremonies to celebrate their love. So, I had to chat with Shanna and Kaihla to learn more about how they got through the uncertainty of getting married during a pandemic and hear their best advice for anyone going through the same.
Q. Looking back to how you met, do you have any dating app tips for those who are currently on one and are having trouble finding their perfect match?
Shanna: "Don't give up hope that you can find someone really great for you on a dating site. There is this stigma around dating sites that make people embarrassed to say 'we met online' or 'we met on *blank* app.' But screw what people think. There are other people like you out there who are really looking for their person. Yes, you may have to weed through the 'hook up only' matches, but I think it is still worth a shot to put yourself out there."
Q. Now, fast-forwarding to your wedding planning process, at what point did it really hit you that you'd have to cancel your wedding? What were those emotions like?
Kaihla: "I think it was the week before our bachelorette party and we had to make a decision to cancel it. We were so upset because we felt like it was part of our wedding experience and we were only going to get one chance to do this trip. The next day we were talking and were like 'wait... could this affect our wedding, too? No...' and about a week later, which was a month out from our wedding, we went into the stay at home order and that's when it hit us that our April 25 wedding was not going to happen. We were devastated — we couldn't believe this was happening. We never thought COVID would be something this bad. Once we cried our tears, we picked ourselves back up, and began our rescheduling process."
Q. You mentioned how family members were beginning to RSVP no because of COVID-19, but you couldn't help but wonder whether it was actually because they didn't support your marriage. Can you share some of the thoughts and feelings that came with this? How were you able to remain positive through it all?
Kaihla: "It was a tough time for me. It created a lot of uncertainty and anxiety. I knew some family members' beliefs and some of them had made it known they were debating coming for personal beliefs. So for those people to then cancel because of COVID or other coincidental reasons, it creates doubt and hurt. I knew deep down why they weren't coming and that really crushed me for a while. I eventually came to terms with their choices because I thought if they really love me for me, they will be there. And I only wanted people on the most important day of my life to come filled with love and happiness for my wife and I."
Q. Were there any moments in which you felt your relationship was being tested? How did you make it through those moments together? What was your biggest lesson/takeaway?
Shanna: "When we started to have to cancel things we started to feel the strain as a couple as well. We became very pessimistic and felt like 'well what else can go wrong?' We had very little hope that even our rescheduled wedding would happen. We started bickering frequently and being short-tempered with each other and one night we kind of had a breaking point and were like 'what are we doing? This is not who we are as people' and had to center ourselves around why we were going through all of this in the first place. Once we had that moment and remembered the whole purpose of all the stress and time and tears was that we love each other and that was all that mattered."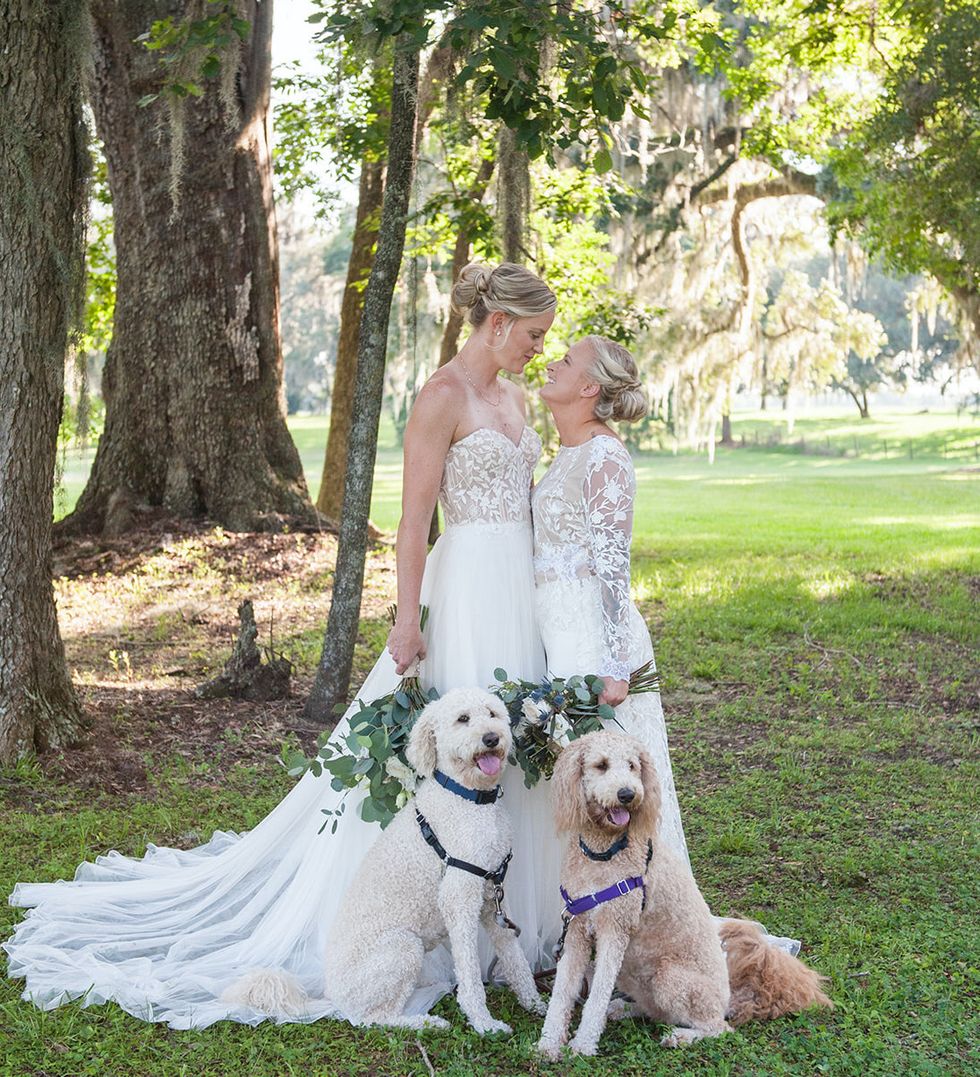 Courtesy of Shanna and Kaihla
Q. How did the expenses and the job uncertainty factor into your stress, particularly while planning your wedding? Was your venue flexible with refunds?
Kaihla: "The stress of job uncertainty was in the back of our minds during the process and definitely weighed on us. We never really discussed an option with our venue regarding refunds. When we spoke with them about having to cancel, they gave us dates to reschedule and we ended up choosing June 20 as our new date. We were planning on moving in the summer and kind of felt like it was a now or never moment. The wedding being delayed coupled with fewer people coming actually helped us a little financially."
Q. Your small ceremony in Kaihla's parents' backyard looked so special and the vows were beautiful. What was that day like?
Shanna: "That was the most perfect day. We knew when we initially moved our big wedding date that we wanted to have some kind of ceremony on our original wedding date. We tried to have a beach wedding at a nice resort and got it all booked. A few days before, the venue notified us via email that they would be refunding us because they had to shut the resort down. We then decided on Kaihla's parents' home because they have a beautiful backyard and we could have our closest family there safely. We built our own arbor and got ready in separate parts of the house. We got to read each other our vows and have our own little version of the perfect day we had imagined."
Q. You talked about having a hard time letting go of your expectations, how were you able to do that? Once you had the ceremony you dreamed about (at a smaller scale) three months later, did it end up being better than you imagined? Or was there anything you would have changed?
Kaihla: "After we had that moment where we got back to the reason we were doing all of this, it was easier to accept what would be and let go of those expectations. We knew things would be different than we planned but we were still going to have the day we dreamed of and we adopted a kind of 'go with the flow' attitude about it all. I wouldn't have changed anything about our big wedding that was rescheduled. Ideally, I would've liked to have just one ceremony so that we could experience the whole wedding day process only on that day. We joke that we were a little too relaxed on our wedding day because we felt like we had already done it. But the whole day was just as we dreamed and didn't feel any less special to us."
Q. What would you want to tell other couples who have fall weddings that are up in the air?
Shanna: "I actually was recently asked this question by a friend who had to reschedule her August wedding. She's my hairstylist and was along for the whole journey with Kaihla and I — including our bridal hair on the big day. She texted me asking how we dealt with our wedding being moved and that she was so upset and struggling with it. My advice to her and to anyone else would be to try to let go of the expectations you had for your day. And that's easier said than done! The hardest part is coming to terms with the fact that your wedding will no longer be on 'that day' or at 'that place' and maybe some of your most important people won't be able to be there. But remember you are so lucky to have your person and you have chosen each other to love for the rest of your lives."
Watch Shanna and Kaihla's full episode of SoulPancake's Pandemic Weddings here:
SEE ALSO: A Couple's Disney Wedding Was Canceled By COVID-19, But Bringing The Magic To Their Front Porch Was Destiny

Follow Swoon on Instagram.