When going through hardships, it's often easy to focus on the negative and become overwhelmed with emotion. On the other hand, though, it's the hard times that often lead to us gaining a new perspective on what is truly important in life.
In the second episode of the "Pandemic Weddings" docu-series by SoulPancake, Jasmynn and Joshua Abernathy share their personal COVID-19 wedding journey and how it brought them closer to each other and to God, even after the couple faced a tragic loss.
Originally, the couple planned to be married in front of 140 close friends and family members on their three-year anniversary, but the pandemic, of course, took this off the table. This alone is enough to challenge anyone's faith, but with the news that Joshua's friend, a newly ordained pastor who was meant to marry them, was then murdered, the couple had to turn entirely to faith and their love to give them hope.
After watching their emotional journey that ended in them getting married on Zoom with just the two of them and Joshua's godfather in a church, I had to chat with Jasmynn and Joshua to hear more about how they remained positive through it all.
Q. Over the last few months, you have been through a lot together — between Joshua losing his friend, the pandemic, and making alternate wedding plans. What were those emotions like and how do you think you were able to stay so positive?
"With everything that was going on, we definitely felt sad and confused but our faith in God really helped center us and give us hope. There were times when either of us felt numb and felt that things were unfair. We allowed the emotions and knew they would pass, which is what helped us to stay encouraged that the circumstances would eventually get better."
Q. Through it all, would you say your relationship has changed (other than being married now) since the beginning of the pandemic? If so, how?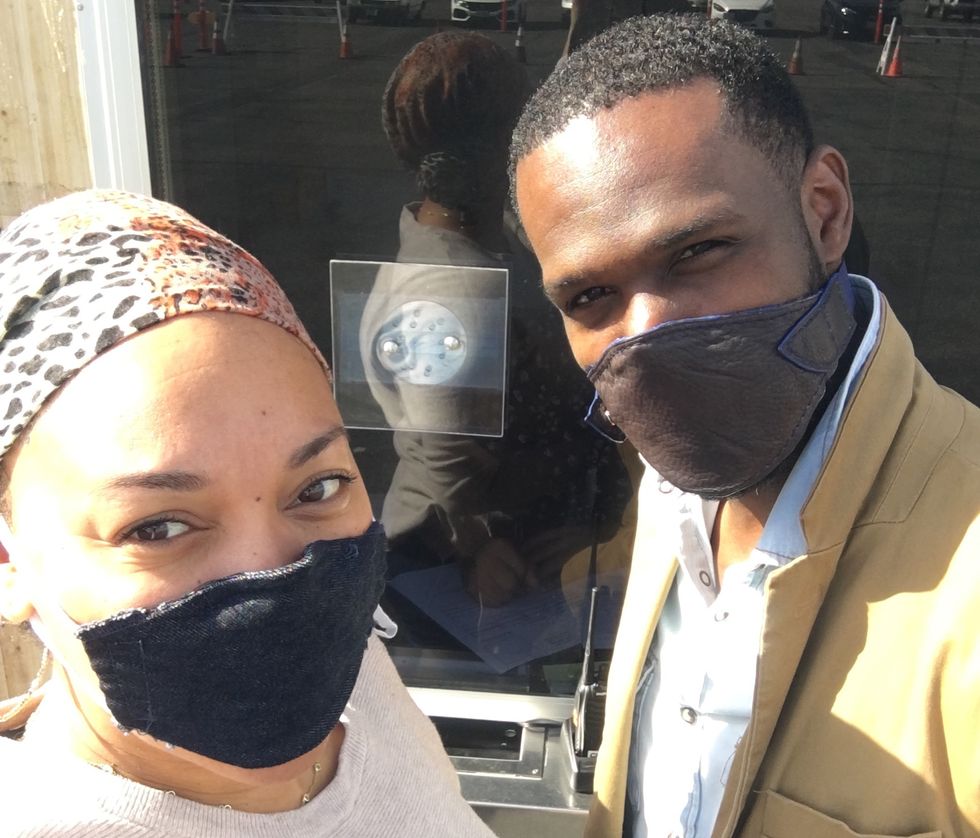 Joshua and Jasmynn Abernathy
"Our relationship has definitely changed. Dating, as we knew it, has changed completely. We have had to be creative in finding new ways to spend quality time together inside and outside of our home — we've discovered that drive-in movies have become a new favorite for date night. Our communication has improved since we have fewer distractions outside of our regular work schedules. We're also spending a lot more time around each other, which somewhat forces us to address issues or conflicts."
Q. How has your shared faith helped you get through these unprecedented times?
"Our faith has served as an anchor. Regardless of what's going on around us, we are rooted in our belief that God has a hope and a future prepared for us. We both have moments when we just really can't see how these times can get better. There are always highs and lows throughout life- and the lows of 2020 seem to keep coming. We believe that there is meaning in navigating tough times together and it will ultimately build us up as individuals and help us as a couple as we navigate the inevitable challenges that come with marriage."
Q. Did you ever feel your faith was shaken at all?
"We would say that our faith has been challenged. It's a bit like weight-lifting — you have to break down the muscle in order for it to grow. These times are trying and we can either give up or lean into our faith more. We choose to lean in and focus on how God provides what we need daily. Taking things day by day helps."
Q. Your virtual vows were beautiful! How did or didn't having a more intimate ceremony change your perspective on your relationship and now marriage?
"Thank you! Having a more intimate ceremony, while it was a complete contrast to what we had originally planned, helped us realize the key ingredients to what we think we need for a successful marriage: us, God, and our community of family and friends. We felt that things worked out just as they should. Removing distractions that are present during big ceremonies, nerves, and lots of busyness in general, helped us to focus intently on each other. We think that the smaller ceremony gave us a gift that we didn't originally expect."
Q. Did you ever consider moving your larger wedding to a later date? When did you decide the Zoom wedding was right for you?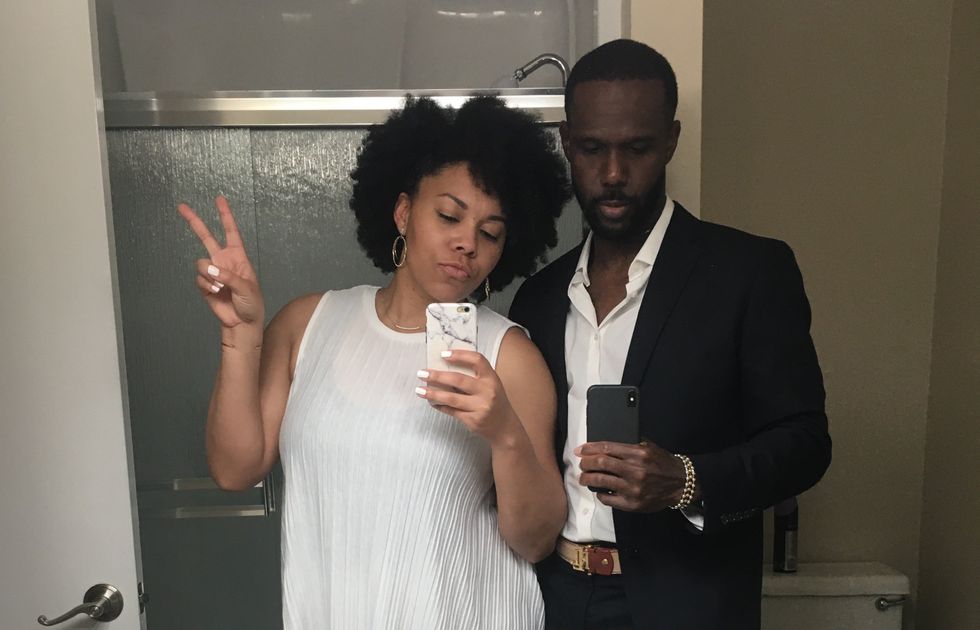 Joshua and Jasmynn Abernathy
"After we canceled our big wedding in March due to the shutdown, we were planning to have our larger wedding in September 2020 (we later canceled this plan in July). As we prepared for our vow exchange with Josh's godfather on our original wedding date, we wanted to make sure we included some close friends and family. Since it was right in the middle of the first wave of COVID-19, we couldn't imagine hosting even a small gathering. So we ultimately decided to set up some of our family and friends on Zoom so that they could witness our ceremony."
Q. What was the hardest or most emotional part of the journey for you?
"The most emotional part of the journey for us was the loss of Josh's friend, Marvin, who had planned to marry us. The pandemic really has a way of making you live in the moment since everything is so unpredictable. Up until the point that we learned about Marvin's passing, we were just grateful each day that we had not had any friends or family who had become ill with COVID-19. We would have never guessed that we'd experience a friend being murdered. That was a big shock."
Q. Looking back, is there anything you would have done differently?
"Looking back, we definitely should have upgraded our Zoom membership since it cut off part of the way through our ceremony! But despite our technology fail, our virtual wedding guests were still able to catch our vows. Also, I (Jasmynn) would have loved to have a micro wedding, including wedding decor and some of our friends and families like we have seen others do. I (Joshua) believe things went as they were meant to go and wouldn't do anything differently."
Q. Do you plan to have a larger ceremony or reception in the future?
"We have officially postponed our celebration to April 2021, our one-year anniversary. We hope that future times allow for the big gathering that we envisioned and, if not, we plan to save the money for the purchase of our first house."
Q. What would you want to tell other couples who have fall weddings that are now up in the air?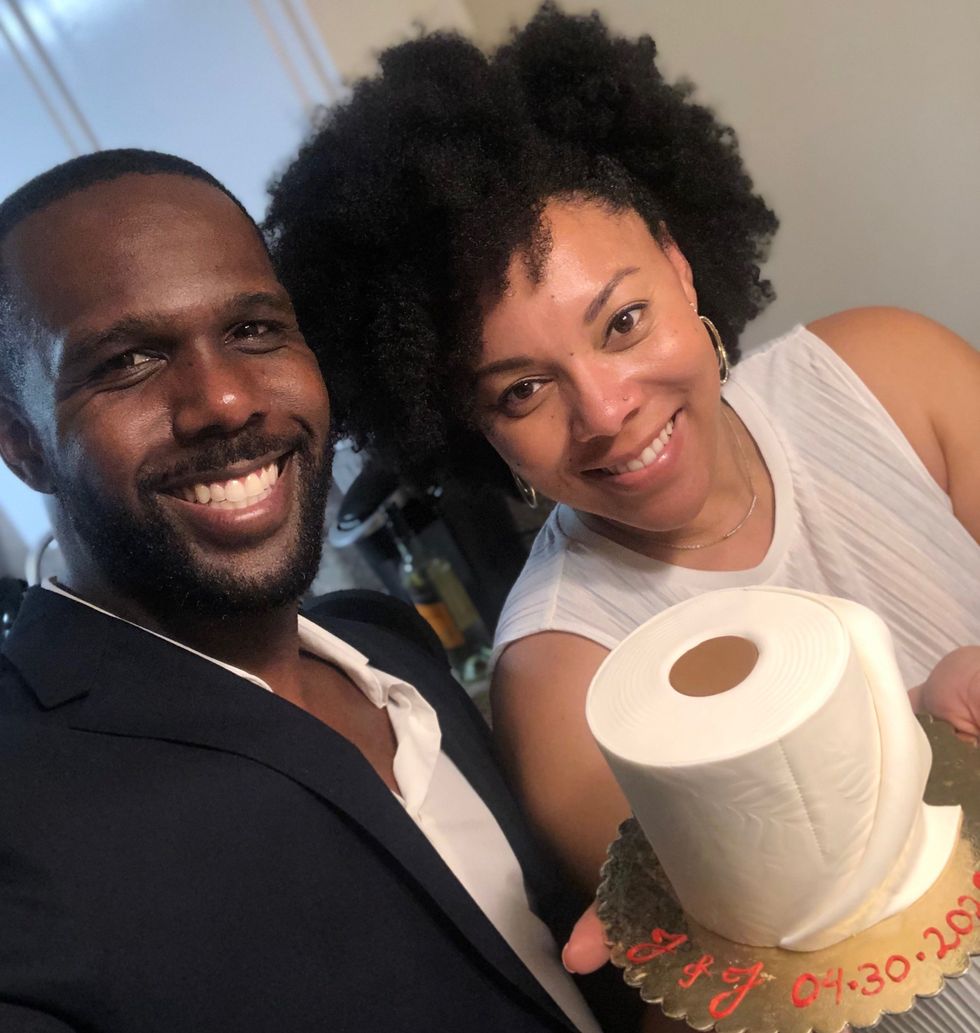 Joshua and Jasmynn Abernathy
"Seize the day! We all have ideal scenarios and visions that are hard to put down but don't let a change of plans keep you from marrying your love. One thing we've learned during this pandemic is that rolling with the punches helps ease the disappointment. These times will be unforgettable — might as well throw in some highlights."
Watch Jasmynn and Joshua's full episode of SoulPancake's Pandemic Weddings here:
SEE ALSO: A Filmmaking Couple Documented Their COVID-19 Wedding Journey, And They Kept Everything In Focus

Follow Swoon on Instagram.