After being set up on a blind date that didn't quite go as well as expected, Allison and Tony eventually decided to go out again when Tony slid into Allison's DMs for a second shot at love. Now, the nurse and firefighter duo are happily married, but much like their first date, their journey to get married also didn't go according to plan because of COVID-19.
In the third episode of a new docuseries called "Pandemic Weddings" by SoulPancake, the couple shares the story of trading in their dream Disney wedding for a front porch ceremony instead. Much to their surprise, the alternate wedding plans were almost destined to be — they ended up unknowingly getting married the day before Tony's parents' anniversary and on a front porch like Allison's parents had gotten married. Then, Disney happened to air their Happily Ever After virtual fireworks that very day.
With such a serendipitous love story despite the hardships of the pandemic, I had to chat with Allison and Tony to learn more and get their best advice for anyone going through it now.
Q. Starting with how you met, first on a blind date that didn't go quite as well as you may have thought. What would your advice be for anyone who had a not-so-great first date but still wants to try a second date?
Allison: "I would tell them to always give it a second chance! You never know how you will look at something with a new set of eyes the next time. It truly paid off for us."
Tony: "You should keep an open mind, sometimes people are nervous on that first date and don't behave how they normally would. Always give it a second chance."
Q. Now, what advice would you give someone who's hesitant to slide into someone's DMs?
Tony: "Just go for it! The worst they can say is no thank you, then you go on your merry way. You should be confident but not crude, be willing to accept no as an answer, and be polite. Nothing is more off-putting than a vulgar message."
Q. Fast-forwarding now to the wedding journey. How were you able to stay grounded and keep pushing forward despite things being closed and the wedding you dreamed of being canceled?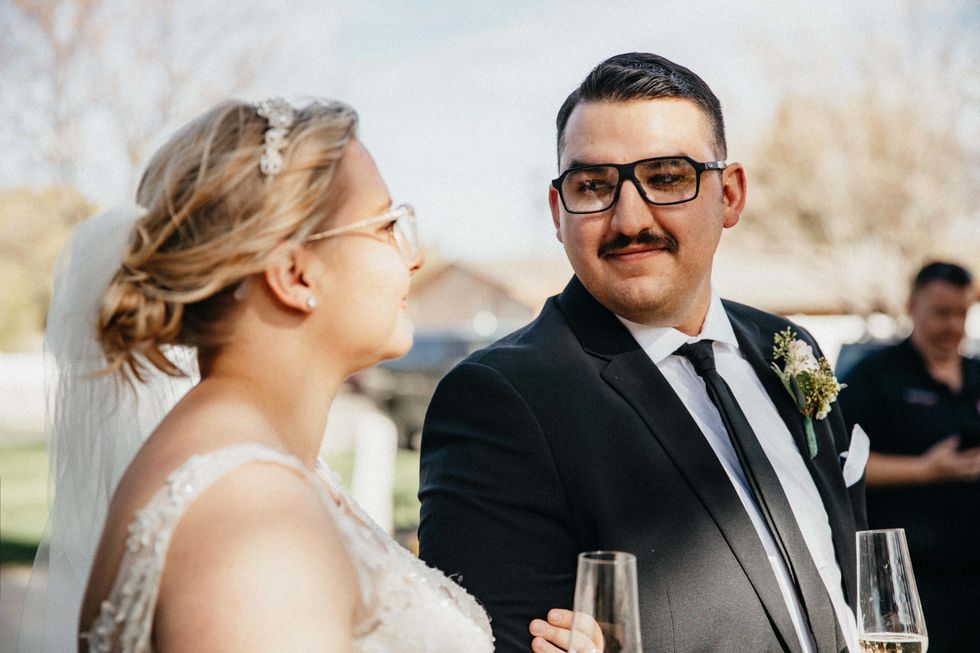 Tony and Allison Herrera
Allison: "We kind of had no choice! With our work, we just had to keep trucking along and had little time to think about the wedding. It kinda hit us about three weeks before the wedding when we finally looked at our wedding countdown and realized we weren't going to Disney."
Tony: "Allison kept me grounded, nothing else."
Q. Do you feel your jobs as a nurse and a firefighter played into that and helped keep things in perspective for you?
Allison: "Yes, most definitely. We realized pretty quick that what really mattered was being together, not a destination wedding."
Tony: "Absolutely, it helped us see how minuscule our wedding was compared to what was going on. We couldn't have a wedding but people couldn't have funerals."

Q. What was the hardest part about canceling your wedding? What made it the most emotional?
Allison: "The hardest part was letting go of our dream. We had worked so hard to save money and plan everything and having to cancel so close to the wedding was hard. We had been so excited for the Disney Magic and then it was all canceled."
Tony: "Having to let go of being the reason my family would be together in the same place again."
Q. There were so many incredible moments throughout your journey that were so serendipitous. What was that like? You mentioned it feeling "almost like destiny," can you elaborate?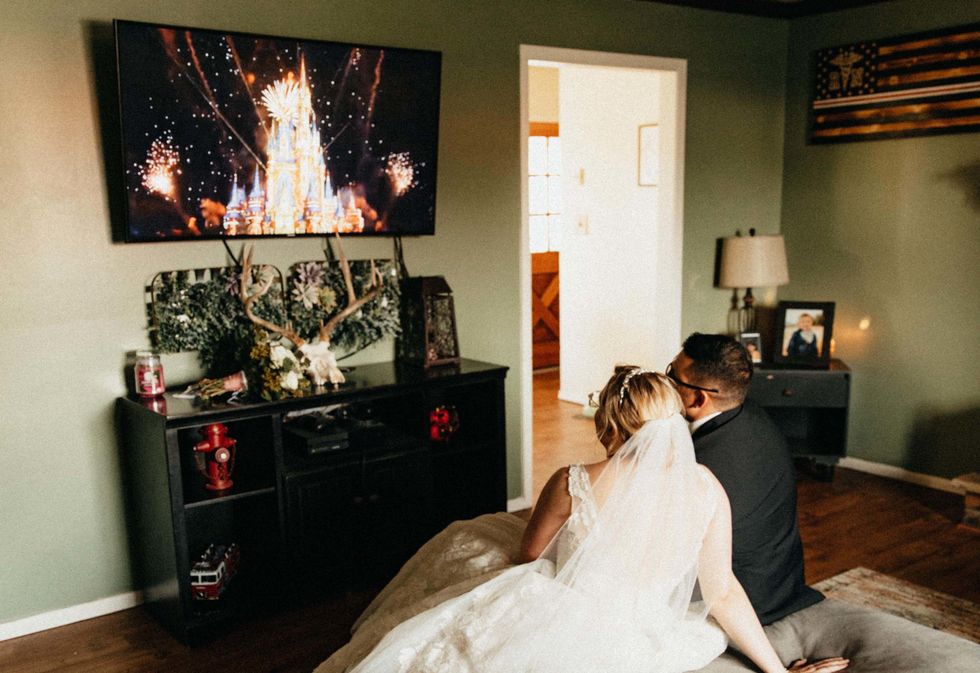 Tony and Allison Herrera
Allison: "It seemed like fate! Even though we hit so many bumps and obstacles everything worked out."
Tony: "When you're in love everything is a sign."
Q. How has this experience changed your relationship (if at all)?
Allison: "It just proved again that things will always work out, no matter what happens."
Tony: "I think it's made it stronger. We got through it together, and supported each other as we needed it."
Q. If you could go back in time, knowing what you know now about things being canceled and shut down, would you do anything differently? If so, what?
Allison: "I'm glad we went ahead and got married the day we planned. Knowing things remained closed a lot longer than we originally anticipated we would have had to postpone again anyway. I think we would have tried to do a virtual ceremony better and include more of our friends and family."
Tony: "Yes, I would have used the money for an awesome honeymoon. We still would have gotten married of course. Come hell or high water we were getting married that day."
Q. Do you think you'll have a larger reception or wedding in the future?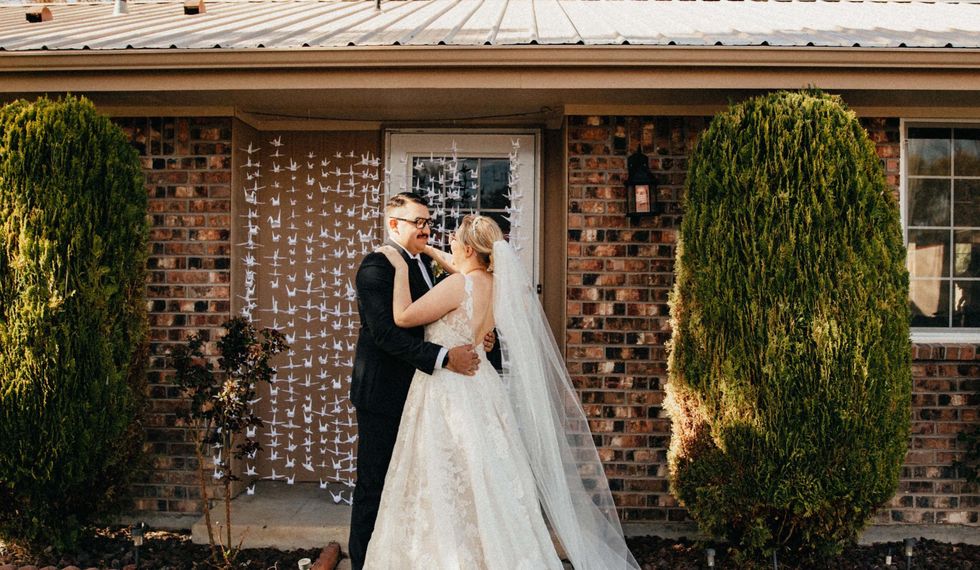 Tony and Allison Herrera
"Back in April we were planning to do something this September, but limitations are still in place and we're looking to plan something a bit later. That keeps getting pushed back, maybe we will just do it on our first anniversary. We would love to renew our vows at Disney in the future, even just something small because we were so excited for that Disney Magic I don't think we can let it go completely."
Q. What would you want to tell other couples who have fall weddings that are up in the air?
"Do it anyway! Work within your limitations of course but don't cancel. What matters, in the end, is your love, like we said, it's what is up on the mantel in 30 years. Give Tony a call, he's ordained!"
Watch Allison and Tony's full episode of SoulPancake's Pandemic Weddings here:
SEE ALSO: A Religious Couple Shared Their COVID-19 Wedding Journey, And Their Faith Kept Them Anchored Through A Tragic Loss
Follow Swoon on Instagram.