Maybe I'm a bit slap-happy from being in quarantine for nearly six weeks, but after stumbling upon PALOQUETH's Personal Wand Vibrator while writing about Amazon's best-selling sex toys, I simply CANNOT stop laughing. Seriously, the deeper I get into reading the reviews, the harder it is to stop.
If you're wondering "what on earth is so funny about them?" Well, to put it simply, out of the 819 and counting reviews, there are dozens of customers who believe this personal vibrator (a sex toy, for clarity's sake), is a neck, back, or foot massager. Yes, I'm serious.
You see, I guess the confusion lies in the fact that it doesn't look like a regular dildo, but um... that's precisely the point. PALOQUETH even says it's specifically "Designed to be as discreet as possible to protect your privacy, [so] you can leave the vibrator lying out in your bedroom or bathroom. It looks so much like your average back and neck massager that no one would even guess it's a sex toy."
I mean, I guess the sex toy company did a great job with this seeing as though people have literally not realized they're using a vibrating dildo to get the knots out of their neck.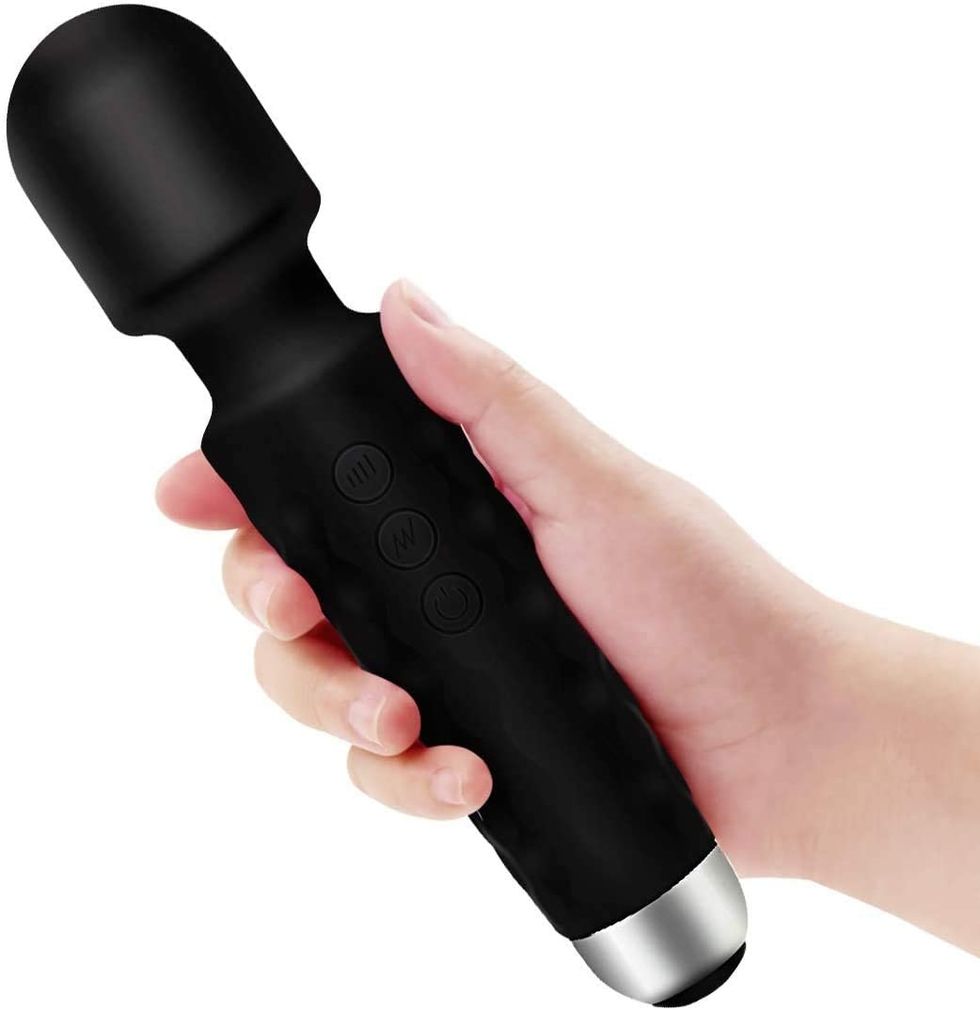 PALOQUETH
Maybe they are truly unaware (despite the overtly sexual photos on the product's Amazon page) that it's an intimate toy or they simply don't care as long as it gets the job done, but when I read that one guy was keeping it in his gym bag so he could massage the knots out of his body after a workout, I LOST IT.
"Great for sore, aching muscles," Mark wrote, adding:
"The massager itself is a bit smaller than I was imagining, but it fits in the hand nicely. The head is on a swivel, so it is easy to push deep into the muscles to get those nagging knots. The vibration is also rather strong. I was able to relax both of my feet rather quickly just by running this up and down the soles. I tried a few of the vibration patterns as I was working out a sore spot in my calf. I really like the options presented by the various patterns, and you can even change the speed for each. The entire head of this massager vibrates rather strongly, so you can push the end into a pressure point to relieve tension, too.

This massager is very highly recommended. It has earned a permanent spot in my workout bag. The size, grip, and versatility of this massager are far above any that I have seen in similar products. This massager makes me look forward to sore muscles."
Oh, Mark... Marky. Oh boy.
But he isn't even the only one who's confused, so you can't even blame him! If you scroll through the reviews, there's endless feedback about how wonderful it is for all different parts of the body. Another reviewer, Leisha, began her review with "It did not come with instructions, however, it was very easy to figure out." OK, we're off to a good start with this one!
"It has 3 buttons: on/off, mode (which rotates through around 10 different vibration patterns), and vibration intensity. The massager is light, yet durable. It was easy to use on the back of my own neck because the intense vibration does so much of the work for you, that I did not tire out my arm by applying a lot of pressure! Highly recommended."
Yea, definitely confused. The good news is this vibrator is obviously very versatile, so whether you're looking to use it as it's intended to be used or you want to follow everyone else's confused lead (no judgment), it's under $20 right now (normally $26.99)... and for that price, it's worth it for whatever your heart desires!
As an Amazon Affiliate partner, Odyssey may earn a portion of qualifying sales.

Follow Swoon on Instagram.