Maintaining emotional well-being while in college can be hard. There are so many things to do; classes, homework, jobs, internships, clubs, meetings, events, socializing—and that's just to name a few. Sometimes even eating becomes something we need to make time for! But how can we make time to make sure our hearts are alright?
The Anxiety and Depression Association of America states, 80 percent of college students experience daily stress and 34 percent of college students have felt depressed at some point in the past three months. The Associated Press Survey found that 60 percent of students said stress interfered with their schoolwork.
With finals week on the horizon, stress may seem inevitable. I've had friends tell me they sometimes get so stressed that they feel paralyzed and end up not doing anything for hours. Here are healthier ways to manage your stress that'll hopefully prevent you from becoming overwhelmed.
---
Through Pacifica I have found an easy and fast way to relieve stress. The tagline is, "daily tools for managing stress, anxiety and depression." This may seem like more than you can add to your busy schedule, but it's really quite simple.
The tools include logging your mood throughout the day, journaling your thoughts, and participating in daily goals. These tools are not meant to be a burden, but to integrate into your life like how opening Facebook and Instagram has become a habit. You just open Pacifica, log your mood and that's all.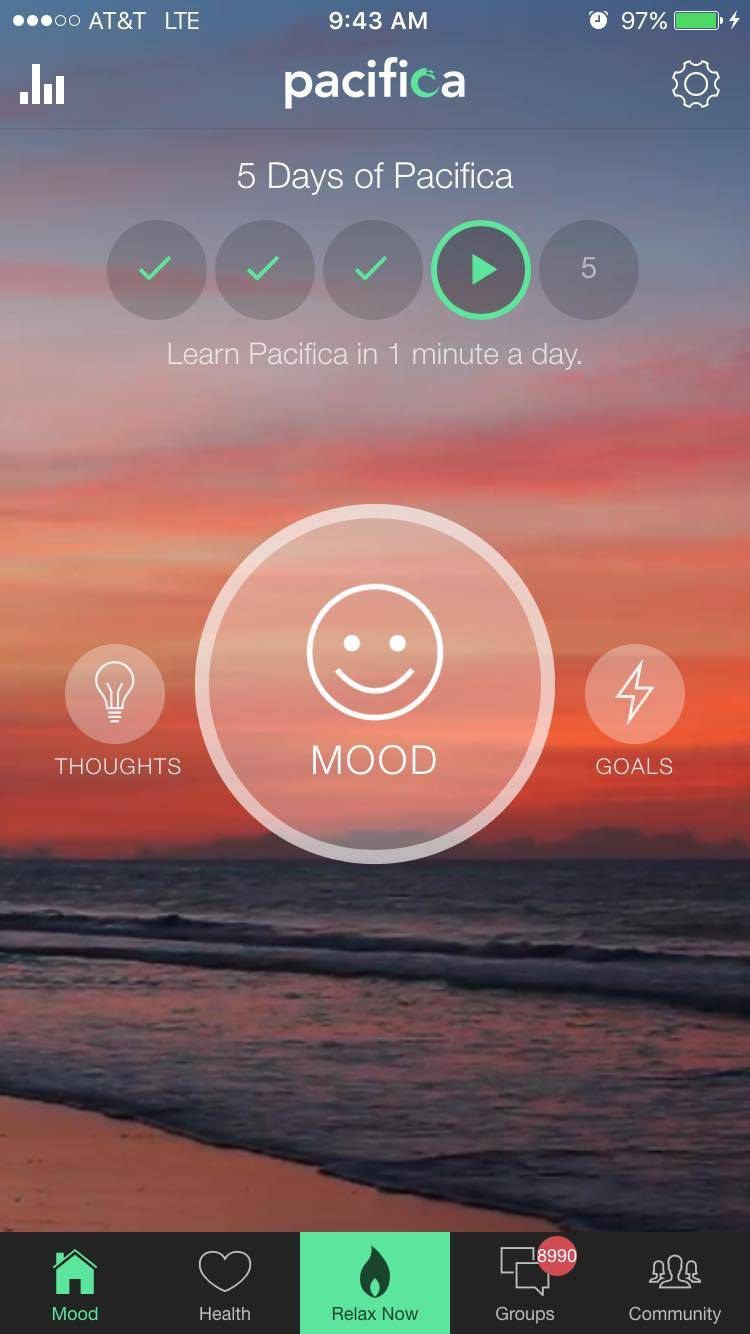 There are different levels of moods, so you can log that you are feeling good, bad, OK, great, awful and more. The creators of Pacifica understand that moods and feelings are more complicated than that, so they also have tags you can add when you log your mood. So if you're feeling very bad, you can also say you're feeling anxious, stressed, and lonely.
This helps to pinpoint your feelings and problems more thoroughly and make sure you understand what exactly you are feeling. Sometimes it's hard to really get to the bottom of a negative or positive feeling. You may be feeling down, but you don't know why. Pacifica asks you to go a little deeper and it gives you insight into yourself.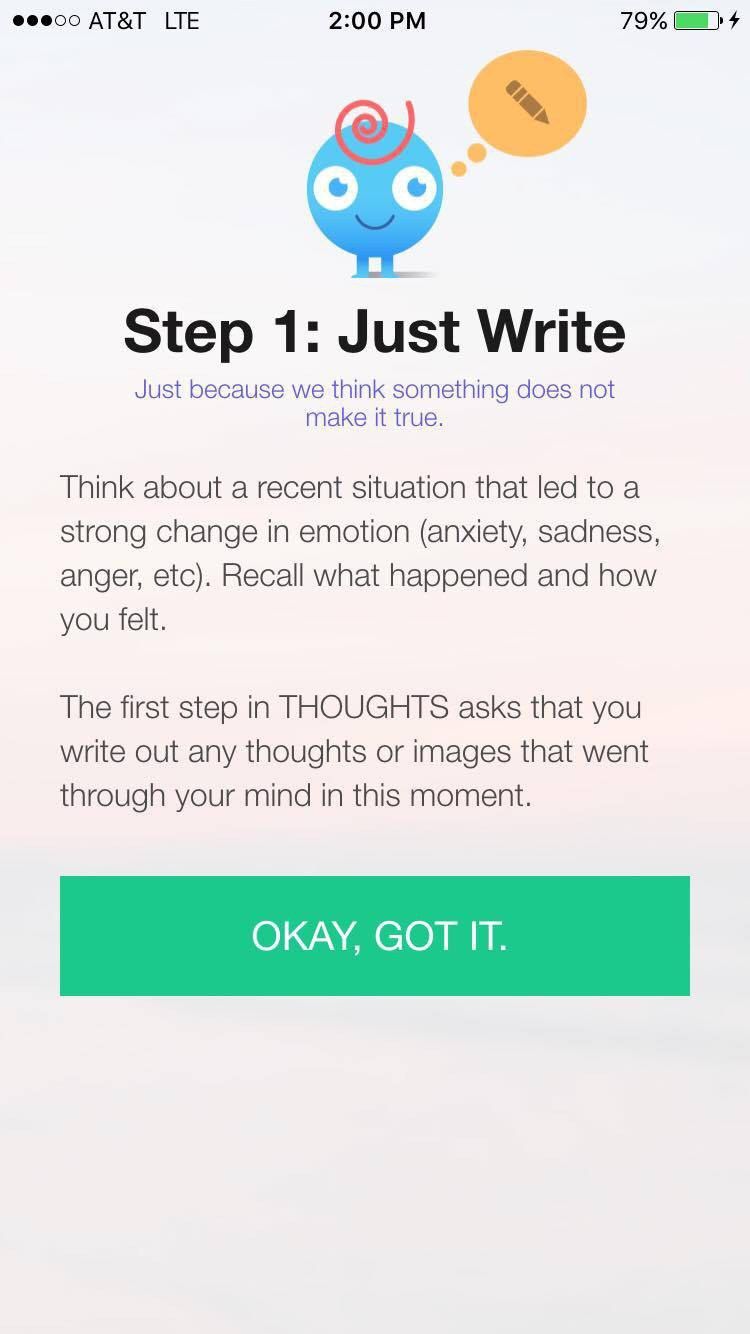 The journaling tool lets you record your thoughts and feelings then walks you through them. It shows you that you are not alone and while your mind may overreact, you can make a positive out of it. The activity titled, "Thinking Traps" makes you think of a time when you were anxious or upset, then you write down everything you felt during that moment. In the second step, you break down what you wrote into facts and negative feelings.
It asks you to highlight anything that you wrote that is a negative feeling that may not be true or is an exaggeration. The final step asks you to replace those negative feeling with advice or positive feedback that you may give a friend in the same situation. It teaches you how to treat yourself better and not be so hard on yourself when something bad happens. All of your journal entries are saved so you can look at them later and reflect when something bad happens again.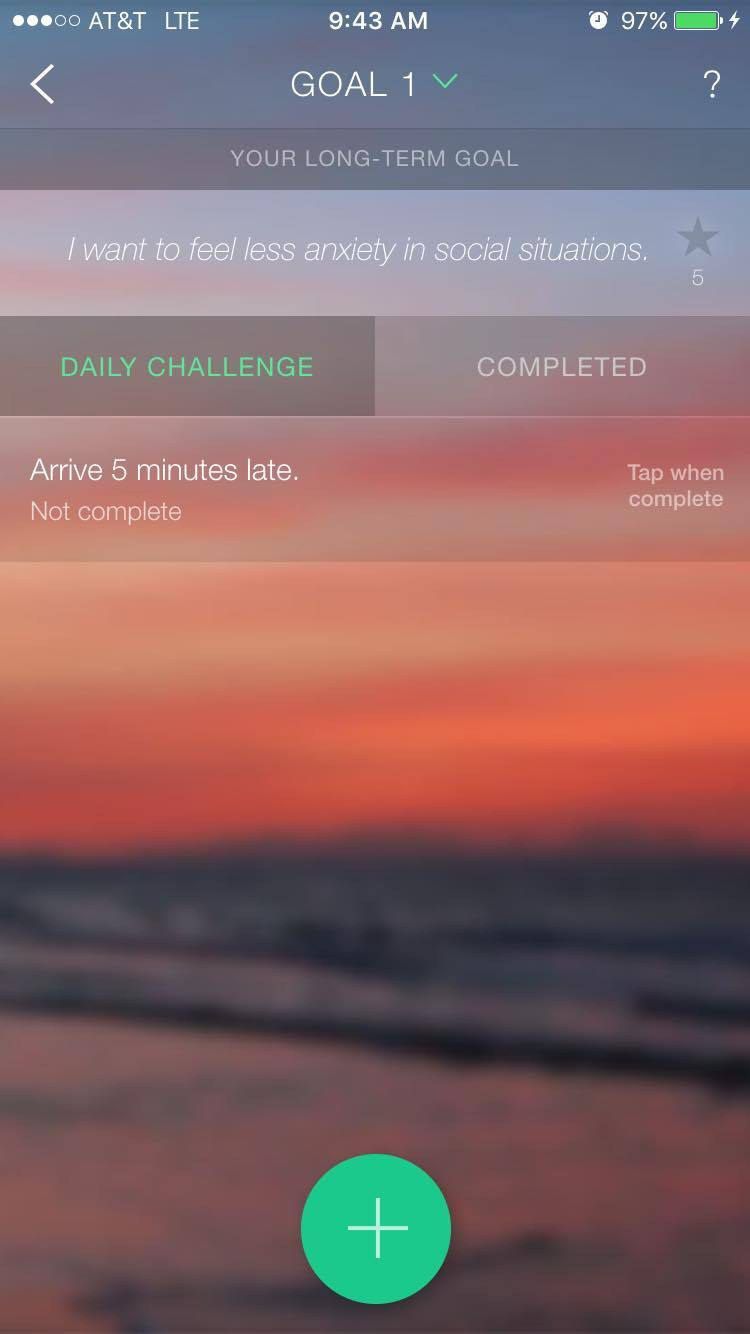 The third activity you can participate in is goal setting. There are goals that Pacifica provides you to choose from. They fall under many areas of your life like, family, work, social, romance, health, and destinations. This can challenge you in small ways to get out of your comfort zone and try something new. Some challenges include take a nap, go to the gym, write a letter, compliment a stranger, go to a museum, apply for a job, go to work, and more.
The goal I currently need to complete is arriving five minutes late. I am always early, and it makes me really nervous when I'm not. I don't understand how people can be late to classes or to meetings - I'm beginning to think it's impossible for me to be late, but this is a way for me to challenge myself and try something new.
After completing a goal, you get a list of completed goals, so you can always look back and see what you have accomplished. No matter if it's as small as brushing your teeth, or as big as going on a date, it's something to be proud of.
I have had this app for awhile, but they recently added some new social features. You can now join groups, like support groups. The groups are just to let you have a way to connect to others that may feel how you do. You can even start your own group and vent about how hard your classes are and how you're dreading finals week.
Another social feature that was recently added is a community thread. There you can find threads titled relax, health, music, books, stress, and personal stories. These sections give Pacifica users a place to anonymously talk about their thoughts and feelings as well as a place to help others. There you can get advice on how to handle stress or find new music that inspires you. If you become a premium member, you can post about your own experiences and share your favorite movies, videos, and books.
Basically, Pacifica is there for you when you need it. You can use it at your leisure. It's not a commitment that you have to follow, it's something you will want to use. It takes hardly any time, and won't take away from your other responsibilities throughout the day. It just sets some time aside for you to reflect.
So during finals week, take care of yourself. Yes, grades are important. Getting a degree is why we're in college, but if your soul is suffering, maybe it would be good to take a moment and check up on yourself.
One of my friends says that her mom asks her how it is in her heart. It's more than asking how you are. You can't shrug it off with a "good," and push through the sea of stress you're treading through. It requires a moment to stop, think and reflect. That's what Pacifica does. It has helped me a lot with getting my emotions and thoughts in check during stressful times. I'm sure it can help you too.