Some of us wanted to get out of our godforsaken town for an experience of a lifetime: College. Some moved just over the state line, some two or three hours away, some even more! Me? I moved about 700 miles away and 10.5 hours away from my small hometown of Somerset, Pennsylvania.
Where am I now? University of Wisconsin-Whitewater! This small campus with a big campus attitude! I absolutely love being a Warhawk, but at times, I miss being a "Somerset Golden Eagle."
1. You are going to miss your family and friends
At first, moving away was like a vacation away from my crazy family, and it may seem that way to you as well, but you will miss them. This goes for your high school friends as well too (including the ones you're not friends with anymore), there is no doubt about it!
2. You are going to get homesick
Homesickness comes in different ways, especially for me. When I would get really homesick I would time out exactly how long it takes to get home and the exact time that I could spend with my family and friends before I have to be back in class on Monday. I would also see things that would remind me of someone in my family or one of my friends, then there would be this pit in my stomach, a sense of emptiness. THAT IS COMPLETELY NORMAL! (I will probably visit my family one weekend soon, but it is only week four of classes, one day, but soon.) My advice for homesickness for any out-of-state students, or any freshmen for that matter, call your mom and dad, friends, aunts, uncles, other family members…Trust me, they miss you too!
3. You are going to miss your hometown stores and restaurants
In my hometown there were many local companies and stores that I took for granted: chip and milk companies; SHEETZ; local restaurants; and more! I am sure you are missing those things as much as I am missing Snyder of Berlin Chips, Galliker's milk, and SHEETZ, but learn to embrace the new culture; and enjoy the local shops and the state's main sellers (cheese and beer?)!
4. You are going to miss your pets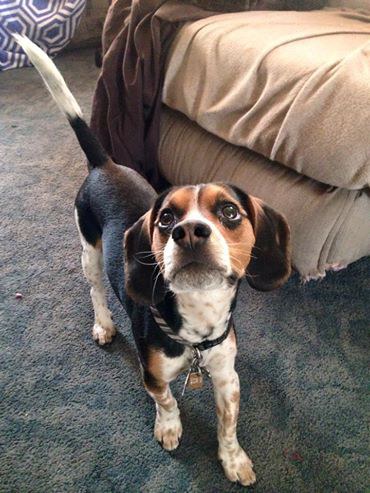 (This is my cute doggo!)
At first I thought being immersed in silence without my rowdy beagle being around was a good thing…I WAS WRONG I never thought I would miss my little dog and my old cat as much as I do now. The great thing about some colleges, and especially at mine, there are pet therapy sessions where they bring in a few dogs two to three times a week and the students get to pet them and hold them in the library! It really helps when you are stressed out or just missing your fuzzy friend!
5. You are going to say some funny things
You may think this one is a joke, but it's not. Living around the Pittsburgh area and then moving out to the Midwest, I say EVERYTHING WRONG or I say different slang terms that the "natives" don't understand or vice versa. Anytime I say a certain word, like "Wisconsin," I am saying it wrong only because I have a dialect. (This isn't a bad thing, it's a really good conversation starter.) My advice for this is to learn the local slang but stay true to where you are from!

6. You are going to miss your high school teachers
Senior year, for me, I made a lot of good connections with my teachers, and some I wish were still teaching me at my university, however, they can't travel with me, so I just send them a quick text or email telling them how I am doing. This one isn't for everyone. I have friends back home who don't miss high school at all and "hate the place," but there are some aspects that I miss of high school, like the people who taught me so I could be ready for a college level of learning.