While waiting for my class to start I got a notification from Facebook stating that someone had posted in our student ticket exchange. The student ticket exchange is basically how it sounds — an exchange for students to sell tickets to games they don't want but it can also be more. Sometimes people will sell that book you need for your next class and other times it can be used for fun stuff such as needing a date to a formal.
Students and locals are a part of this Facebook group and there is always something being posted, so it can be easy to lose track of what is going on. Thinking it would be something such as "Selling these books or dresses message me if interested," I didn't think it would apply to me. When glancing at the post I realized it wasn't the typical "selling this" or "my friend needs a formal date" but something a little different: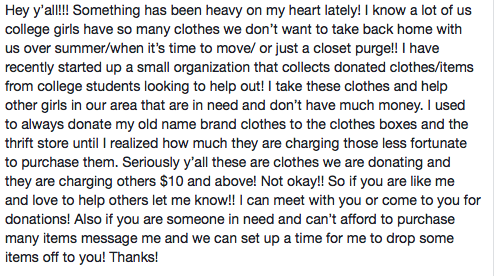 I was heartfelt when I saw something that was completely unexpected. This was the post I saw in the ticket exchange and seeing something like this can brighten a day and it certainly helped kickstart my day. I have always had a passion for service, whether it was volunteering throughout school in Mobile, creating a Bar Mitzvah project where I donated the books I collected to the Ronald McDonald House or even all the service events I have participated in while attending college.
Service has always been a huge deal for me. When participating in these events I wouldn't think about what I was missing while I was doing it but what I did focus on was how we were helping other people. In college we sometimes lose track of how we can help our community but through volunteering we learn to remember the importance of community.
This post relates to the struggles of many college students. Many of us are known to bring a lot of clothes and between the breaks, we bring more winter clothing than we actually need. I am a person who is guilty of not using all of his clothing and sometimes will keep clothes for years even if it doesn't fit me or it's something I won't wear as much. We always see how people are creating opportunities for others in the community but being able to see something like this certainly makes me excited for the community and that people want to do more for others.
We think about how stressed we can be on a normal day but sometimes maybe we need to think about the community around us. When I was 14 I volunteered at the Child Advocacy Center in Mobile with many of my friends and classmates sorting books, toys, and clothing for children who were abused and counseled. I realized then my passion for service and always find ways to help. Knowing that there are people who want to do small things and build up makes me realize how great the community can be.
Remember, one action is all it takes to start a chain reaction.