On Wednesday, March 30, Hennepin County Attorney Mike Freeman announced that the Minneapolis Police Officers, Mark Ringgenberg and Dustin Schwarze, will not be charged for the shooting death of Jamar Clark, a fatal event that sparked protests across the country.
In a news conference on Wednesday, Hennepin County Attorney Mike Freeman stated that criminal charges were not warranted for the officers. He asserted that the officers acted in self-defense and that their use of deadly force on the unarmed Jamar Clark was justified. There were claims made by bystanders that Jamar Clark, a 24-year-old black man, was handcuffed when a confrontation between him and the (white) officers broke out in the street and ended with the officers opening fire and Jamar Clark's death. Forensic evidence found otherwise. Freeman said that the forensic evidence and testimony from the officers showed that Clark was "not handcuffed at the time he was shot." Jamar Clark's DNA was not found inside the cuffs, but his blood was found on one side of the restraints.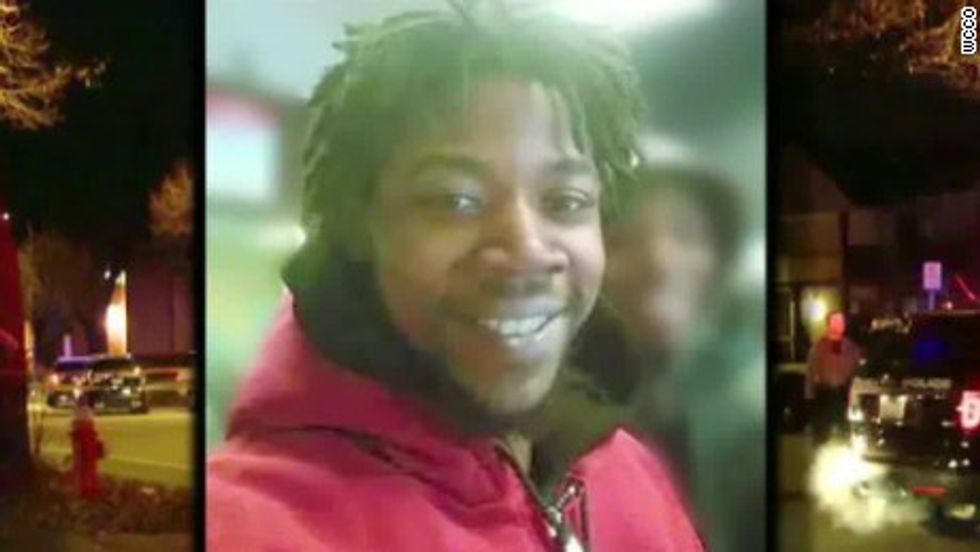 They also found Clark's DNA on Ringgenberg's belt and the grip of his gun, which lined up with the officer's statements that Clark's hand had grabbed the gun. Freeman stated that it was not possible for Clark to be on the ground while handcuffed and attempting to seize Ringgenberg's gun. Freeman also said that forensic evidence also did not find any internal or external injuries around Clark's wrists, which also supported that he was not handcuffed at the time of the shooting.
Several Black Lives Matter activists at the news conference expressed their disagreement with Freeman's decision and continued to question his decision, and he left the news conference following the comments and questions from the activists. In a separate conference, Mayor Betsy Hodges stated her appreciation for Freeman's "transparency and thoroughness" in his reviewing of the case. When asked if she agreed with Freeman's decision, she stated she had not had time to look at the case's evidence. The Police Chief, Janeé Harteau, said that there will be safe places for people "to express their feelings and thoughts". She also emphasized that the focus was on the safety of the public, including bystanders, police, and protesters.
It began when Schwarze and Riggenberg arrived on the scene, where paramedics were trying to transport RayAnn Hayes, Clark's girlfriend, who had told the medics that Clark had assaulted her, but Clark was found to be interfering with the paramedics and their work. Schwarze said that they had approached Clark, but he refused to comply with their orders. They asked Clark to take his hands out of his pockets, but he didn't listen. They tried to handcuff him but failed to get the handcuffs on. After Clark's continued resistance, Riggenberg reached his arm around his chest and took him to the ground, where he landed on top of Clark whose back was on the ground.
In Freeman's report of the incident, Riggenberg said he felt his gun being moved from his right hip to the small of his back and told Schwarze that Clark had his gun. He felt that Clark had his "whole" hand on the gun, and told Schwarze repeatedly that Clark had taken the gun. In response, Schwarze then dropped his handcuffs and put his gun to Clark's mouth. Schwarze threatened to shoot Clark if he didn't drop the gun to which Clark looked at him and said, "I'm ready to die."
"Only thing I could think of to do was to save our lives and none else in the immediate area, so I pulled the trigger," Schwarze reported.
Minnesota senator Al Franken made a statement to Buzzfeed news regarding this event, which I think addresses the situation and today's issues perfectly.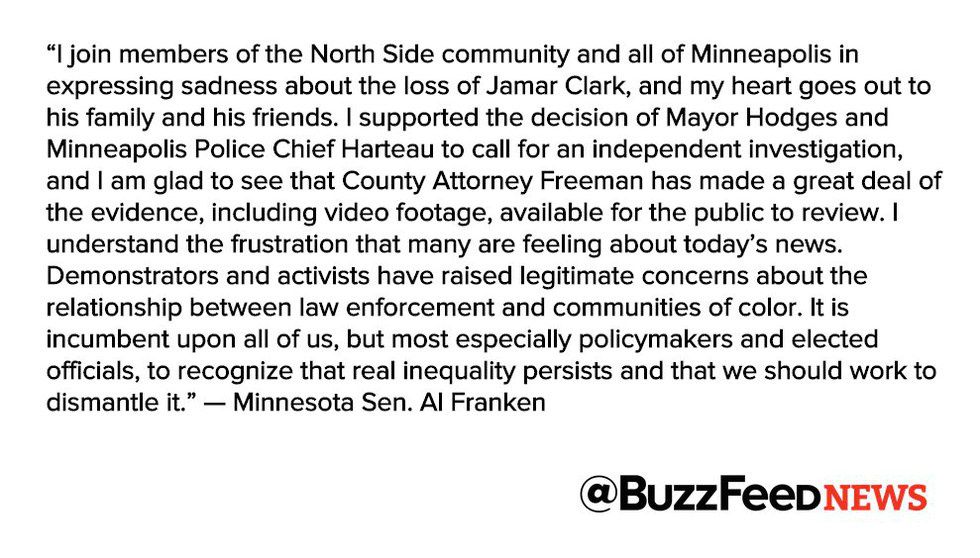 The relationship between law enforcement and communities of color is an increasingly talked about topic as more and more incidents similar to Jamal Clark's are mentioned in the news. The issue is real and undeniable. It needs to be acknowledged and efforts need to be made to prevent incidents like Jamal Clark's from reoccurring. I do not think the police are bad people with bad intentions. I have the utmost respect for their work and the job they do. That said, black people are not bad. White people are not bad. All people of color are not bad. Unfortunately, we live in a nation founded with racism woven through its very core, and it's going to take a lot of unlearning and reevaluating of our culture and society to truly fix the root of this issue.