When a former librarian at the University of New Hampshire left $4 million to the school upon his death, the last thing Claire Cortese expected was $1 million of Robert Morin's gift to be used to buy a scoreboard for their football stadium.
Cortese, a recent alumna of the university, loved her experience at UNH, but she couldn't help but notice that some parts of campus were severely underfunded.
"When I first read the headline that this librarian just donated $4 million, I thought, oh wow, they're going to put it toward something good, like a new library or something," she said. "So when I saw that they were giving the money to a scoreboard, I was just shocked."
At the time of this news, the stadium was in the middle of a $25 million renovation.
Cortese frequently creates Odyssey posts surrounding UNH and academia, like this one and this one, so naturally, she felt compelled to share her thoughts on the school's decision and to stand up against what she felt was a massive injustice to the school and its students and staff members.
Her article on the $4 million gift, which was the first opinion piece on the topic, was not only intended to spread awareness on the administration decision, but also served to stand up for students and faculty of the neglected departments on campus.
"I felt like they had completely soiled this guy's legacy and it spoke to me about how corrupted the higher education system can be, and how these universities pour money into sports even though they tell you they don't, and they ignore other departments that are underfunded," Cortese said. "They don't cater to all students in that way."
Within just 24 hours, the article circulated around campus, and she was receiving dozens of comments and direct messages by professors and students. For the first time, she was gaining followers on engagement on her content.
"When the article picked up momentum, I was honestly shocked. I did not expect it to pick up steam—none of my other articles picked up nearly as much traction as that one," Cortese said.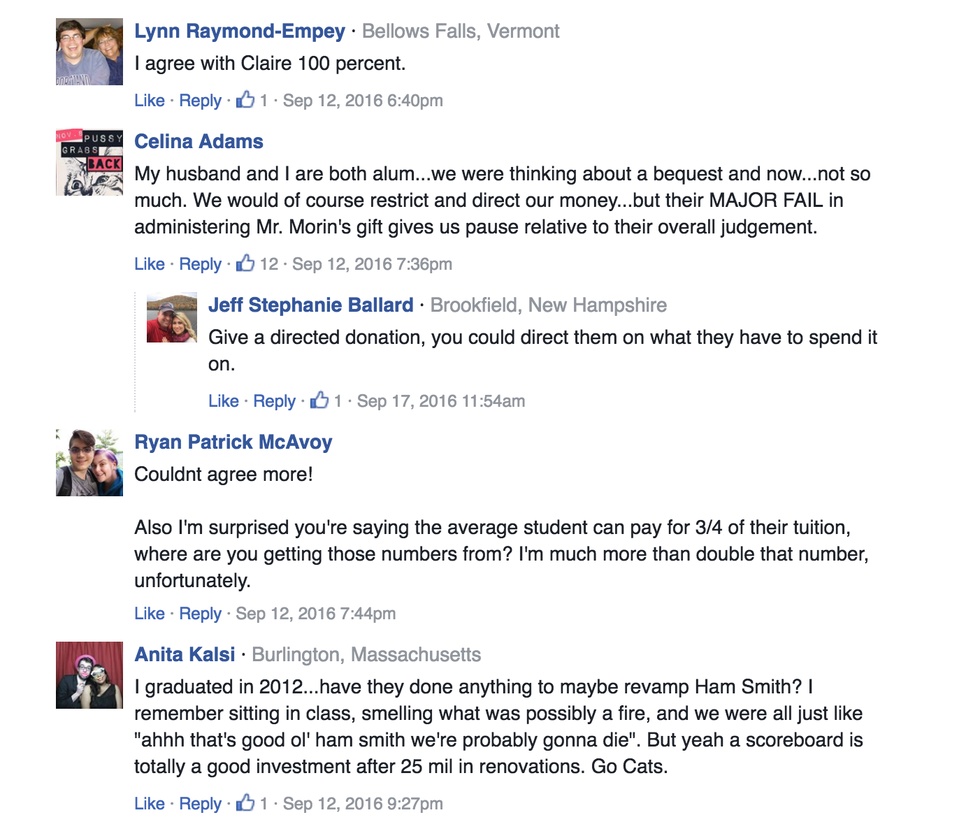 Just a few days later, her article was starting so many conversations on social media that local and national news organizations like News Maca, Daily Mail and Inside Higher Ed picked up her story. Cortese couldn't believe she attracted so much attention from one article.
"It was really exciting that people were actually listening to me. It made me feel validated as a writer to have so much response because what I wrote clearly had an impact, and I think that's what every writer wants," Cortese said. "They want to make an impact."
Cortese strives to make clear her love for UNH, but that as a proud alumna she feels she must speak up for the whole community.
"UNH was my life, and I appreciate so much of the time I had there, and I met some really amazing professors and students, but that doesn't change the fact that what I thought the administration did was wrong."