As a kid, I remember being glued to the television when Julia Child and Jacques Pepin's show was on. They taught me everything from how to de-bone a chicken to how to melt chocolate correctly. I watched Food Network religiously from the tender age of seven, up until now--and I am twenty-seven. Emeril Lagasse would teach me how to "kick it up a notch" and expressed the importance of seasoning-- bold seasoning. I learned about different cuisines, like Cajun-Creole and Polish. Growing up Italian, any Italian kid will tell you, there is no other cuisine in the house but whatever mom makes! God forbid you requested anything other than that you'd be told, "This is no restaurant" (when translated from Sicilian to English, it does not have the same effect, but you get the gist). Don't get me wrong, there is nothing like pasta with chickpeas or roasted Italian sausage. My childhood was filled with mom's great home cooking, both nutritious and satisfying. But, as my cooking techniques were expanding, so was my palette.
Anyone who knows me, knows I am a bit of a foodie, but it is much more than that. It is about knowing what you eat and where it comes from. It is about learning basic techniques and using them to create whatever you feel like, all the while doing it with a fiery passion for the freshest and highest quality ingredients. I am no chef, nor will I ever claim to be one. Being a chef is a title that is earned, for example (but not limited to) "Marine" or "Doctor," it means you are highly trained professional. I consider myself a self-taught cook. I learned how to cook with cooking shows; techniques like how to de-bone a chicken, filet a fish, make fresh pasta, and homemade pesto. I learned how to make duck confit, demi-glazes, and beef wellington. I learned to pair wines with different dishes and desserts. I learned to create things with my hands; things that anyone and everyone can enjoy with me!
(Just to warn you, I rarely get caught up in measuring stuff, I just use the palm of my hand or I just eyeball it.)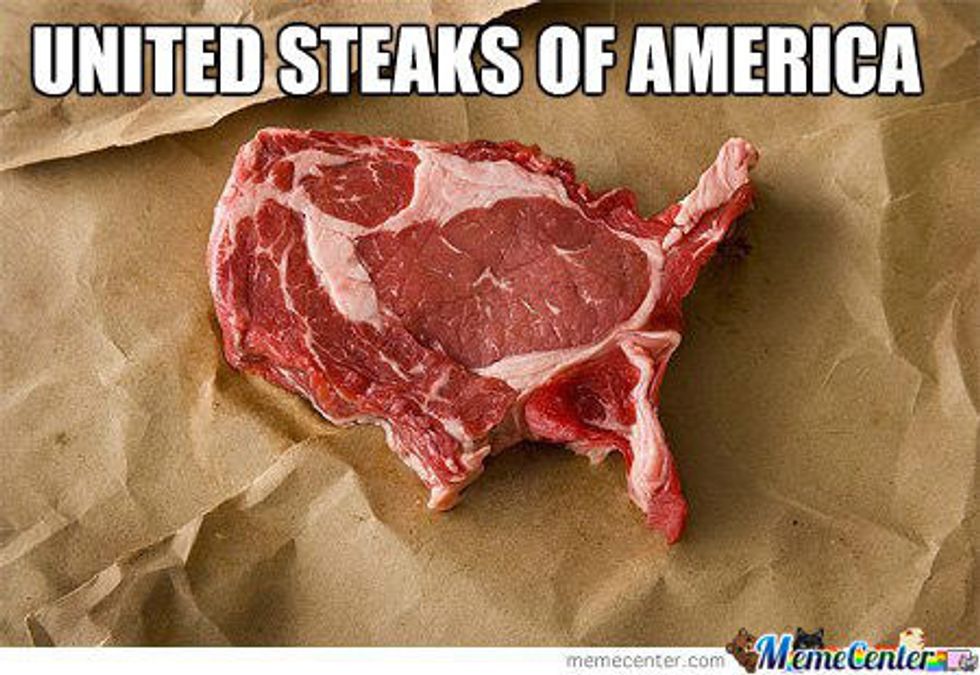 My first recipe is one of my favorite Winter dinners: Slow-Cooking Beef Stew
1 and 1/2 cups of good quality, beef stock
2 pounds of beef cubes (or steak, cut into one-inch cubes)
3 large potatoes, cubed (use whatever you like, skin on skin off, your choice)
3 celery stalks (washed and cut into one-inch pieces)
2 large carrots (peeled, halved and cut into one-inch pieces or slices)
1 red onion and white Spanish onion (peeled and diced)
3 splashes of Worcestershire
1 cup of flour and a pinch of smoked paprika
2 bay leaves (dried or fresh)
4 cloves of garlic (sliced or diced, your choice)
salt & pepper to taste
one stalk of fresh rosemary
three stalks of fresh thyme
1/4 cup of Jameson Whiskey (completely optional, can substitute with a nice Sangiovese, Merlot wine, or even some stout beer)
Dust off your slow cooker, dry the meat as best you can with paper towels and then coat the meat in the flour, paprika, salt and pepper mixture. Shake off the excess flour and brown in your slow cooker. Be sure to keep the meat in one single layer, otherwise, you aren't going to get that beautiful brown sear on it. It's just going to steam your meat, not what we are looking for in this type of recipe.
If your slow cooker does not have a "browning" or "sear" setting, whip out a stainless steel pan, a drizzle of veggie oil, medium-high heat, and fry your flour coated meat until brown all sides. Being sure to line seared meat on a paper towel before adding to slow cooker. You DO NOT want to cook it thoroughly, you just want a nice brown crust on the outside. Throw cooled meat into the slow cooker, along with veggies and herbs, and pour in the liquid. Set it for four to six hours, if cooking on high, or nine to twelve hours, if cooking on a low setting. Serve with wide egg noodles or a nice loaf of crusty bread.
NO SLOW COOKER?!! Do not fret, although you should seriously think about investing in one. You can brown your meat and do everything in one pot, preferably in a dutch oven pot or a large stainless steel pot. Drizzle a little veggie oil in your pan, just enough to coat it. Brown your flour coated meat on all sides on medium high heat, being sure to not overcrowd the pot. When it's done searing, put meat on paper towels to drain excess oil off. Into the pot, throw in veggies, herbs, salt and pepper, let it saute for a bit before adding the meat, then add your liquid and bay leaves. Close the pot with a tight fitting lid and in one hour and a half, check to see if it's seasoned to your liking. If so, it is ready to be served.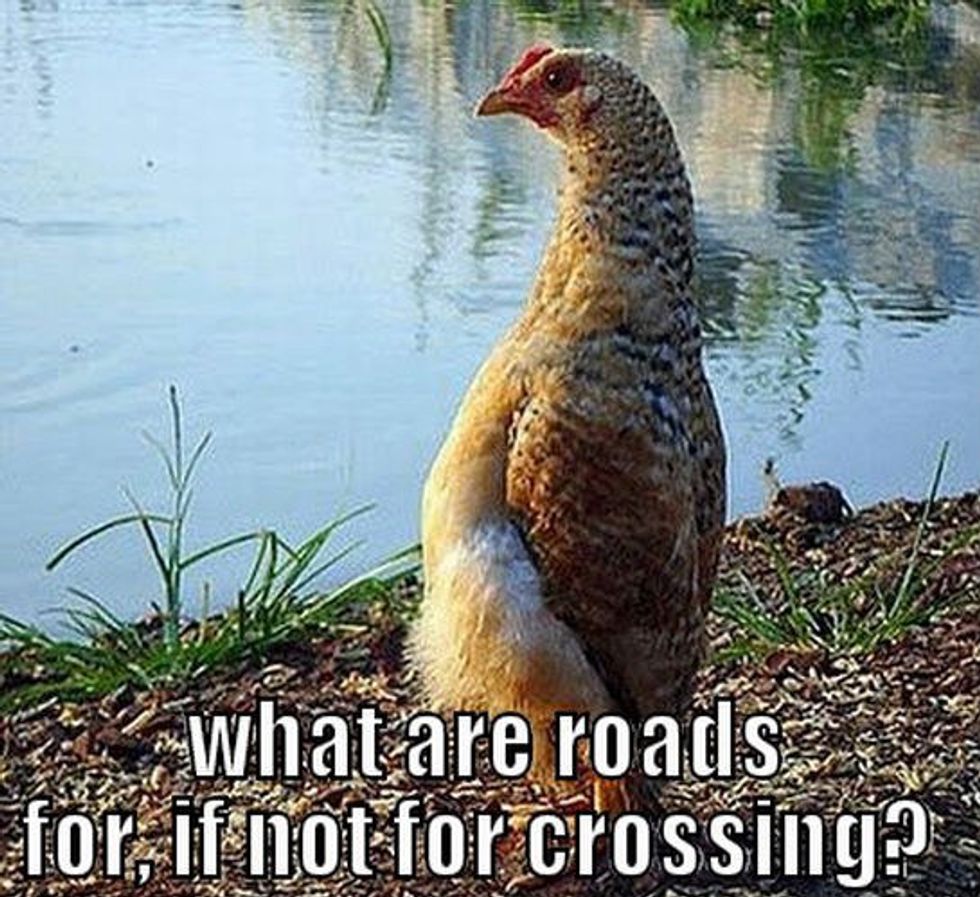 My second Winter recipe: Chicken Cacciatore
4 chicken thighs (in my family, only serves two people, so you do the math -- if you want skinless and boneless, go for it. I like the bone in because it gives a deeper flavor)
2 cloves of garlic
1/2 palm of pine nuts
1/2 palm of golden raisins
2 large potatoes (peeled, diced)
2 large red and/or white onions (peeled, diced)
1 large carrot (grated)
a handful of parsley
2 sage leaves
2 bay leaves (fresh or dried)
salt & pepper to taste
1/4 cup of white wine (any dry white wine, never use cooking wine, use the wine you actually drink, it'll be worth it, I promise you)
1 large can (28 oz) of San Marzano or any canned plum tomatoes (peeled, whole or crushed)
(red pepper flakes, capers, olives are all optional, put as much as you like of each, just make sure you drain and rinse the capers and olives)
Grab a large skillet or saute pan. Make sure your saute pan has a high enough lip on it, because we are going to be cooking liquids in this pan later. And, a pan that has a fitting lid.
Put on medium-high heat with a drizzle of extra virgin olive oil and a drizzle of vegetable oil. Pat dry your chicken thighs with paper towels and season them with salt and pepper, and maybe some cayenne if you like heat. Brown them in the pan until you get a nice golden brown sear on them. Remove from skillet or pan, and drain on some paper towel. Add veggies (potato, onions, and carrot) to the hot pan, salt and pepper, and saute until onion is translucent. Here would be the best time to add red pepper flakes to bring out the oils of the pepper flakes. Add garlic, if you have not already, and herbs. Let it hang out on low fire. If you bought whole tomatoes, pour them into a bowl. Hand squish the tomatoes so that it looks like a chunky salsa. If you bought already crushed, throw them in the pan along with your white wine. Stir and raise to medium- low heat. Add your chicken, and optional olives and capers, along with the pine nuts and raisins. Put a lid and let simmer for about forty minutes to an hour. No peaking. Tuck in!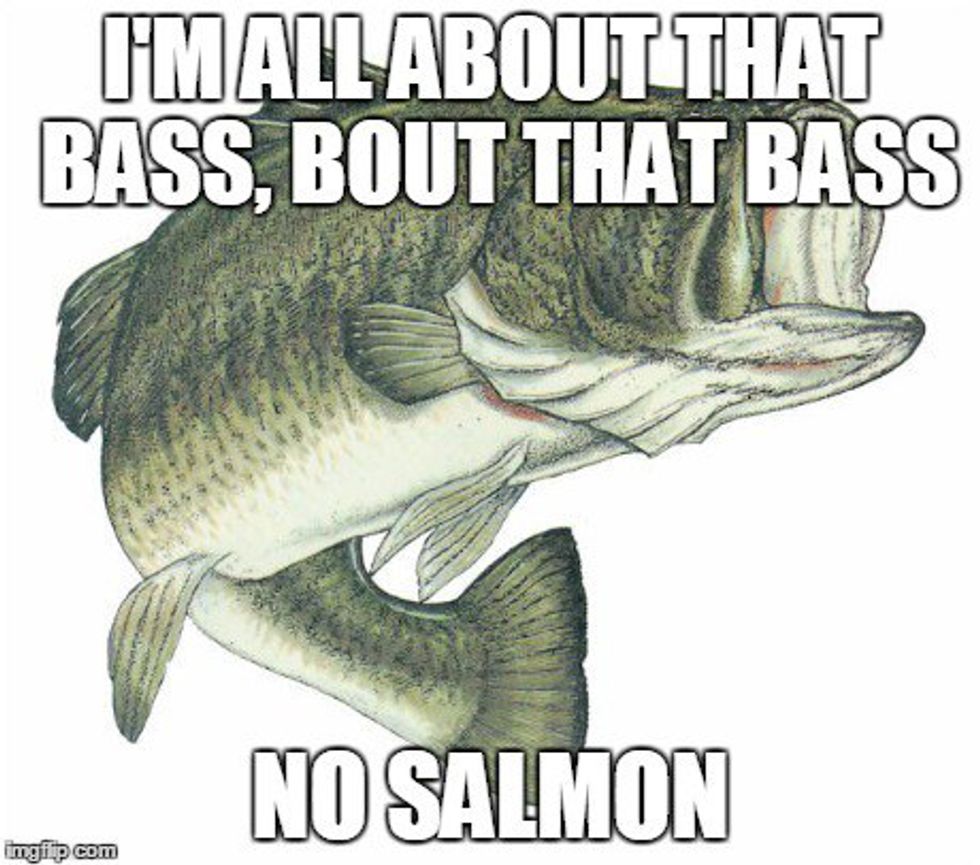 My third favorite recipe is: Wild Alaskan Salmon Filet alongside Roasted Fingerling Potatoes and Garlic String Beans
1 -- 5 oz salmon filet per person
fresh or dried herbs; anything you like, I prefer dill, tarragon, lavender, bay leaf, fennel, rosemary, thyme, oregano, mint and/or marjoram.
3 cloves of garlic -- diced
extra virgin olive oil or dijon mustard
1 large navel orange
salt & pepper to taste
Grab a baking sheet and line it up with non-stick aluminum foil. Place salmon on an aluminum foil-lined baking sheet. Drizzle a little extra virgin olive oil on them or spread a little dijon mustard, mix garlic with herbs and generously sprinkle fresh/dried herbs and garlic. Salt and pepper. If you want to use the zest of the orange, go ahead and do so now, then cut in half and squeeze juice onto salmon. Baked in a 400 degree F oven for 10 to 15 minutes, or until flaky.
2 pints of fingerling potatoes or one bag of fingerling potatoes
extra virgin olive oil
garlic powder
Italian seasoning or fresh herbs (rosemary/thyme)
Grab a baking sheet, also lined with non-stick aluminum foil. Rinse and halve (lengthwise) fingerling potatoes. Make sure you dry them thoroughly. Grab a large bowl, throw potatoes in there with a drizzle or two of extra virgin olive oil, sprinkle with garlic powder and Italian seasoning or fresh herbs. Salt & Pepper. Toss to coat evenly. Place on baking sheet, one layer evenly. 400 F oven for about 40 minutes to an hour. Or, until golden brown and crispy. Flip em half way through cooking time, to get both sides crispy and golden brown.
1 lb of fresh green beans (trimmed and snapped in half or left whole, your choice)
salt & pepper to taste
extra virgin olive oil
half a lemon and zest
1 clove of garlic
In a large pot, fill with water. Boil water, add a palm of salt into said water. Throw green beans carefully into boiling water, cook for two minutes and strain. Rinse with cold water. Drain thoroughly. In a saute pan, add extra virgin olive oil and one clove of garlic whole, on medium high heat. Once garlic gets slightly golden brown, be careful it'll get brown fairly quickly. Pull garlic out and put in string beans.Toss in garlic infused olive oil, season with salt and pepper and lemon zest. Toss and put into serving bowl. Squeeze half of lemon onto string beans.
My mom makes this spectacular string bean and potato salad, so sometimes, I just add the roasted fingerling potatoes to the above string beans and serve as a warm string bean and potato salad. Complementary to any protein of your choice! Buon Appetito!!! Don't tell me I never did anything for you. Ha-ha.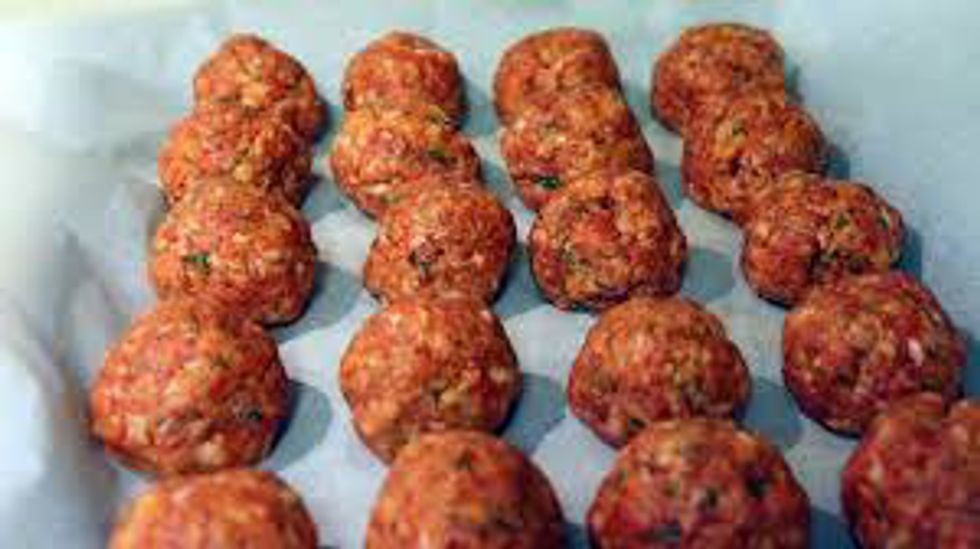 My Fourth Winter Recipe: Meatballs, Polenta and Dark Greens
What is great about this one is you can make ANY meatballs you want and use any dark greens you enjoy. I use a blend of meat and I love using Swiss Chard or Lacinato Kale.
1/2 lb of ground pork, 1/2 lb of ground veal and 1/2 lb of ground beef
2 slices of prosciutto de parma, thinly sliced (roll it up and slice it as best you can into meat mixture)
2 cloves of garlic, grated
Pecorino Romano grated cheese
Salt & pepper to taste
Two large eggs
1 palm of bread crumbs
A splash or two of milk
Dried/fresh herbs of your choice (I use fresh mint and/or basil)
Put ground meat in a large bowl, followed by the eggs, palm or two full of pecorino romano grated cheese, bread crumbs, grated garlic, salt and pepper to taste, prosciutto, and herbs. Mix until combined. Let it rest a bit then roll out your meatballs. Roll out all of your meatballs onto a baking sheet lined with non-stick aluminum foil. Bake at 400 F or pan fry in saute pan in extra virgin olive oil. Make sure you get them brown on all sides and drain them on a paper towel when they are done browning.
Box of polenta
Tablespoon of butter
Pecorino Romano, grated cheese to your liking
Polenta is simple -- just read the back of the box or bag for instructions.
4 cups of water to 1 cup of polenta, is usually the ratio.
At the end of cooking time, I shut it off and I add a little bit of grated pecorino romano cheese on top, a tablespoon of butter to finish it off, and chopped fresh herbs -- usually fresh rosemary, basil and/or parsley.
Don't like polenta?! Mashed cannellini beans are perfect for this recipe too. Grab your favorite can of cannellini beans, drained and rinse. Mash them in a bowl with a fork, a drizzle of olive oil, grated garlic and salt and pepper to taste. Fresh herbs like rosemary and thyme are perfect for these mashed beans. If you want you can nuke it in the microwave for a few seconds and mix, but room temperature should be fine -- meatballs and greens will heat this right up. Makes a good healthy dip for veggies or pita chips too! Winner winner, meatball dinner.
1/2 to 1 lbs of dark greens of your choice (pull away the leaves from the stalks, washed and ready to go)
2 large plum tomatoes, diced
2 garlic cloves
red pepper flakes, optional
salt & pepper to taste
pinch of nutmeg
For the dark greens, in a medium to large saute pan, on medium high, drizzle in some extra virgin olive oil, red pepper flakes, two cloves of garlic diced, diced plum tomatoes, cracked black pepper, a little pinch of nutmeg, let that sort of mingle and get to know each other first before adding your greens. Saute until just wilted. Salt and pepper to taste.
I usually serve this dish with the polenta/cannellini beans pooled on the bottom of a bowl topped with the meatballs and greens on top. Little more pecorino romano and fresh cracked pepper on top. Buon appetito!!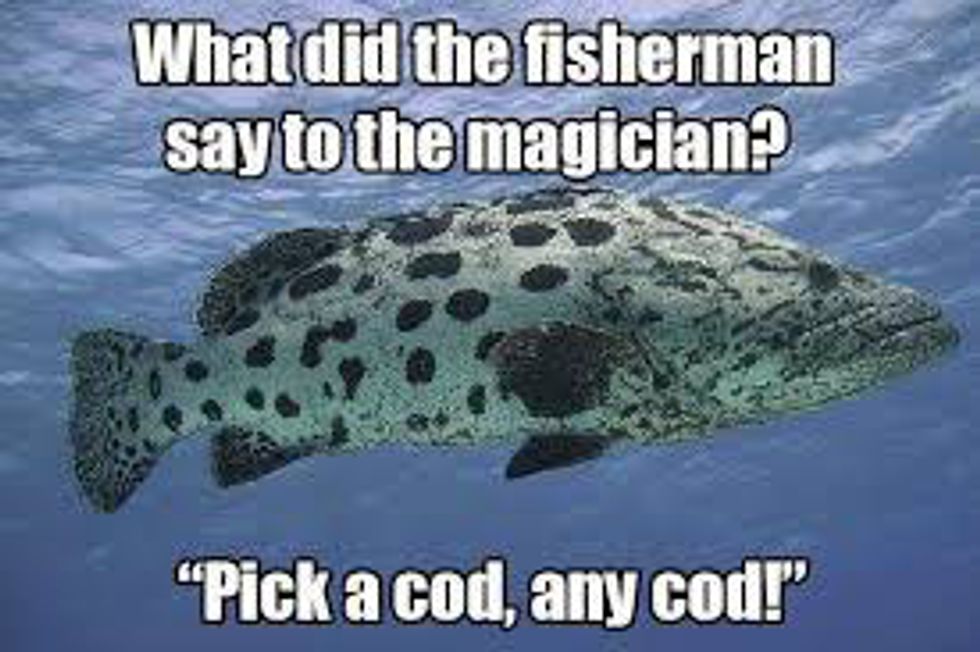 My fifth and final Winter recipe is: Cod and Potatoes Casserole
3 - 5 oz fillets of fresh cod
olive oil, salt & pepper
Preheat oven to 400 F, line baking sheet with non-stick aluminum foil or parchment paper. Place cod onto a baking sheet, season with olive oil, salt & pepper. Cook for 10 minutes or until flaky. Place aside for now.
3 large Yukon gold potatoes, peeled and halved
In a large pot, fill with water, add peeled and halved Yukon gold potatoes. Salt and boil until fork tender. Drain water and mash with salt & pepper, and a drizzle of olive oil and a tablespoon of butter. Flake the cod and add to mash potatoes. Carefully mix it in without breaking up the Cod too much.
2 slices of bacon, prosciutto or pancetta, diced

Grab a small pan, and just brown your bacon, prosciutto or pancetta.
1 whole lemon, zest too
1 cup of bread crumbs
1/4 cup of grated pecorino romano
2 garlic cloves, grated
one sprig of chopped fresh rosemary
Add breadcrumbs to a medium size bowl and mix, a little drizzle of olive oil to get the texture of wet sand, add lemon zest (you'll need the juice later), grated cheese, garlic cloves, fresh rosemary, salt and pepper.
1 large white onion, sliced thin
watercress or arugula
Spray 3-quart glass pan with cooking spray or drizzle olive oil and coat pan. Add half of potato and mash mixture, top with sliced onion, add the remainder of the potato and mash mixture. Top with breadcrumbs, a little cayenne for kick (completely optional). Bake at 400 F until golden brown. Tuck in!


Watercress or arugula is a nice light side dish for this casserole. I just toss it with a drizzle of extra virgin olive oil, salt & pepper and a squeeze of lemon juice. Buon appetito!!
Growing up Italian it is easy to have a passion for food. Every time we get together, food is the centerpiece. I really hope you enjoy my favorite 5 winter recipes! Please let me know if: you ran into difficulties, tried substituting different things, or have wine pairing ideas!

HAPPY EATING!!! BUON APPETITO!!!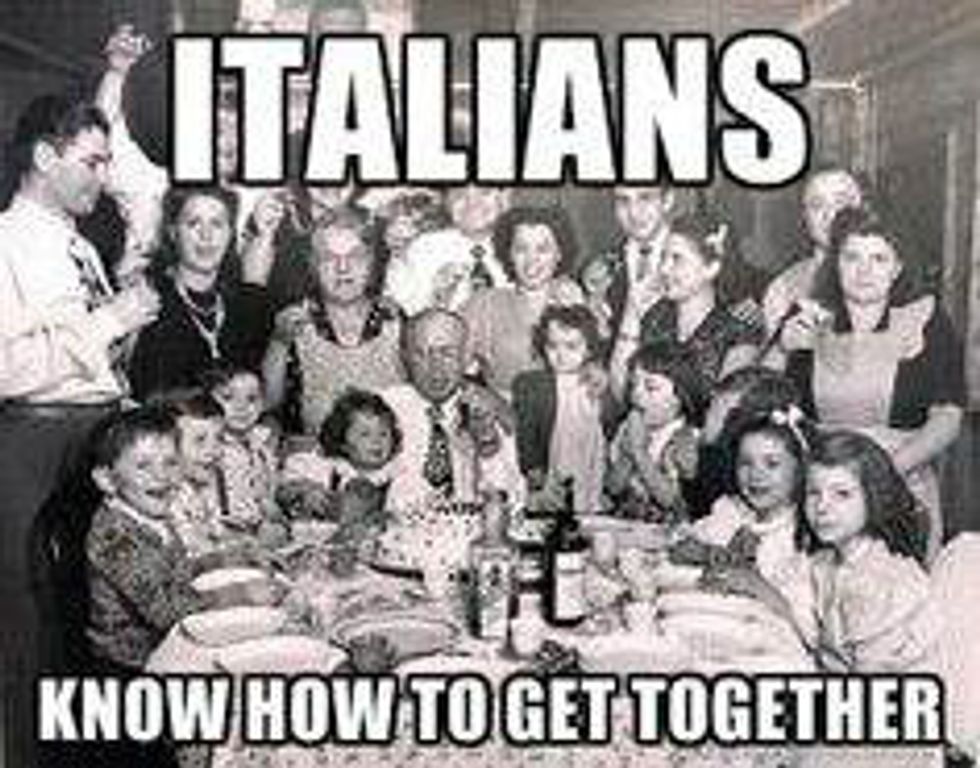 One Love,
RR