I can recall a time in my life where my hair was beautiful and completely natural. Too bad that time was before I was old enough to really know what anything meant for my hair, or what anything meant in general.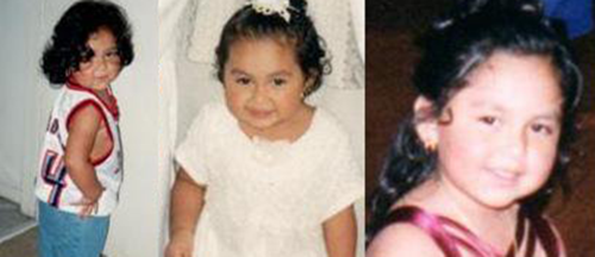 Sometime in the late '90s - My Photos
I was recently made aware of what is known as the Curly Girl Method, started by Lorraine Massey and designed for naturally curly, wavy and kinky haired girls to get the most out of their natural hair texture. After being on this method for five months now, I most certainly recommend it.

As most girls with textured hair, my relationship with my waves has been a tough one. When I was little, my mom would put my hair in a ponytail pretty much every single day, causing me to have a big, frizzy poof at the back of my head.
I'm sure she didn't know better, but it truly was not a good look. Of which I sadly adapted and made my normal hair style until further notice.

Kindergarten (early 2001) and sixth grade (late 2006) - My Photos
Once I was finally old enough to make my own decisions about my hair, I fell into the hands of a flat iron. Throughout most of middle school I straightened my hair with no second guessing. I'm not entirely sure why I did it, but I guess I just wanted to have straight hair.
Despite how long it would take me to do it on a daily basis, I never let it stop me because I would rather have been dead than have to leave my house without my hair straight.
It was an addiction.

Eighth grade (late 2008 - early 2009) - My Photos
I continued straightening my hair into high school where I even got the nerve to dye it black, of all colors.
Let's just say I was clearly unaware of just how much damage my hair was taking in from all of these decisions. But boy, do I regret all of these now that I'm more informed.

Freshman year of high school (late 2009) - My Photos
I would occasionally wear my hair naturally curly during high school, mainly because a lot of my friends begged me to. And, of course, I obliged.
I would cover it in mousse to help it from looking as frizzy as it used to in the ponytails I dreaded, but it still had a pretty good amount of fizz regardless. Or it would end up being way too crunchy, another look that I'm not too proud of.

Sophomore year (early 2011) and senior year (late 2012) of high school - My Photos
After high school was over, I would straighten my hair pretty much any time I was going anywhere, or anytime I knew I was going to be around any amount of people.
I was addicted to my flat iron, once again, and it was a problem.

Mid 2014 and late 2015 - My Photos
I started to straighten my hair a lot less at the start of 2016 and I began getting more comfortable just letting it be and not doing anything to it. I started to only straighten it when it was absolutely necessary, on special occasions.
Otherwise I would rock my natural, super dry and undefined hair. And it's cringeworthy, to say the least.

Mid and late 2016 - My Photos
It was definitely a good step in the right direction, but it was quickly retracted once I got my first curling wand Christmas 2016.
From mid 2017 to early 2018, I basically curled my hair for every special occasion. And for school. And sometimes, just for fun. My hair looked good curled, I told myself. It's the only way I don't look a mess, I thought.

Late 2017 and early 2018 - My Photos
But even though I preferred my hair curled, I was careful with how often I did it. I started to wear my hair natural on a day-to-day basis again, hoping that I would eventually grow to like it. And that it would eventually get healthier than it looked at this point in time.
It was small progress, but nonetheless, it was progress that I'm glad I made without even realizing it.

Late 2017 and early 2018 - My Photos
Even though I still heat styled my hair for special occasions, I was doing it a lot less than I had been before and I felt pretty proud about it. I think this is what caused me to accidentally fall into the Curly Girl Method, hallelujah.
One random day in July 2018, I was looking at curly hair tutorial videos on YouTube trying to find products that would help me "tame" my hair. As I was watching one of my favorite YouTubers' old hair tutorial, I noticed some recommended videos with "Curly Girl Method" in the title and was intrigued.
The first Curly Girl Method video I ever watched was from YouTuber Penny Tovar, otherwise known as CurlyPenny at the time (she's recently rebranded and let go of that name.)
The video was of her doing her hair routine, from washing to styling. She kept mentioning that the products she used were "Curly Girl Method approved" and that they didn't have sulfates, silicones or parabens and I had no idea what she was talking about. But she used a lot from the brand DevaCurl, so I figured my best bet would be to look them up.
I read their website and it described the Curly Girl Method and what exactly their goal was with their range of products. I figured now was as good as ever to learn more about this method, so I took to Google and searched up all that I could regarding it.
After reading for a while, I watched some more videos, and came across other favorite Youtubers like Dana Marie. Eventually I landed on YouTuber India Batson's channel and I instantly decided I needed to follow this method, ASAP.
I quickly educated myself on approved products that were in my price range and went straight to Walmart to buy my first batch of curly hair products.
The start of my hair journey was rough, but that was to be expected after I had treated my hair so badly for my entire twenty-three years of living.
It was hard to see a light at the end of the tunnel when it felt like my hair would never get better. Still, I kept to it, remembering that India, too, had said her hair had gone through a transition phase before she was able to get it to look as healthy and beautiful as it does now. That was all the motivation that I needed.
After a couple of weeks, I started to see improvement. My previously dead and dried out waves suddenly started to look alive and poppin'. I knew I still had a ways to go, but it felt so reassuring that everything I was doing was actually working.
It only made me continue on my journey.
My hair in July 2018 (two weeks in) and September 2018 (two months in) - My Photos
As I continued following the method, I started to educate myself more and more on what good products consist of and what to avoid.

I tried so many different shampoos, conditioners, stylers, leave-in conditioners, and deep conditioners. In the end, Cantu, Curls and SheaMoisture are some of the brands that have worked wonders for my hair and that I most definitely recommend to any and everyone.
I am now four months into the Curly Girl Method, and while my hair has definitely improved from when I first started, I know that it's still improving with every day that goes by. Even though some days it is hard to persevere because my hair just doesn't want to cooperate, I know that I'm doing what's best for it and what will make it the healthiest that it can possibly be.

September 2018 (and yes, that's Paul Sidotti a.k.a. Taylor Swift's guitarist) - My Photos
Starting this method was something I never would have thought of in my wildest dreams, but it's something that I think all naturally curly, wavy and kinky haired girls should consider because it is life changing, to say the least.
So take it from someone who was once in a polyamorous relationship with her flat iron and curling wand: there are good hair days outside of heat styling.

February 2018 (pre-Curly Girl Method) and November 2018 (four months on Curly Girl Method) - My Photos
It just takes a little bit of time and a lot of TLC!