Going to an NFL football game is something I believe everyone, sport fan or not should experience at least once in their life. Beware though, once you go to one you will be left wanting to go to more. This football season I made it an initiative, as a senior in college, to go see as many road stadiums and Jets games as I could. I wanted to be the ultimate Jet fan with aspirations to get into their fan Hall of Fame one day. I was not only thinking about seeing the Jets I was thinking about the different stadiums, and the different cities I will be able to visit. It also became aware to me that I would be experiencing so many different football game days, and ss a season ticket holder for the Jets it has been interesting to see what NFL life is outside MetLife Stadium. So as I sit here at the end of November I have been to 9 football games, and 4 different cities. Below I highlighted what I noticed, enjoyed and experienced from each road game I went too. I've also ranked the Stadiums below the descriptions! (I skipped Philly because with the Jets being so bad and Eagles fans being ruthless, I decided not to go)
Week 3: Jets @ Patriots Gillette Stadium, Foxborough Massachusetts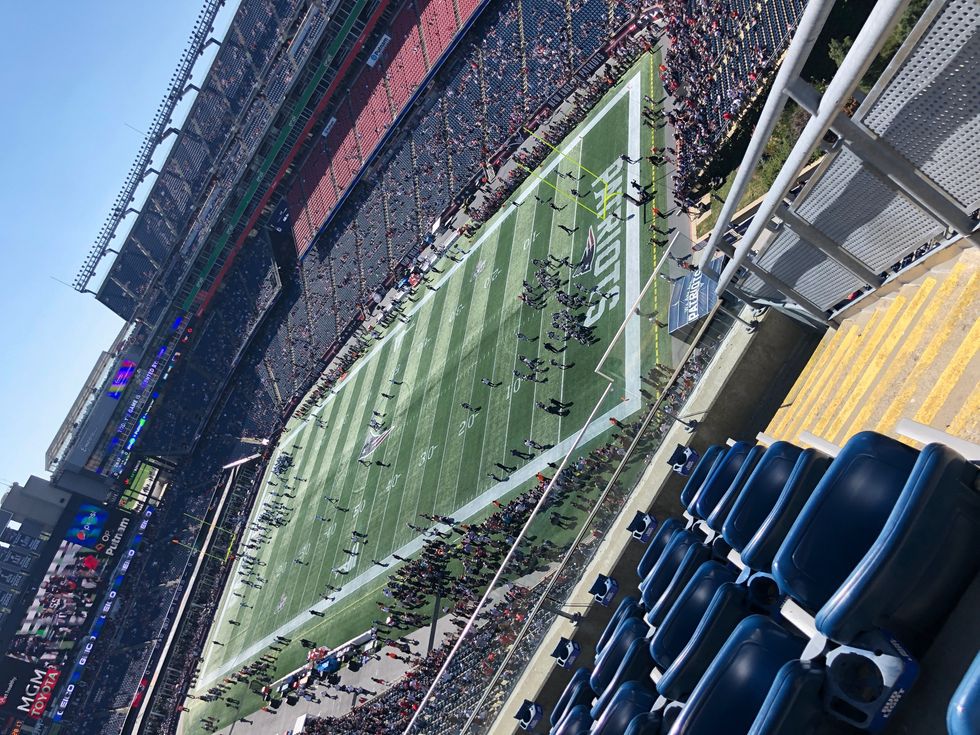 Thomas Leone
No surprise here, the stadium and the area is as beautiful as the success of their football team. Gillette Stadium itself does not have a bad seat in the house. In the picture you'll see the view I had from the 300 section corner end-zone! Usually some of the worsts seats in other stadiums, but not this one. The game itself was brutal for Jets fans, I think I was one of 5 Jets fans there to be completely honest. It was the first game in which the Jets were starting their 3rd string QB Luke Falk. They lost 30-14. The fans were surprisingly nice, probably would have been a different case if the Jets were any good and if I was not with a Patriots fan. But anyways, the views around the stadium were nice, it is literally in the middle of nowhere so there was a sick air force fighter jet fly-over before the game. The game-day experience for the Patriots involves a lot of Tom Brady and highlights of their six super bowls, obviously cool for any Pat fan, and miserable for a Jets fan. The stadium is also surrounded by something called "Patriot Place" a plaza with restaurants, stores and even a hotel. Overall if you plan this trip you can literally sleep eat shop and watch football all within one facility it is pretty sick. Unfortunately though the parking is a nightmare, one way in… one way out. It took us an hour to get out of our parking lot which was a 15 minute walk from the stadium… YIKES
Week 8: Jets @ Jaguars TIAA Bank Field, Jacksonville Florida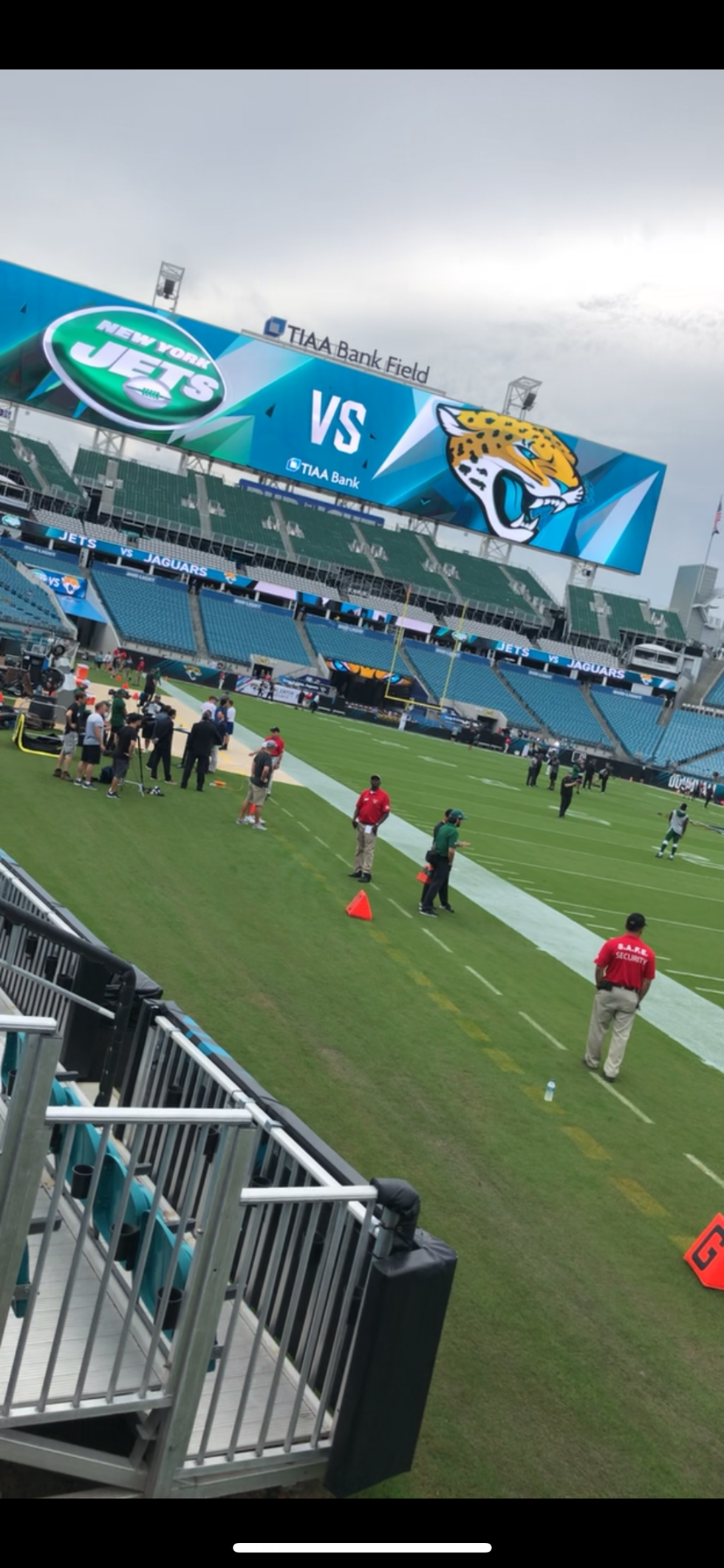 Thomas Leone
Week one of two in Florida. This was the game after the Sam Darnold "seeing ghosts game" so as for the game itself I was just hoping they could win, Darnold could play well and put the Patriots disaster behind the team. Of course it did not happen, the Jets lost a sloppy one and my record in road games moved to 0-3(Traveled to Pittsburgh in 2016 and they lost). The stadium in Jacksonville was nice for an older stadium. It was pretty interesting seeing palm trees line the outside of the stadium. I had really close seats to this one which was great to interact with the players before warmups. (I even got in Marcus Mayes instagram post). You could tell the stadium was old, but it had a really nice characteristics. HUGE scoreboards behind each end zone and the crowd was really close to the field. They game-day rituals for the Jaguars is pretty cool, players run out of a huge Jaguar head and run the whole field, they have a "Duuuuuuuuval" chant for the county they play in and its pretty cool. They have a mascot who dressed up in a ghost costume in honor of Sam Darnold… (very funny :/) and jumps from the top of the stadium every game. It is a fun environment, except Jaguars fans are very annoying, they took full advantage of trash talking arguably the only fan-base they could trash talk… even though they really shouldn't have because the Jets have beat them in the playoffs, they dont have a super bowl and have only been in the league for 25 years.. But whatever I let them have their day.
Week 9: Jets @ Dolphins Hard Rock Stadium, Miami Florida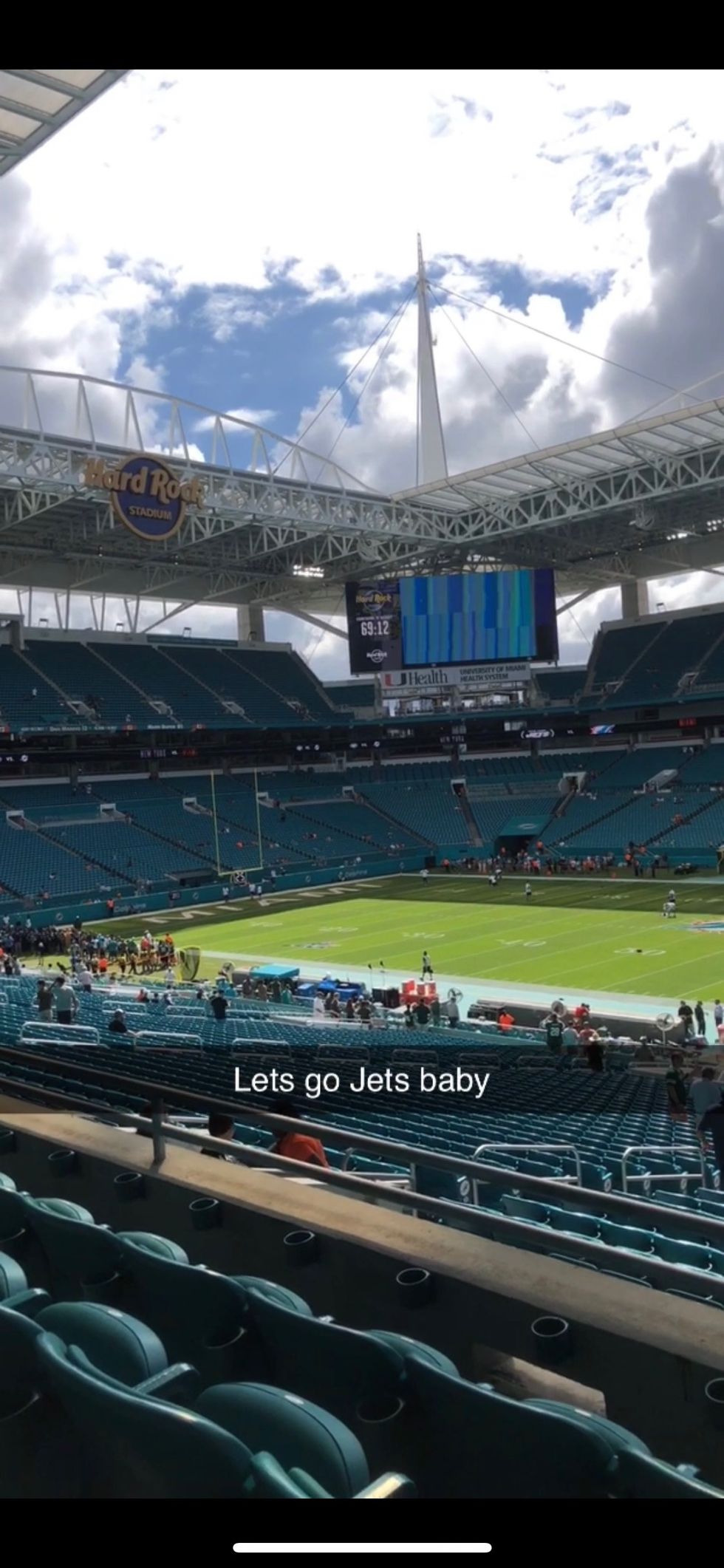 Thomas Leone
Week 2 of 2 in Florida and back to back weeks. The Jets lost to the 0-7 Dolphins but who cares. Let me tell you something, this will be a yearly trip for me. Hard Rock Stadium is beautiful. All the seats are in the shade, and all of them are close to the field, even the upper section. The stadium is like a perfect square it is sick, and the lower sections are on-top of the field. To make it even better, you're in Miami Florida. Once again the outside of the stadium is surrounded by palm trees and there is plenty of parking for fun tailgates. Inside we had tickets in the 200 club which was cheap, great seats and great choices of food. The game day experience for the Dolphins was cool, they focus a lot on their undefeated team of 1972 and Dan Marino, they have a dolphin mascot that doesn't do much and they have a touchdown song, which let me tell you, for a Jets fan is super annoying, but I must admit pretty catchy since it was stuck in my head for about a week. Another positive, unlike Jacksonville which is tough to find things to do after the game, Miami there is almost too much to do. A really fun city to go see a football game. Hopefully when I go next year the Jets will actually win
Week 11 Jets @ Redskins FedEx Field, Landover Maryland (Washington DC)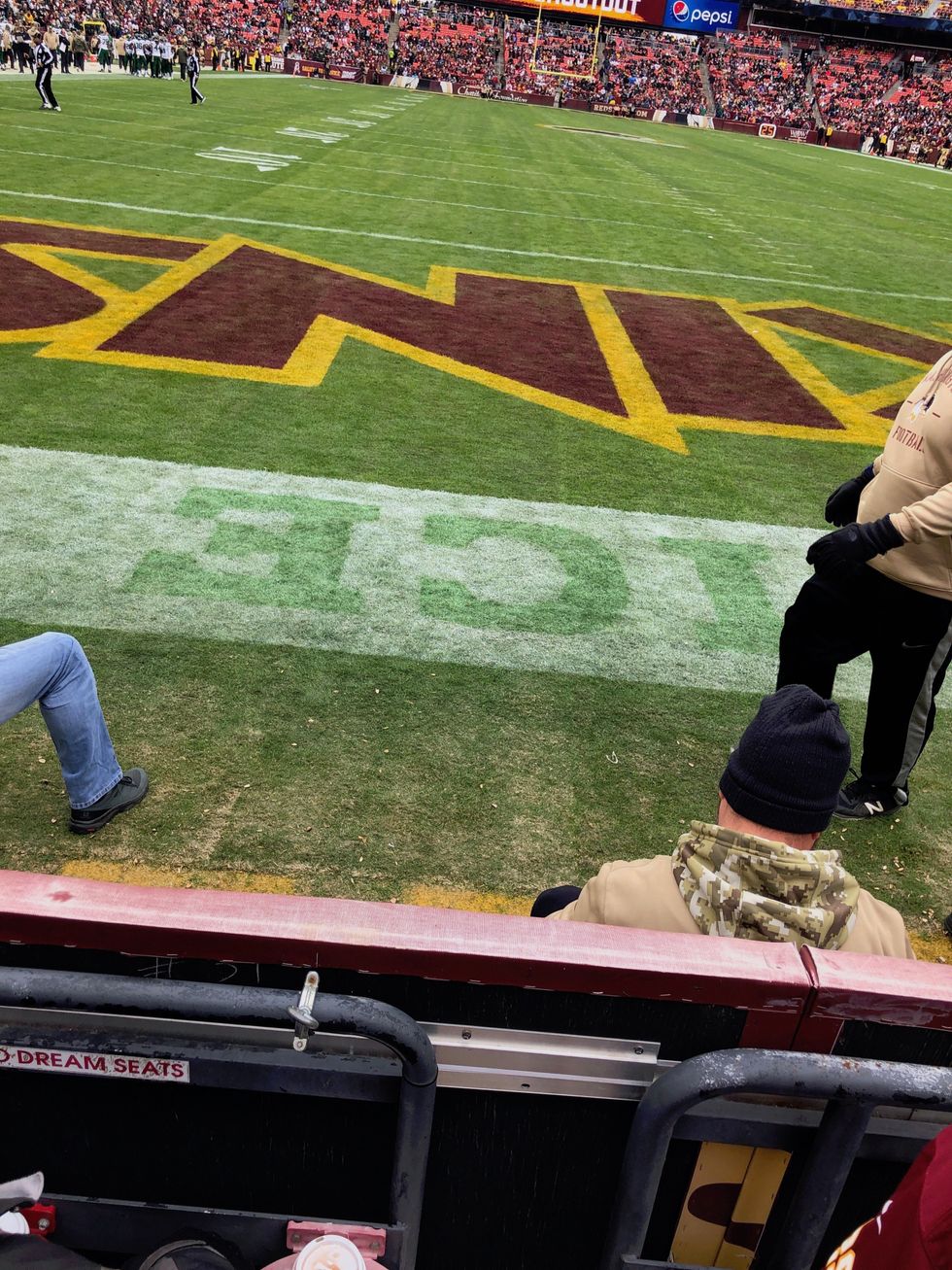 Thomas Leone
The Jets finally won a game and it was fun. I bought these dream seats which are the first couple of rows around the stadium so you are really close to the action. We even got on TV. Other than that though, Fedex field is a DUMP. It was a really easy drive which was probably the only positive a little under 3 hours, I did the there and back in one day, so in eight years when the Jets play there again, ill probably go. The stadium did have a second level club with some restaurants but that was nothing special. I will give them concession credit though because they have a lot going on, Johnny Rockets, Hooters and they have their own beer "Ale to the Redskins". I might have thought differently if both teams were not so bad and I saw a packed stadium but since it was so empty and there were more Jets fans, it made the stadium very eh, for lack of a better term. The game-day experience was cool though ill give them that. Plenty of room for tailgates, a nice walk to the stadium, a helicopter fly over and another touchdown song in which I really like. It is called "Hail to the Redskins" and since the Jets were winning by a lot, once the Redskins scored I actually sang it too.
Stadium Rankings
1. Hard Rock Stadium, Miami Florida
2. Gillette Stadium, Foxborough Mass.
3. TIAA Bank Field, Jacksonville Florida
4. FedEx Field, Landover Maryland
Overall going to these games has been such an amazing experience. Although I had the dream of going to all 16 games, I quickly realized sometimes more important things than football come up. Still though, not many people have been able to do what I have done so far this year. I have had the benefit of the Jets traveling the least amount of miles as any other team in the NFL. It was an opportunity I could not pass up and one I saved up to do. I also luckily have some amazing friends that have taken this trips with me to see such crappy football that the Jets have played. I keep telling people "man imagine if the Jets were good, how fun this would be". Then I actually think about it and realize that I am having just as much fun win or lose with my amazing friends, traveling to see the team I love... and because they suck doing it at a cheaper price.
To all the football fans out there, if you are able to travel to another stadium to watch your team play do it! Trust me you will not regret it.
Here are some more pictures of my travels all of which are priceless. LETS GO JETS.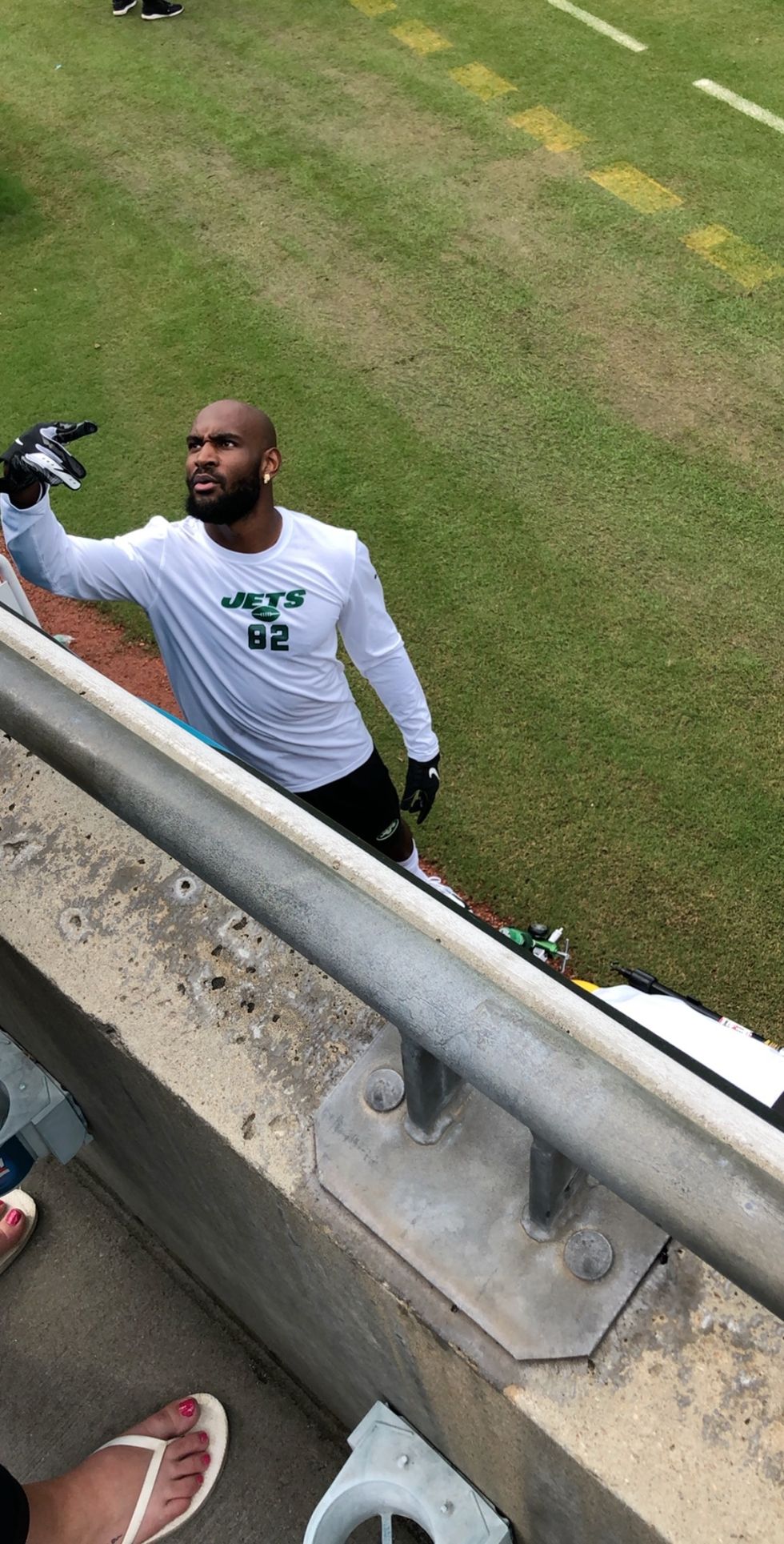 Meeting WR Jamison Crowder in Jacksonville Thomas Leone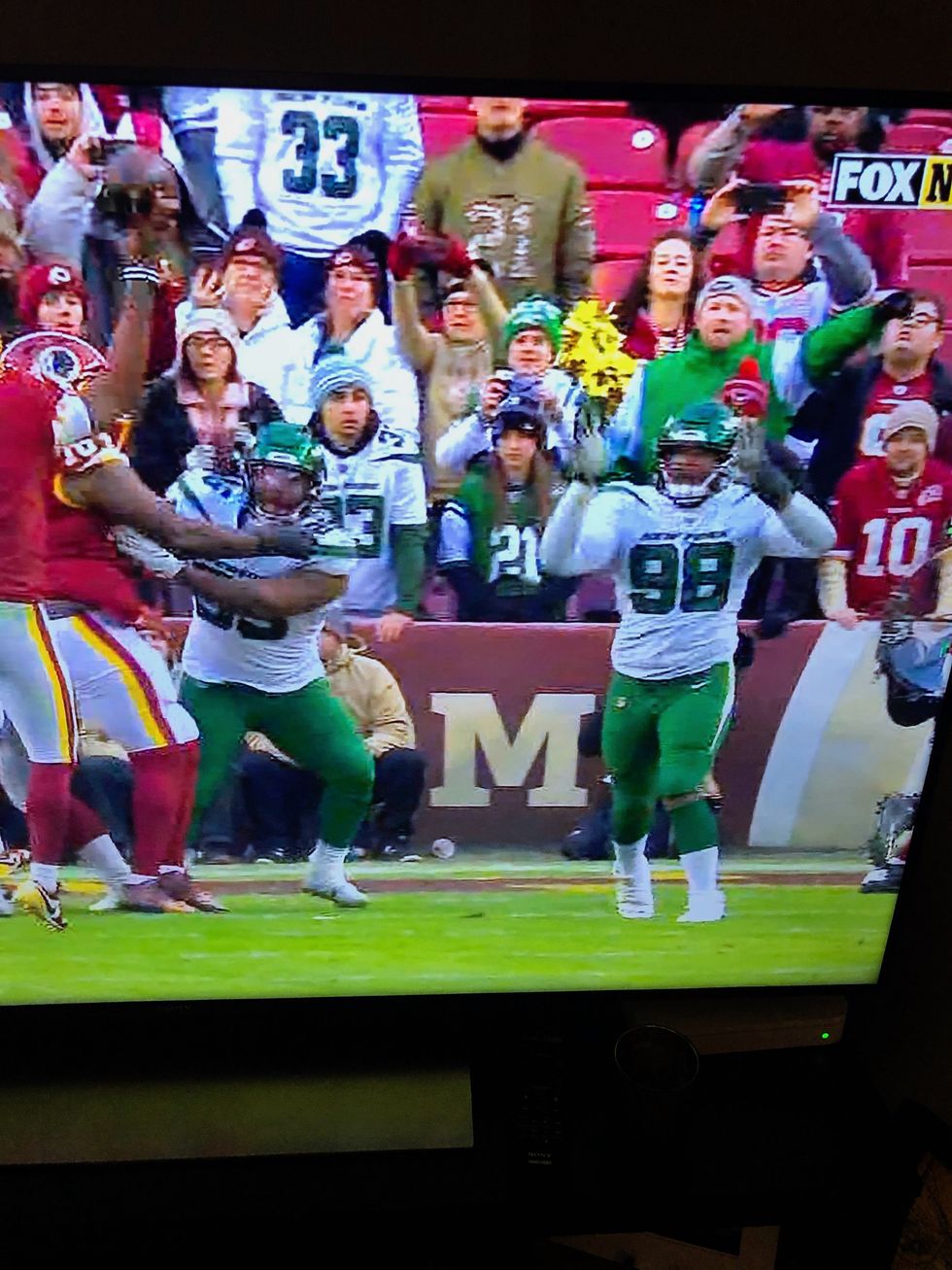 Pictured left is me in my white 33 Jamal Adams Jersey. Got on Thomas Leone