I've heard it said before that Odyssey exists solely to accumulate Facebook shares, and to "go viral." The more people that click on Odyssey articles and spend time on the website, the more money that Odyssey can charge its advertisers to advertise on the site. At the same time, Odyssey content creators have their voice heard by thousands of people, sparking national conversations on the daily.
Creators at Odyssey are often criticized for producing "click-bait," which supposedly we write ONLY to persuade people to click on our articles. But here is the two-step catch some aren't getting: every writer wants their article to be clicked on. The more people click on it, the more people read your work, and the more people share it — it's a cycle.
Every published writer wants their work to be read. This goes for Odyssey writers just as it goes for newspaper reporters and Cosmopolitan bloggers. If you write something you're proud of, you want people to read it. This is the purpose of published, rather than private, writing. "Going viral" is an extreme success because the more people who read your work, the better.
Here is how to maximize your readership on Odyssey.
1. Share on Facebook.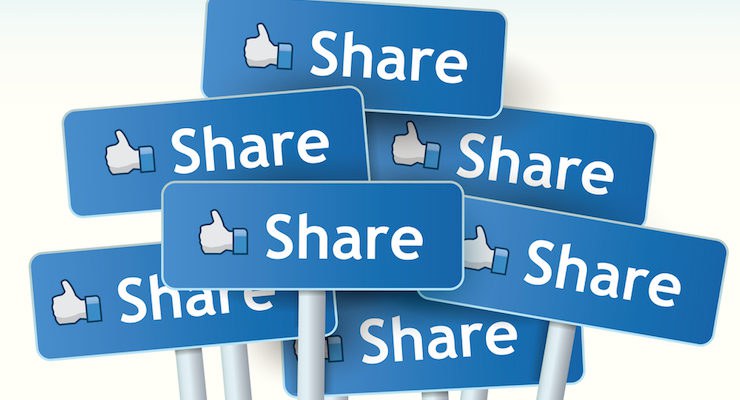 Odyssey automatically posts your article to your Facebook for you when it goes live, but this isn't enough. Hundreds of people on everyone's Facebook friends list post and share things every day. This makes it SO easy for your share of your link to get lost in the news feed.
Share your article to your Facebook at least every other day for the first week after it goes live. Tag friends who you think would enjoy it. For example, if I wrote an article on feminism, I would tag my girl friends who I know are avid feminists. Also, tag Odyssey and relevant Facebook pages: Odyssey Friends and Family, Odyssey Relationships, Odyssey Activism, or Odyssey Health and Wellness. Make sure the post on Facebook is set to "public," marked by the globe icon next to the time stamp:

Another way to customize your Facebook share is to copy and paste a great quote from your article to your post.
2. Post to Facebook pages and groups.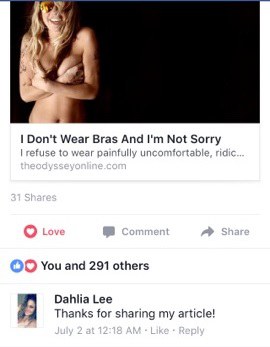 Start by searching your article topic and/or title on Facebook. For example, when I wrote an article about having cats as pets, I searched "cat lovers" on Facebook and posted in the Facebook pages and groups that popped up. This is a great way to reach your target audience because people Like pages and join groups that are specific to their interests.
3. Tweet using hashtags and tagging @TheOdyssey.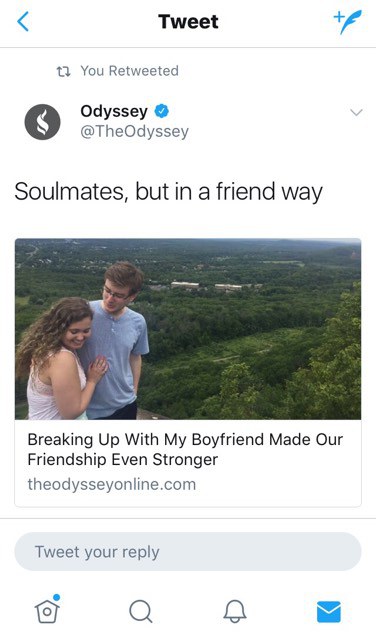 You just might get featured!
4. Copy and paste your article link into your Instagram bio under "website."

Then, to direct followers to the link, post a relevant Instagram photo and use #linkinbio. Tag @TheOdysseyOnline in the photo and in the caption.
5. Post an Instagram story using #linkinbio.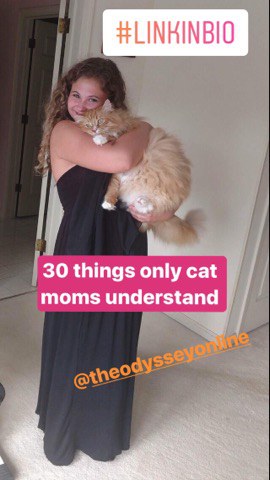 Don't forget to tag @TheOdysseyOnline in your story.
6. Attach the link to Snapchat.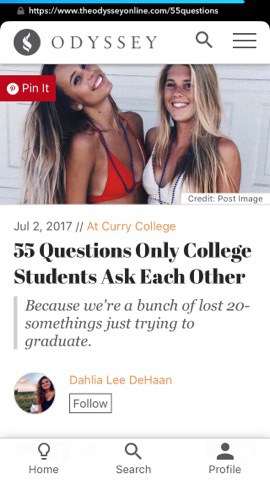 A new Snapchat update now allows you to attach links to your Snaps! Take a Snap, click on the paperclip option, and copy and paste your article link. In your caption, tell your followers to swipe up to view your article.
7. Post to Tumblr.

8. Submit to StumbleUpon.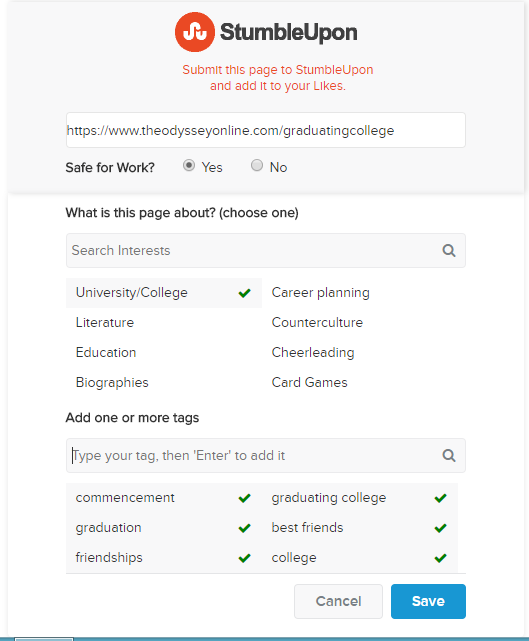 Submitting to StumbleUpon is the easiest form of social media sharing. Simply click the orange "SU" logo below your article. Once you make an account, all you have to do is select a category, add a tag or two, and select whether your article is safe for work. Then submit, and StumbleUpon does the sharing for you!
9. Pin to Pinterest.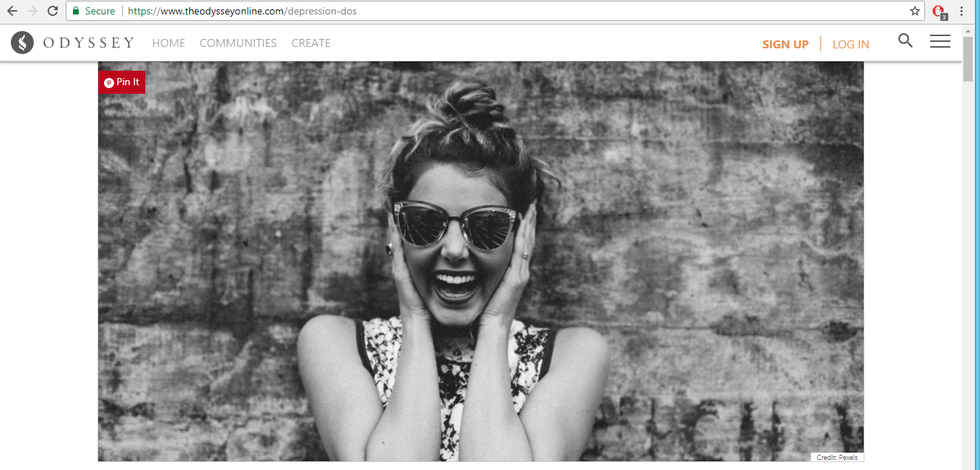 See that red button in the upper left-hand corner of each article? Use it! Create and pin to relevant boards.
10. Share on LinkedIn.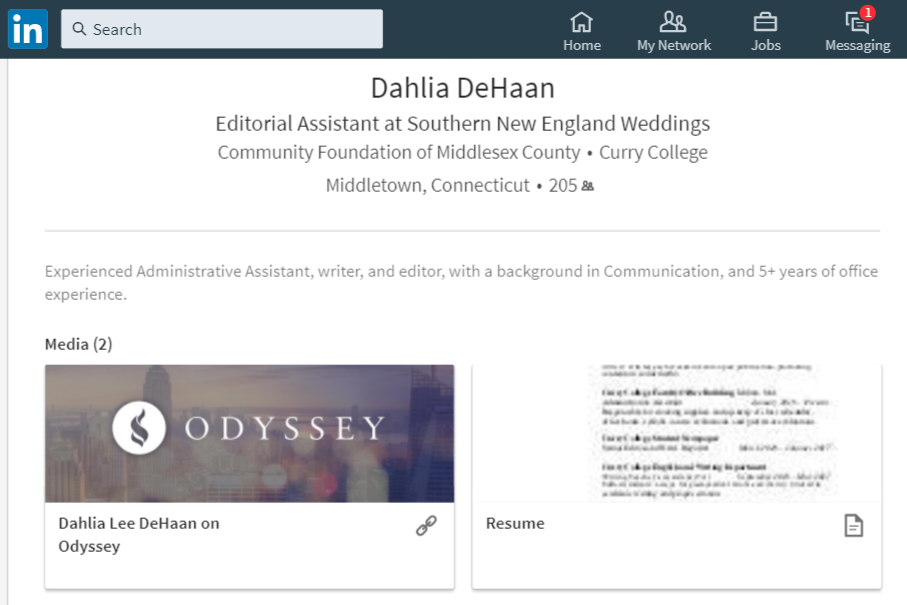 One of the best things about writing for Odyssey is building your writer's portfolio. Put your Odyssey page link on your LinkedIn page to establish yourself as a blogger.