Thanks to my uncle and his family, I have been an Atlanta Braves' fan for several years. My parents and I had been wanting to attend a game, since the new baseball stadium, Suntrust Park, had been built. When I heard that they were hosting a night honoring Mississippi State University, I knew it was the perfect time for us to go!
When my parents and I arrived at Suntrust Park, I was already in awe by the newness of the entire area. Giant posters of players lined the outside of the parking garage wall from top to bottom. The walkway leading to the inside of the park was decorated with red and blue platforms hanging above our heads.
Even before we entered the stadium gate, we were met with a cute array of shops and restaurants. A grassy area was off to the side where team members were throwing the baseball to some young kids. The atmosphere was filled with excitement and joy by all those who awaited the opening of the gates.
Before the gates were opened, a pep band and dancers performed to get everyone hyped up for the game. Those dancers had some serious talent! This was a fun way to get ready for the game!
After anxiously waiting in line, the gates finally opened, and we were allowed to enter the stadium. Once again, the atmosphere was euphoric and alive with happy fans.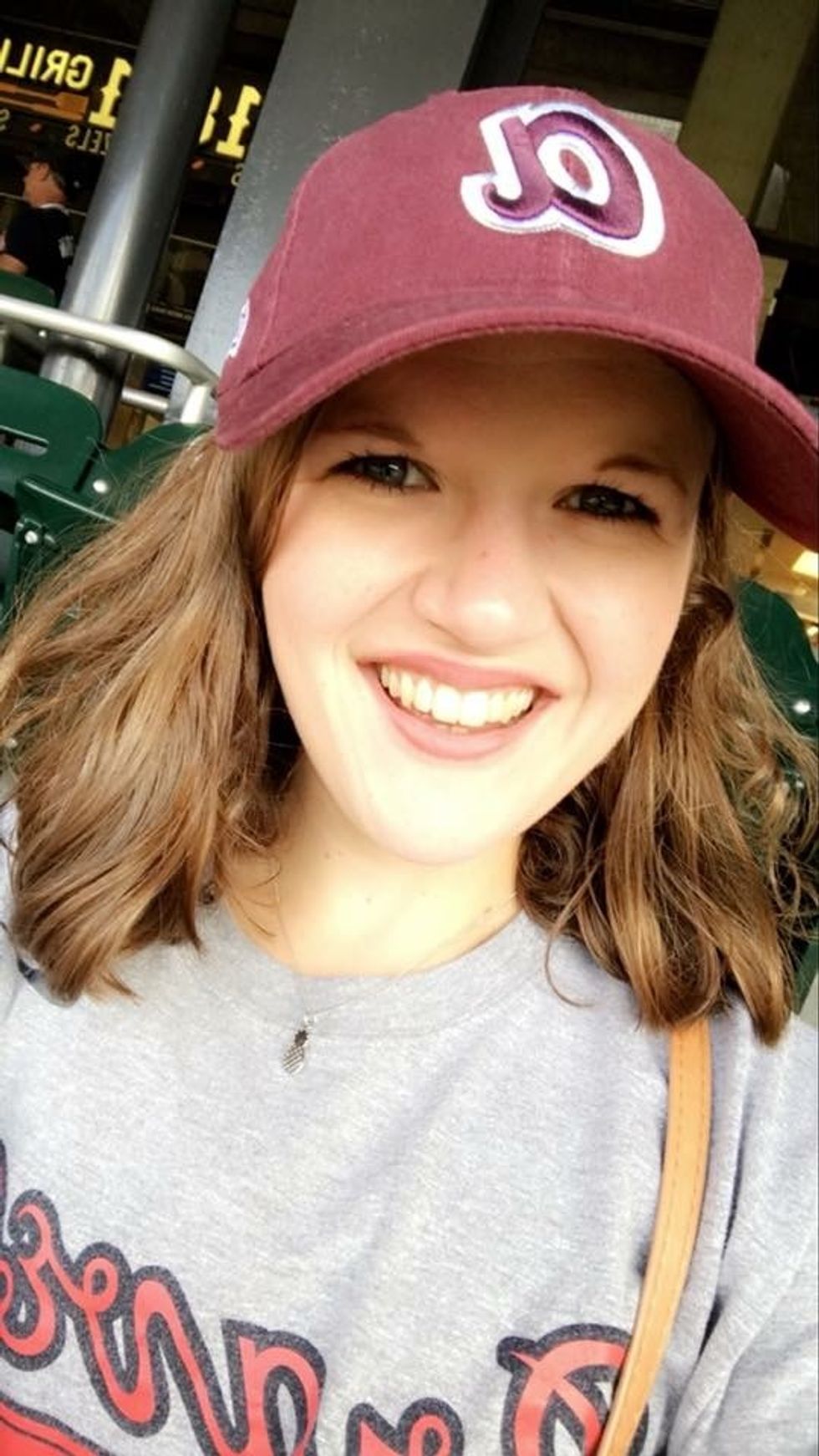 Ready to root for the Braves in my new cap!Jessica Bishop
We purchased the "Mississippi State Fan" package which meant we received free, maroon Braves hats with a Mississippi State emblem on the side. Additionally, our seats were in a section with everyone else who purchased this package-Bulldog fans. It made my heart smile to hear people cheer "Hail State!" or "Go Bulldogs!" when they saw my MSU cap. I was a proud Bulldog, as always.
One of my favorite parts of the evening was the "oblivious cam." The camera was on a guy for over two minutes, and he never noticed! He was dancing around to the music and had the whole crowd rolling. I hope someone eventually told him about his humorous two minutes of fame!
I have grown up watching baseball, so watching a live game was remarkable! Although the Braves lost to the Colorado Rockies, the team had amazing skill! Cheering along with the rest of the crowd and occasionally participating in "the wave" added to the experience.
As if the pre-show and the game were not enough, they ended the night with an awe-inspiring fireworks show. My parents and I were tired, but we did not want to miss this incredible part of the evening. The fireworks show was unbelievable!! To quote my dad, "it was the best fireworks show I've ever seen!"
From the pre-show with the dancers to the enthusiasm of rooting for my favorite team, "Mississippi State Night" in Suntrust Park was an experience I will never forget!