After hosting the VMAs on Aug. 30., Miley announced that a surprise album, "Miley Cyrus and Her Dead Petz," was available for online streaming. For free. Under her own label, Smiley Miley. CHRISTMAS!

I was a little hesitant to click the link after watching the live performance of the album's lead single "Dooo It!" at the end of the VMAs, which featured a stage full of drag queens and chants about pot. If mothers across the country wouldn't let their Hannah Montana-loving daughters listen to "Bangerz" because of its profanity, a third world war was about to erupt over this album. I crossed my fingers for Miley and was glad I did so.
The album contains 23 tracks of raw musical expression. Unlike her 2013 "Bangerz" album, these songs are scantily edited and computerized. They carry a heavy influence from The Flaming Lips, a psychedelic rock band (and Miley's good friends) and feature Big Sean and Mike Will Made It, who also had a hand in "Bangerz." Despite the collabs, Miley solo-wrote 10 of the tracks. I repeat: 10 of the tracks.
The album is 100 percent Miley, and it's a beautiful thing. And yes, I am even referring to the tracks titled "F***in F***ed Up" and "I'm So Drunk." The girl literally says whatever she wants. It's almost like she locked herself in a recording booth for two hours and poured her heart out singing whatever lyrics came to mind. It's organic. It's honest. And, plot twist, you can actually HEAR that she has vocal ability.
I got the chills during "Twinkle Song," a narrative about a bizarre dream Miley had in which she hung out with David Bowie and was chased by alien monsters. Her lower register is delicate and dreamlike, and then launches into a passionate belt as she wonders, What does it mean? Her nonsensical dream transforms into an emotional ballad that gives you the feels.
There are some tracks that confuse the hell out of me. "Miley Tibetan Bowlzzz" is two minutes of Miley crooning "ah" with some strings backing her up. I imagine it playing in the background of a slo-mo fight scene in the "Lord of the Rings" or something. "F***in F***ed Up" and "I'm So Drunk" are each less than a minute long and repeat the same five words, but I guess that's OK because they're interludes. We'll let that slide, Miley.
Then, of course, there are the songs dedicated to Cyrus' "Dead Petz." "The Floyd Song (Sunrise)" commemorates her Alaskan Klee Kai pup that passed away in 2014 (may he rest in peace). My personal favorite is "Pablow the Blowfish," a surprisingly heartbreaking tribute to her deceased fish friend. Over a pretty piano melody, she sings, "How can I love someone I never touched? You lived under the water, but I love you so much." She even breaks down into sobs by the end. It sounds absurdly cheesy, I know, but the emotion is so strong that you kind of forget she's singing about a fish.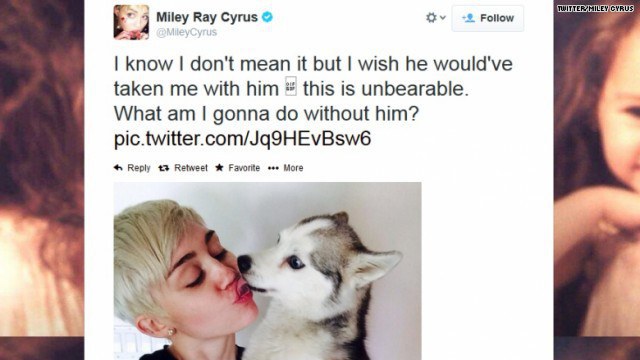 There's no doubt that this is exactly the sort of album Miley wanted to make. She's trying to figure out who she is as an artist, and it's bringing out her inner passions and true musical talents. Her experimentation with a new style places her interest in drugs and psychedelia front and center, and the musical honesty is refreshing.

With "Bangerz" being considered Pop/R&B, "Dead Petz" definitely ventures into a genre all its own. It's pretty clear Miley is veering off the mainstream, but that's OK because some artists just don't belong there anyway.