A week ago today I was relaxing, chilling watching TV all pumped up about my baseball team. It was the night after a big 9-2 victory over the red-hot Cleveland Indians and the Mets were sitting just 1.5 games out of the Wild Card. They were 18-3 at the time since July 25th and honestly, all was right in Mets land. The team could do no wrong. Later that night I was watching yet another 9th inning comeback, and the following day I was at Citi Field watching Noah Syndergaard dominate his way to another Mets victory. The team had now won 5 straight, this following a stretch of winning 15 out of 17 games. I was heading into the weekend as confident as ever that this was going to be the start of another streak that would take this young, relentless team to the next step of taking over the wild card and putting destiny in their own hands to make the playoffs. As I headed into the city that weekend for a get-away with the family I truly believed us Mets fans were in for another Amazin' weekend. Unfortunately the Atlanta Braves had other plans.
I know hate is a strong word, but when it comes to organizations in sports I HATE THE ATLANTA BRAVES. To be completely honest they are a very close second to the New England Patriots, which is really saying something because anyone who knows me, knows how much I hate those ugg wearing mass-holes from Boston. But anyways, back to baseball. The Atlanta Braves, arguably the second best team in the National League, have been the Mets "achilles heel" in this amazing run back into contention. As stated before the Mets went on to win 15 out of 17 games with their only two losses being to... the Atlanta Braves. Then even with the Mets going into this weekend's series with a 5 game winning streak the Braves come in and sweep the hottest team in baseball. I mean it really is a nightmare when the Mets play the Braves. After the sweep the Mets record in their last 29 games was 21-8 with 5 of those 8 loses being to the Atlanta Braves! FIVE!! That means in a full month the Mets were 20-3 against every other team they played, but 1-5 against the Braves. To add insult to injury is they were only 2 games out of the Wild Card after the sweep...meaning even if they just went 3-3 against the Braves they would be tied. Everything about this great run the Mets have been on has been hampered by the Atlanta Braves. All the joy, the excitement, the big victories is followed by a disappointing series against the Braves and I think this last sweep might just be the end of the Mets magical run.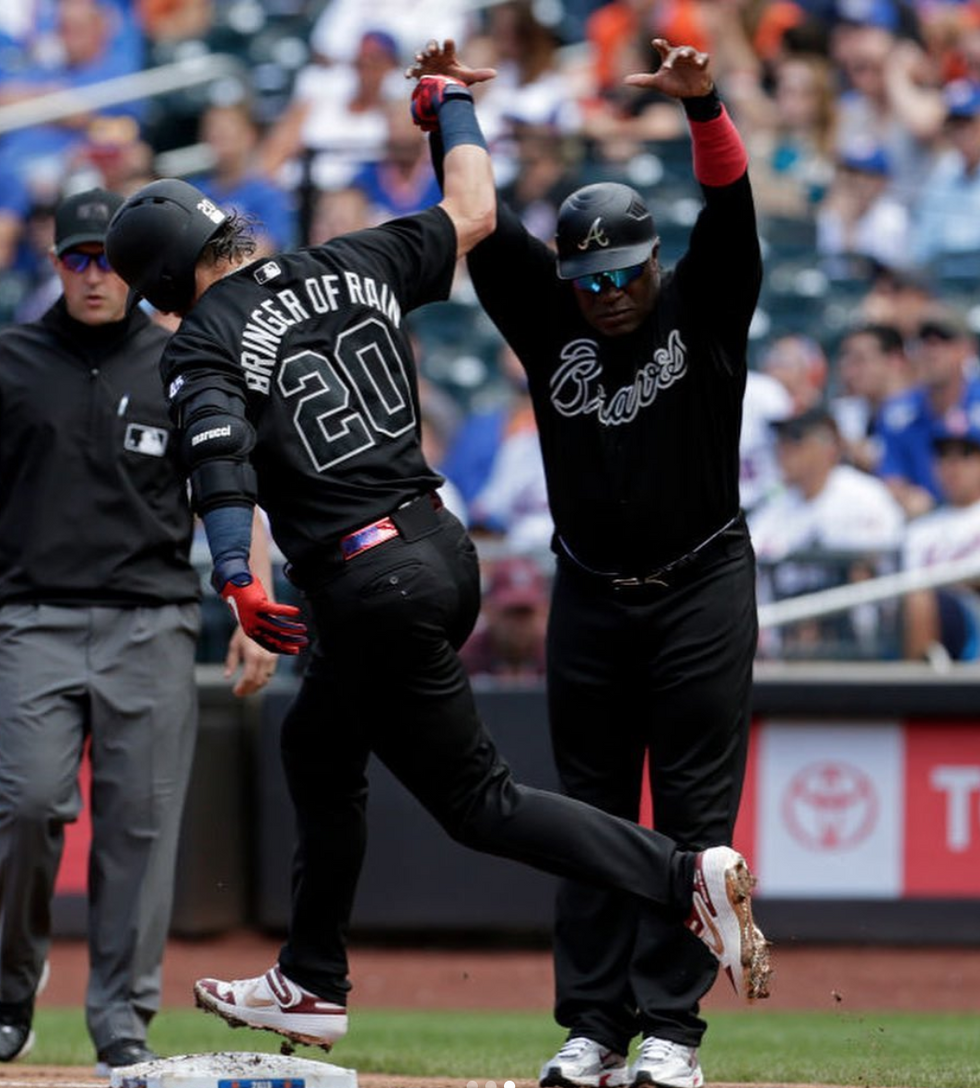 Last night going into their game with the Cubs the Mets were two games back of the second wild card. A spot held by those Cubs. A sweep would get the Mets one game ahead, holding the second wild card spot. Out of all the series and games of baseball during this run back into contention this was the biggest. Everyone knew it, and just like the same old Mets they played their flattest game since the all-star break. All the bad habits that derailed them in the first half are starting to show again, it was present in the Atlanta series and now through one game of the Cubs series it seems to be sticking with them. I know they have been good for so long and it is hard to contain that but they have no other option. It is either win now, or go home. The Mets playoffs started last week, they can not fall behind anymore then they have in the last 4 days. These next two games vs the Cubs are perhaps their biggest of the season. This is the Mets season, they CANNOT fall behind 5 games on the Cubs, especially when you do not play them again. Relying on other teams to do the job for you is not where you want to be in the dog days of September baseball. There is a big part of me that wants to stay optimistic and just believe that this is yet another bump in the road that this team will bounce back from, but Mets fans have we not seen this before? They bring us in just to break our hearts. They never let us down easy, if they did not make this run, right now we would all be pumped about Jets and Giants football being 13 days away we would emotionally be over the disappointing season hoping next year will be better... but no no no, the Mets wanted us to become emotionally invested again, have us sitting down watching every inning every pitch just to showcase to us that nothing has really changed and that they are the same old Mets. That this magical run was a mirage. Unfortunately, there is just this doubt hanging over me for some reason that knows this run is over. But I am giving them TWO MORE GAMES, before I fully give-up. These next two games will show me and us Mets fan what this team is all about. Im telling you if they lose these next two and suffer a six game losing streak, its over people. O-V-E-R. We can finally move on, look forward to football and reminisce on how great that last month of baseball was.
BUT If they win these next two well they would be bringing us back in once again...bringing us deeper into the season, just making the heartbreak harder to deal with....or the triumph better than it ever has been.