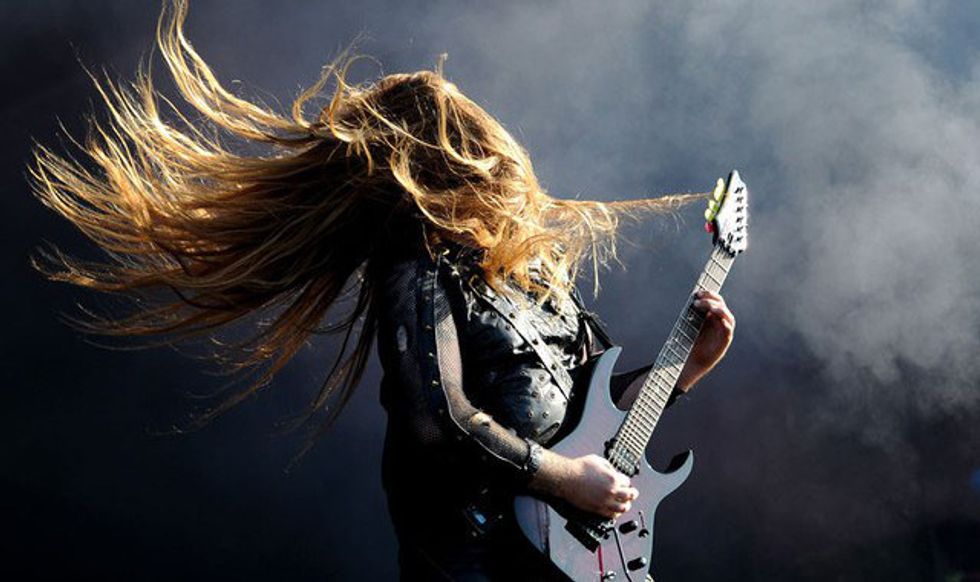 As of today, I have been a proud and happy metalhead for over nine years now. I am a fan of all musical genres, but heavy metal always takes the biggest slice of cake. Metal will rock you, make you move and may ultimately change your life for the best, as it has mine. Whether you love it, hate it, are somewhere in between or remain indifferent, metal has the ability to stir a reaction in anyone who listens to it. Despite the bad reputation heavy metal has incurred throughout the ages since its emergence in the 1960s, my hope is to imbue the positive intentions that I and most other metal performers and fans try to reverberate. As a metalhead, drummer, cellist, vocalist and overall well-meaning individual, here are my top five unspoken truths that you can rock out to:
1. Will Headbang Anywhere, Anytime!
I'm always listening to music, most of which is metal. No matter where I am, no matter what time it is, I have found that metal can suit any occasion. I will headbang responsibly when I'm on the subway, waiting in line at the grocery store, going "back to school," hiking "holy mountains," reading "the diary of jane," taking pictures that capture "duality" or even cleaning up some "broken frames." I am even headbanging to Deftones' "Around The Fur" album as I type this. Not only is headbanging good for the soul and burns roughly 450 calories per hour, it is also one of the most fun dance styles. However, please be safe when headbanging, as it has been associated with an increased risk of neck and head injury.
Because the most popular musical genres in America are Rap, Pop and Hip Hop, metal takes the back stage. Metalheads are a rarity in our culture but are recognized as the best fans in every way. In lieu of the stereotypes, metalheads are generally peaceful and down the earth who welcome newcomers to the heart-pounding, ground-shaking and joyfully breathtaking musical genre. Personally, due to my calm and collected demeanor, people who discover my love for metal are often shocked. I am just one of many that dispels the common misconceptions about metalheads.
3. Screamo, Death Growls and Pig Squeals Require Skill!
Have you even heard Bring Me The Horizon's Oliver Sykes, Korn's Jonathan Davis, or even Slipknot's Corey Taylor? If you have ever tried to do a professional scream, death growl or pig squeal, you'll soon realize it is not as easy as it seems. Most of the population, including myself, have yet to attune these abilities. Just as a precaution, please be safe and practice these vocal skills responsibly. As always, have fun with metal; metal is as much a divine art form as it is meant to be appreciated and doubly enjoyed.
4. Sometimes Heavy Metal Is a "Last Resort!"
It is "Almost Easy" to say that being a metal head has left me feeling like "A Stranger" with many days feeling like a "Lonely Day." However, I want to give some you "Skin Deep" solace by saying our "Tears Don't Fall" in vein. No matter how much you might be "Coming Down," just let "The Sound Of Truth" be your "Meddler." Our "Scars" will always remind us that "You Only Live Once," so do "Carrion" and "Never Back Down." It's "Never Too Late" to be a "Hero" like "Iron Man" for the "Broken" and "Hollow" while our cheers "Fade To Black." Nevertheless, it is usually "The Outsider" who is "Dressed For Friend Requests" that will "Rock You Like A Hurricane!"
5. Heavy Metal Is Cathartic!
Metal is a unique release. Apparently, people who listen to heavy metal are generally calmer, smarter and happier than their peers. Music allows us all to feel connected and bond on such a basic human level. Metal just takes music to a deeper level. So if you are ever in need of some relief, a surge of high powered energy, or the benefits that heavy metal offers, feel free to crank up the volume and just be you!