Every Friday night, Franciscan University men gather in droves. Anywhere from 10 to 100 of them show up, with their female friends and girlfriends there to see them off. These men, who come from one of the nation's most authentically Catholic universities pile into cars, and drive to a strip club for the night.
Once they arrive, they stay across the street, get on their knees and pray.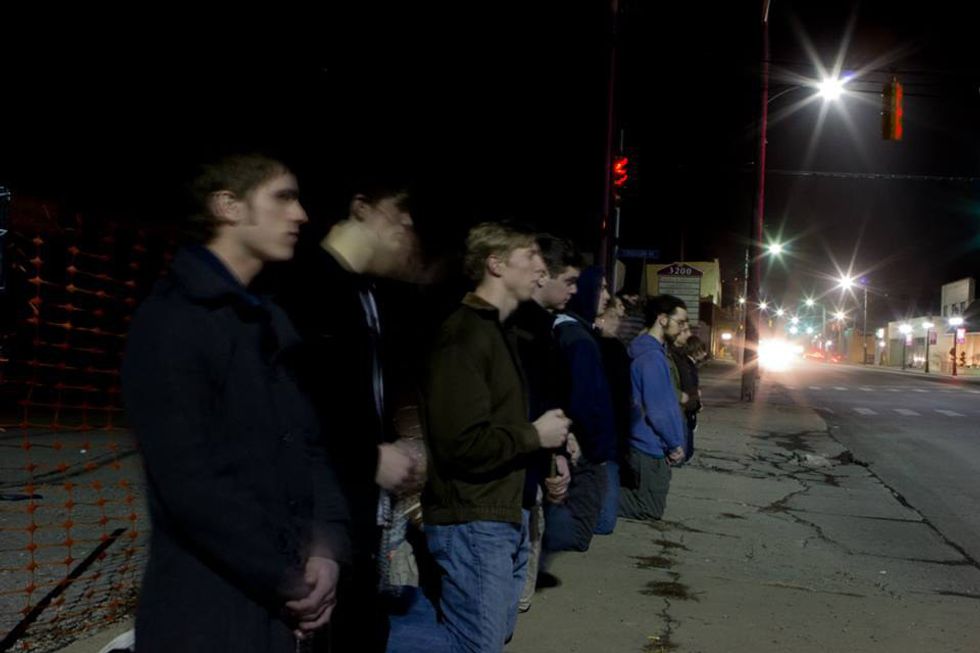 This practice is known across campus as Red Light Ministry. Though not recognized as an official ministry at Franciscan, it's taken off through word of mouth. The thirst for real love is rampant in the world, but this thirst has tragically manifested itself through the culture of death. These men pray not only for the end of that specific club, but also for the men and women inside, that they may realize dignity and worth. They pray for broken relationships, and for families. They pray for the world at large, for the dignity and respect of human persons everywhere, especially women, who are so exploited and objectified in our culture.
The men involved in Red Light are not perfect. They all struggle to view sexuality as it was meant to be seen, they forget their own dignity and the dignity of others. But their prayers reveal they are actively fighting. As the women in the club, and in the world are objectified, they stand up for them when it would be so easy to use them. Their prayers are a public statement that they see the dignity of women and they are striving to guard their own hearts.
But that's not all that goes on- once the men, leave the women of Red Light pray before the Blessed Sacrament.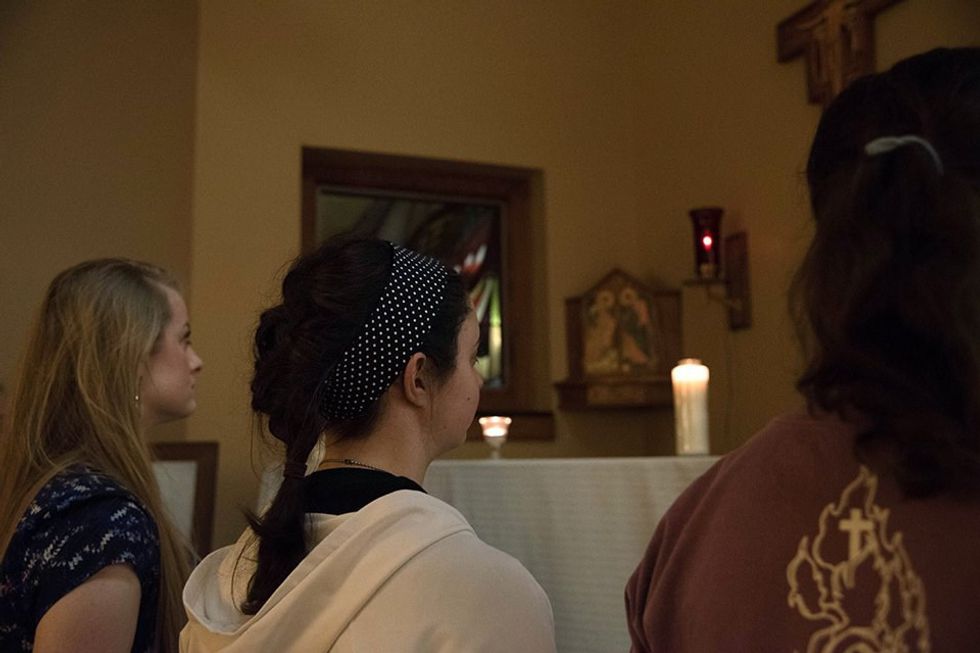 Just as a prostitute has a red light outside her door signaling she's ready to give herself to a man, so the tabernacle has a red light outside symbolizing Christ is present and willing to give Himself to us.
They pray not only for the men's safety as they uphold their dignity, but also for their own healing, for the healing of women everywhere, for a greater awareness and respect for human dignity throughout the world. When we forget our dignity, we succumb to more than carnal pleasure, more than letting ourselves be used sexually. We forget who we are, and when we forget who we are we live in misery.
Through Red Light, we remind each other as men and women who we truly are. The community of women affirm and love each other as we seek healing in our hearts and in our world, and the men are held accountable as they take to the battlefield- for it is a battle. The devil hates the men's powerful witness. While praying, they've suffered ridicule, endured people spitting on them, and even the dancers have made fun of them. They've knelt in the bitter cold, they've fought spiritual attack, and still they come back, week after week.
There have also been glory stories. Sometimes the women will approach them, and, in one case, have gone to Mass with one of them. In the middle of the night, a semi-truck crashed into one of the strip clubs the men prayed in front of. Beyond these external victories, this ministry has healed so many hearts- including my own.
As a woman, I admit that some days I'm afraid of men. I don't mean I'm transferring to an all-women school or that I pull out pepper spray when a guy so much as looks at me. But I can't help but wonder what men are thinking when I pass them- even though I'm fully clothed, even if they aren't cat-calling or checking me out. It's not entirely men's fault- with the culture that surrounds us and women's objectification so rampant, every woman can't help but wonder. It's scary. It's so exhausting to dwell on this, and wonder if there's any man whose perception of women hasn't been tainted by our pornographic culture.
These men, and my experience praying have helped remind me who I am. There are weeks I've come to Red Light angry and hurting, but I've left with a heart filled with peace and gratitude.
We're building bridges. The work is done not only in the outside world, but within our own hearts. We're reminded of our inherent value, and of the love we deserve. Men at strip clubs have healed my heart- and together, we are healing the whole world.