COVID-19 has turned our world upside down. Our daily routines have been disrupted, our loved ones have been harmed and hardships have hit many of us. More than 40 million jobless claims, 103,700+ U.S. deaths and over 1.7 million U.S. cases.
The Novel Coronavirus has claimed 369,500+ lives and infected over 6 million people around the world, according to Johns Hopkins. Once the virus made its way into the United States, its first known case was in Seattle, where 37 of the first 50 cases were claimed by the virus.
Seattle was one of the first cities to be heavily impacted and has continued to be a hot spot throughout the pandemic. Washington currently has over 21,000 confirmed cases and over 1,100 deaths, according to NBC News.
With schools moving to online platforms such as Zoom, in Seattle and all over the United States, many Seattle University students were put in a tough situation. Many students are from out of state or out of the country, therefore, they were faced with the decision to go home or finish classes online in a COVID-19 hot spot.
Nursing students at Seattle University and all over the country were given the opportunity to be involved and help hospitals during the outbreak. Many students work as nurse technicians/assistants to help them gain experience and become familiar with working in a hospital environment. Little did many of these students known, they would be helping during one of the most crucial times in history.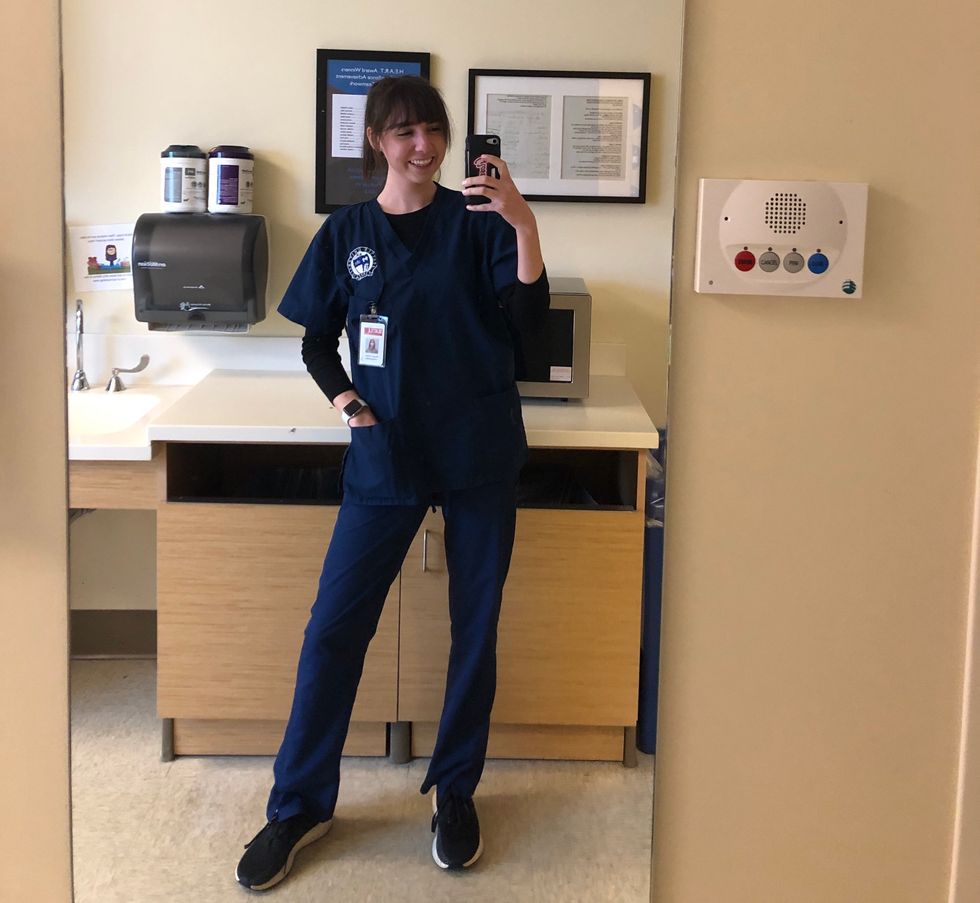 Megan Tretter
Megan Tretter, a rising senior and nursing major at SU, is one of these students. Tretter, who works as a nurse tech at Harborview Medical Center, a public hospital managed by UW Medicine, shares her experience as a student working during a pandemic.

Question and Answer with Megan Tretter:
Q: What is your position at the hospital, and why do you work there?
A: I am a nurse technician, which is essentially a position for nursing students that is similar to a nurse assistant with some added responsibilities that I am qualified for because of my program. I decided to become a nurse tech for the experience and to help me get more comfortable in a hospital environment and interacting with patients while I'm still in school.
Q: How has your school responded to COVID-19? As someone who is amongst those working in the hospital, are you satisfied with your school's response?
A: Back in March, I had clinical days canceled and finals converted to online exams as everyone was adjusting to the rising case numbers in Seattle. Shortly after, Seattle University announced that spring quarter would be online, and underclassmen were forced to move out of dorms. Upperclassmen could stay or opt-out of rent for the quarter. They are now planning to reopen campus with safety measures in the fall and adjusting the start of school to combine Thanksgiving & Christmas break.
Q: Walk us through a typical day at Harborview Medical Center.

A: I am on my floor by 7 a.m. to pick up my assignment for the day. Hospital assistants/nurse techs are usually paired with two nurses and are responsible for up to eight patients. I work with neurosurgery and neurology patients, and every day is completely different, but my responsibilities are helping patients with all basic needs throughout the day: bathing, eating, etc. I also assist nurses wherever needed until around 7:30 p.m.
Q: How has this changed since COVID-19?
A: Harborview has been great at adapting to changes and responding quickly to things that work well and things that do not. Visitors were not allowed to come for about two months, and we recently started allowing visitors again. We stopped doing our morning huddle, conserve personal protective equipment when we can, attest that we don't have any symptoms before each shift, enforce social distancing in the break room and each staff member has one surgical mask that stays on an entire day.
Q: What is it like entering the medical field at this time?

A: It has been stressful to adjust to the unknown and follow new guidelines/policies from the hospital every few days. Surprisingly, it has reinforced my decision to go into nursing rather than scare me away from it because the healthcare environment is something I thrive in even in a time like this.
Q: Are there any businesses that have supported you or your coworkers during this time?

A: We have had tons of food donations from local businesses, retired nurses and family members of patients.
Q: Can you describe the nature of the hospital during the start of COVID-19. Was there panic, especially with some of the first cases rising in Seattle?

A: My official first shift was March 4, so I have been adjusting to my new job and learning how everyone and everything works on my floor as COVID-19 cases increase. The only panic that set in was when my floor had patients that I had worked with test positive along with staff members testing positive, but the hospital has ramped up testing before procedures, discharge, screens visitors and works to keep everyone safe.
Q: Is there anything you'd like the public to know or do?

A: The most frustrating thing for a lot of people has been the constant changes, and it can be hard to keep up, especially since every state is in different stages of reopening. Wash your hands, wear a mask, practice social distancing, and think about how your actions can help protect someone vulnerable!
Q: Which news outlets have you been following? Who do you think has done a good job reporting on COVID-19?

A: I mostly read the Seattle Times, CNN, and updates from Harborview and the University of Washington. We get daily COVID-19 briefings emailed to employees with the current inpatient cases, number of tests vs. positives, and a graph of the changes in case numbers over time.
Q: Have you experienced any positive memories through working during the pandemic such as acts of human kindness or rewarding moments at the hospital?

A: I have had such a great experience on my unit throughout all of this and have loved being a part of this workforce during such an uncertain time. I love that the staff on my floor has remained positive and that I have felt supported throughout every step of the pandemic.