Welcome to the fifth installment of 'Meet the Reporter,' now with the cast of 'Peanuts!'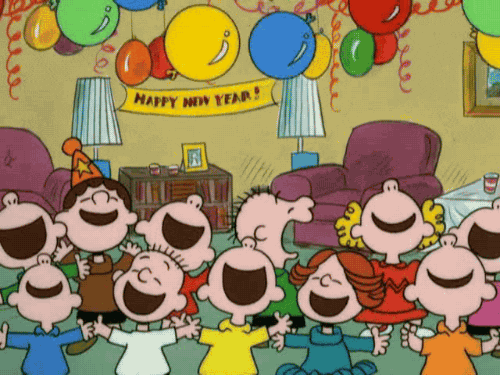 Giphy
As per usual, this is our monthly series where we here at ASU Odyssey want to give you a bit of insight into our lives, and this time, we've sobered up from New Years to reflect and predict some of the stuff coming in the New Year.
Now this is usually the point where I dub my resolution(s) for 2020, but to be honest, I usually forget to do them. I'm usually so busy reflecting on the past year that looking ahead kind of skips my mind. That being said, I have nothing against New Years Resolutions; in fact, I really encourage it because I think it's at least a good way to keep track of potential progress throughout the year.
But that's no fun, so after some thought I think I've come to believe what I hope will be my 2020 New Years resolution. In 2020, I want to keep the momentum that 2019 brought going, but make sure to keep ample time for the people I care about and, specificially, acknowledge the people I care about.
This inevitably means being a more dutiful responder to calls and text messages (yes, I'm THAT guy), and, keeping with my faults in years past, planning schedules further in advanced. I'm going into 2020 with a job that I've loved so far, but I don't want that and my other projects to take too much time away from the people who got me there in the first place. I was luckily not required to work on New Years Eve, so I was able to spend the night with friends, spending the last moments of the 10's with people I care about.
As I mentioned, 2020 is the most unique start of a year that I've maybe ever had. I have new priorities and responsibilities with work instead of school. That sense of stability has significantly shifted going into the new decade and it's a blinding combination of excitement and fear that I haven't felt in a minute (granted, that's probably also due to the start of a decade in addition to a year). But even with that shift, I still feel like I have a lot of new things to experience and new people to experience with them, and that makes New Years a properly exciting holiday in that regard (although, yes, I'm sure making one more day a week at the gym wouldn't hurt).
So, cheers to the new decade and to the inevitable jazz revival of the '20s we are all dying to see!
____________________________________________
Want to follow me on social media? Follow me on Twitter and IG @TheMovieKing45