POV:
You're a 19 year old whose been an avid fan of the Primadonna Queen herself Marina Diamandis for almost ten years.
Her videos inspired your love for post-modern retro callback videography.
She pioneered a pre-bedroom pop era soft-girl indie DIY aesthetic.
A modern synthpop europop electropop DIY musician queen.
Her songs are embedded into your very core.
And at 3:47pm EST on a Wednesday afternoon she uploads the most random video ever: a DIY Flower Arrangement tutorial.

One can imagine my absolute excitement and incredible confusion.
To back up, Marina Diamond, her stage name being MARINA, is an indie electropop singer-songwriter from Wales. She's released 4 albums so far with her most one being released in March 2019 dubbed Love + Fear.
Marina teased us in January that she was working on her fifth album, and then wrote a piece for the Netflix original To All the Boys: P.S. I Still Love You.
Since then we've only gotten a snippet of one song and nothing else from her. However oddly at around 4pm EST, 9PM Welsh time, our Primadonna Queen uploaded the oddest and most wholesome video ever.
With an aesthetic glitter filter, pretty pastels, and her all encompassing divinity, Marina gives us a 6 minute tutorial on how to DIY Flower Arrange a bouquet.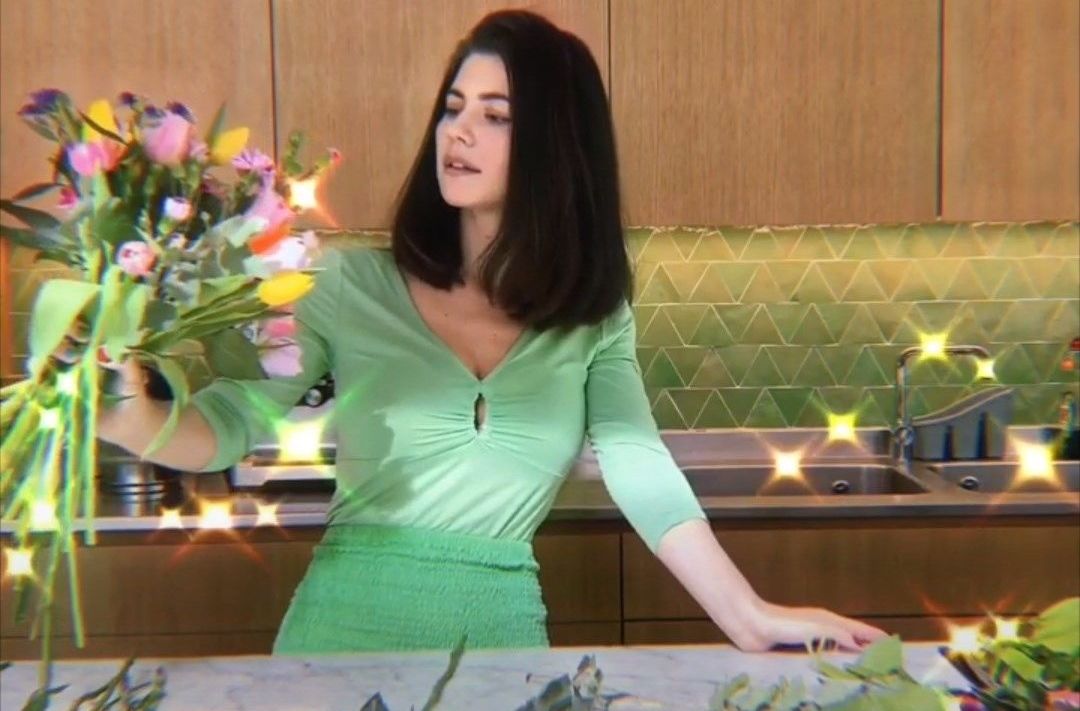 Marina admiring her divine creationhttps://twitter.com/MarinaDiamandis/status/1260650341852274688
Marina tells a story about for the longest time she wasn't fond of flowers as she saw them "as an inconvenience" due to the effort of taking care of them. However around 5 years ago as she began to delineate from her musical persona, she remarks about how she became more aware of the world and "became connected to plants and flowers."
As she strings together her beautiful tulips, roses and miscellaneous foliage, she continues on her philosophy around flower making.
"The thing with flowers, if you do have a lovely bouquet, every time you go into a room with them you feel happy. It's creativity. It's like painting a picture but with nature." - Marina Diamandis
She wraps up both the video and flowers with a kiss to the camera and a goodbye.
Two weeks ago she released a little video on Twitter of her playing piano and singing "Handmaid Heaven" from her Love + Fear album for Earth Day, as she's always been outspoken about protecting mother nature.
Marina's remarks on nature highlight the importance of positivity and relishing in the small pretty things. With her retro-modernist kitchen, her mint green top and skirt, the glitter filter and the whole early 90s aesthetic of the video, it reminds us of wholesome and simpler moments in life.
So if you're fond of lowers, and being an absolute beast at aestheticism, consider DIY flower making maybe?
p.s. Stay tuned for her fifth album to be released sometime this year! And if you've never heard of her I urge you listen to her music.