Did know that "dog" spelled backward is "god"? Dogs are a reflection of God because of their unconditional love. There is a special place in my heart for dogs, especially because I grew up with a sweet golden retriever. I understand what it's like to raise one and I've even recently come home to a new family puppy, a golden retriever we named Mabel. This past week I have been helping take care of her and it's been very exciting, but I have also realized the amount of work it takes. Having a dog is a big responsibility, so it's important for anyone to consider the pros and cons before committing to dog ownership.
The Pros:

1. Dogs make people happier and compassionate
2. So much cuteness
3. Dogs teach responsibility and an active lifestyle
4. Dogs and especially puppies are great to snuggle with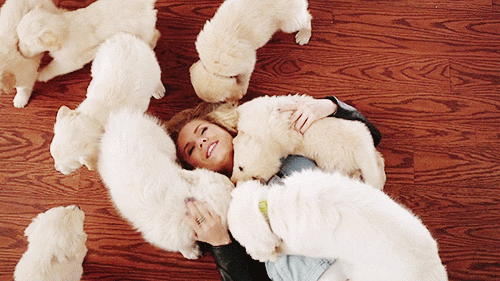 5. A new companion for years to come, especially when feeling lonely or sad

The Cons:
1. Having to take the puppy outside all the time
This is hard considering how cold it is outside right now and when you don't want to stop what you are doing to go outside.
2. Cleaning up accidents in the house
Mabel has already gone in my bedroom three times.
3. Puppies chew on literally everything
This includes us, humans. Mabel has already ripped holes in a pair of my pants and always chews on my zippers.
4. Having to constantly watch or entertain them
This can be seen as a con at times, but can also be considered a good thing. It can be fun and entertaining for yourself.
I 100% believe that owning dogs makes my family happier and healthier and that the positives outway the negatives!
I mean...just look at her!