Music becomes a large part of a teenagers' lives as they grow up. It allows them to find out who they are and it becomes an easy way to make friends. The bond created over shared music taste is what could start a friendship that will last a lifetime. I know personally for me, music has been with me throughout every stage in my life and the bands that I listen to have grown up with me as well.
There is nothing better than seeing your favorite band live and in person at their concert. It's like all of those months that you jammed out to their Spotify playlists in your room has finally amounted to something.
Recently I got to see one of my favorite bands live as an early Christmas present. This was the second time I had seen them live and they were even better than I remembered. I had made one of my friends start listening to them so I would have someone to go to the concert with and our bond over the band made our friendship even stronger.
In the first moments that the band took the stage and the screams intensified it felt like a sort of magic floated over the audience. Groups of friends who had come together clutched each other's arms and smiled and laughed as they looked towards the stage in pure happiness. It's something you can't explain unless you are standing in the crowd yourself with the amount of excitement these fans had.
The energy that was going through the crowd had everyone dancing crazily. People were crowd surfing, and others were jumping up and down while belting out the lyrics. And I was right along with them. I didn't care what others thought of my dance moves, I was there to have an amazing time and it exceeded my expectations.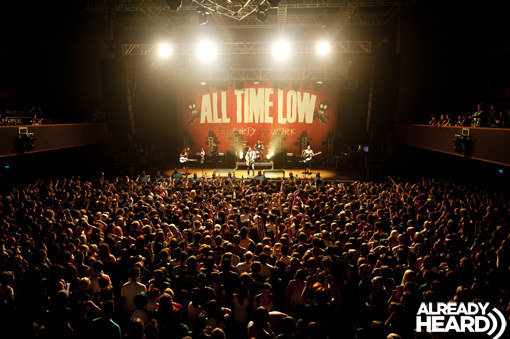 It wasn't just friends that were standing talking to each other, people in the audience began to talk to others standing next to them. It was the mutual bond of the band that made complete strangers open up to each other. And there is nowhere else in the world that that would happen besides a concert.
It's the music that brings all of the fans together for a few hours one night. All of the problems that had plagued each fan is gone for a few hours and all that matters is the band on stage and the other fans around them. This feeling is something that I have found can't be replicated anywhere else.
When my friend and I's favorite song came on, I won't be ashamed to admit we completely fangirled. The song had carried so much meaning for us and we sang our hearts out. It was a song that had helped carry us through the first semester of college and the memories of what that song held.
Cover Image Credit: Ariana Pelosci