There's a lot to scream about just by reading the news every day, but if you're looking to turn those screams into ones of excitement, now's your chance. Because another one of Amazon's best-selling vibrators is definitely worth spending $21.99 on — yes, it's under $22.
LUXELUV's Coco Passionate G-Spot Vibrator is yet another number-one best-seller — up there with Tracy's Dog's Clitoral Sucking Vibrator and PALOQUETH's G-Spot Rabbit Vibrator — and the reviews make it obvious why this is the case.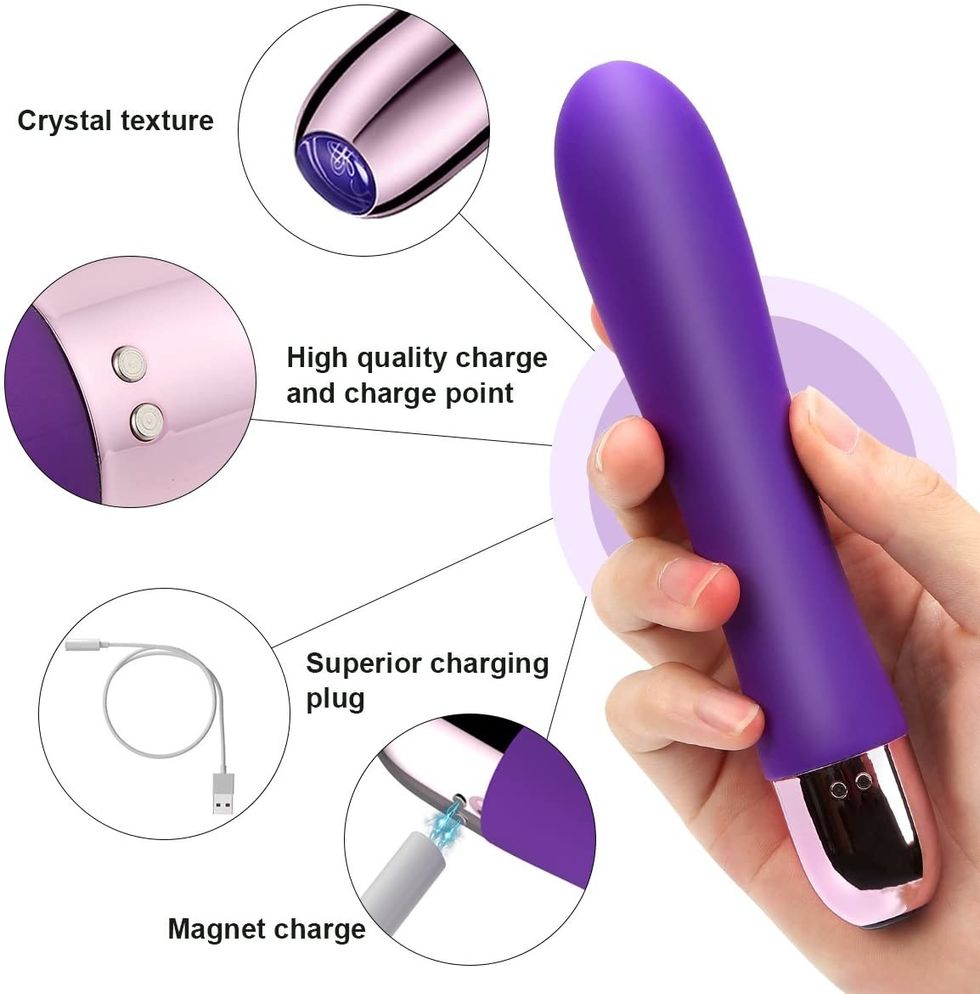 LUXELUV
According to LUXELUV, this "revolutionary silicone dildo vibrator" features nine "life-like" vibration patterns allowing users to "enjoy an extraordinary orgasm without reducing the sensitivity of the vagina," so you can continue to enjoy sex with a partner without developing a dependency on sex toys to climax.
With over 1,300 reviews, customers weren't shy about sharing their personal experiences with the toy. Perhaps the best review comes from a man named Carl Sanders. Along with a photo of the purple LUXELUV vibrator he purchased for his wife, he wrote:
Meet our new house guest Bob! I love Bob, yet I hate Bob. Bob does such a grand job filling in for me, I'm almost going to lose my status with my wife. The rubber is a bit tacky, so if you don't grease Bob up a bit, he sticks to the skin. Good God, if you grease Bob up though, you're in for a night of missing out on all the fun! The great thing about Bob though is, because of his flexible texture, there's no chance of chipping your teeth in the heat of the moment. The one thing I'm not a fan of Bob, he carries a flashlight in his rear end, thus blinding me from visually seeing where Bob is going. The light may cause misdirection and "whoops" you may drive Bob into the wrong parking spot! Still, even though Bob's bright headlights, he deserves a 5 star reviews due to the emotional noises that Bob has introduced into our quiet lovely home. Only if I could punch that damn headlight out! I will revisit this conversation if I find myself at the homeless shelter. Who needs me when they have Bob?
Of course, this is just one of the over 800 other five-star reviews. So if you're going back and forth on whether or not it's worth just over $20 for your very own "Bob," allow them to tell you their opinions.
As an Amazon Affiliate, Odyssey may earn a portion of qualifying sales.

Follow Swoon on Instagram.