Anyone who knows me even remotely well can tell you I live and breathe by my planner. Often referred to as my most important possession, my planner is an all-encompassing look into who I am. I write down absolutely everything, often to an excessive amount. I write things down in my planner often enough that I trust it exclusively. I look to my planner before my own mind, my peers, or anyone else. In high school, I would have peers asking me when assignments are due or whether the date of an exam was changed because I track everything so exactly.
My calendar for November 2018.Sophie Ciokajlo
I've had teachers and family members mock my color coding systems or the time I put into my planner, but as ridiculous as it sounds, it's an integral part of my life. I've spent years trying out different pre-made planners, building my own, and reading about every planning method under the sun. I still spend so much time altering my process and changing my approach to make it more productive and helpful. I am constantly developing new ways of tracking various things and spending more time on my planner. I carry it literally everywhere with me and rarely go a day without spending time sitting with the notebook.
As someone who obsessively strives to have control over every aspect of my life, I constantly need to write things down or organize. I spend most of my time trying to obtain the utmost control over my schedule, my to-do list, and absolutely everything else. My planner gives me comfort because I always know what happens when and why. Writing things down and organizing my thoughts allows me to be more mindful about everything I do. Taking the time to organize my lists and schedules gives me the opportunity to decide what is really important. It allows me to prioritize and consider what tasks and responsibilities make me happy or are worthwhile.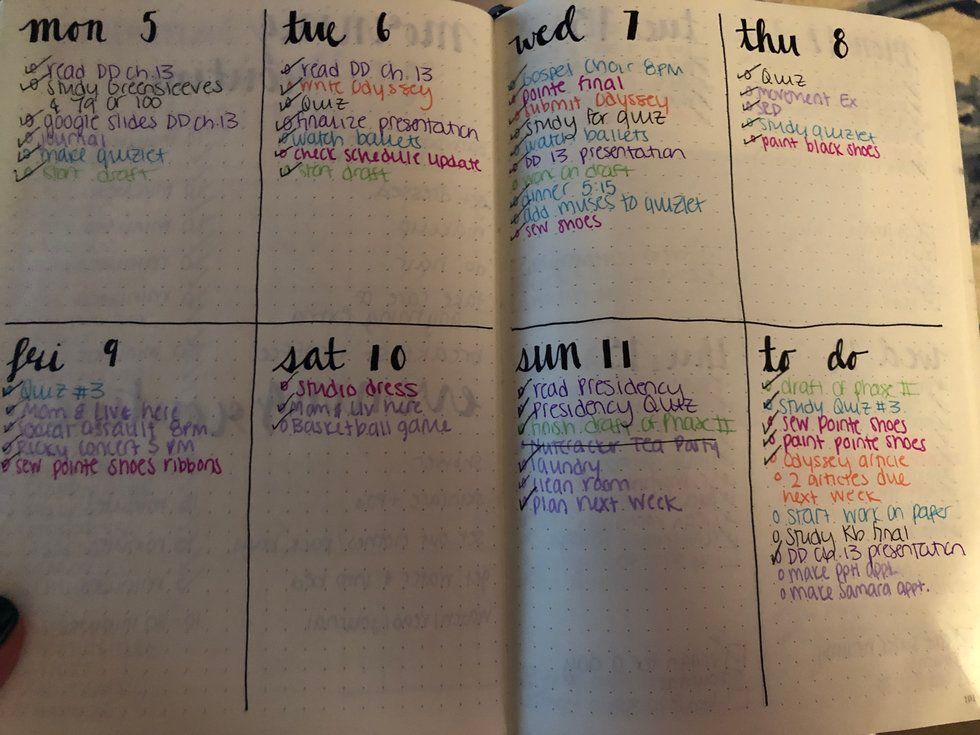 A week in my planner.Sophie Ciokajlo
I also stand by the fact that I would never achieve a goal without my planner. I become so specific about how I can move forward with things I want to accomplish. I can break them down into the tiniest tasks so that making progress doesn't seem like so much effort or like it takes so much time. I actually get incredibly excited, weird as it may sound, to sit down and check off my tasks at the end of the day or to build my month or year. The fact that the new year is coming up means a whole new planner and a new opportunity to make my process better and more useful.

I know that it may seem neurotic, obsessive, or too organized. But color-coding and list-making truly make my life easier and more enjoyable. I'm calmer and more collected because of the little bit of extra time I devote to getting my life in order. It genuinely makes me more centered and improves how I spend my time. I'm more efficient and effective with my energy because of how much I write and organize in my planner. So I understand why people tell me its too much or I put too much effort into it, but I really would suggest developing your own system to anyone in my life.