July 5, 2016 - Alton Sterling is fatally shot by a police officer responding to a call in Baton Rouge, Louisiana.
July 6, 2016 - Philando Castile is fatally shot by a police officer during a traffic stop in Falcon Heights, Minnesota.
July 7, 2016 - Five Dallas Police Department officers are fatally shot by a lone gunman in Dallas, Texas during an #BlackLivesMatter rally. This gunman was directly motivated by officer-involved shootings, such as the ones on July 5 and July 6.
The Dallas shooting represents the deadliest incident involving law enforcement officers since the 9/11 attacks. (Which took the lives of 72 law enforcement officers.) Mass shootings, such as this one, raise a plethora of questions: Who? Why? How?
Well, with careful analysis, these can be answered. Let's start with the basics.
Who did it?
Micah Xavier Johnson.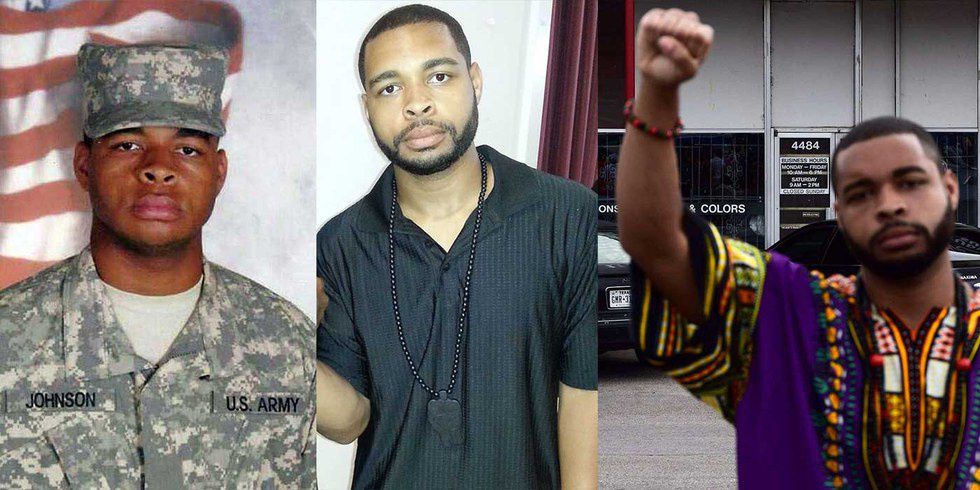 Johnson was an Army veteran residing in Mesquite, Texas. Johnson spent one tour in Afghanistan, where he was accused of sexual harassment by a female soldier, according to his military lawyer, Bradford Glendening. Upon returning stateside, the Army recommended he receive an "other than honorable discharge," however, the charges didn't stick and he received an honorable discharge. He was seen as a loner, even being referred to as the "black sheep of his unit," by some sources.
He lived in Mesquite with his mother and other family members, which is surprising when you consider the evidence found by police and FBI upon searching the building. Inside the residence, investigators discovered bomb making materials, rifles, ammunition, bulletproof vests, and journals which contained hate-filled ramblings and combat tips. The evidence found suggests that Johnson had been planning the attack for some time, and could possibly have had bigger plans for the future.
Johnson's behaviors and attitude during the ambush also suggest that the attack was premeditated. While firing rifle rounds at police officers, Johnson was reported to be laughing and singing. Negotiators made contact with Johnson, only to find him very in control and calm. He was determined to, "target white people, especially white officers," and showed no remorse while doing so.
Rough timeline of events.
7:00 p.m. - Protesters gather in Belo Garden Park in response to the shootings in Louisiana and Minnesota.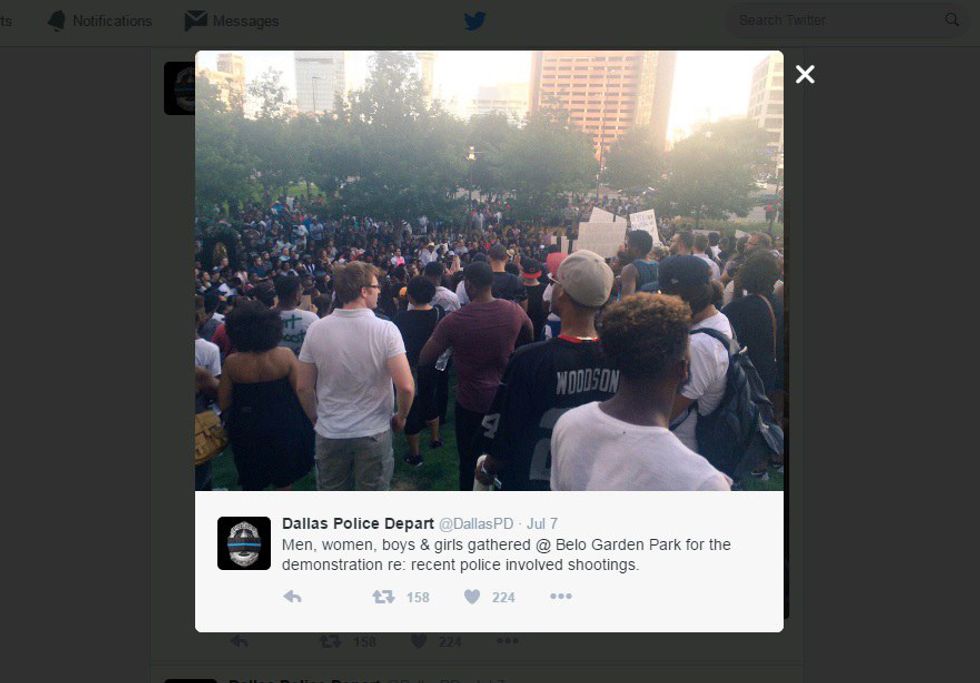 7:15 p.m. - Even though the protest was supposed to remain stationary, the participants began marching through the streets while chanting. Officers improvised and immediately rushed to block streets and allowed the protesters to exercise their rights in a safe manner.
9:00 p.m. - Shots are fired into the crowd, people panic and begin to flee for cover.
9:40 p.m. - The first two officers are reported down.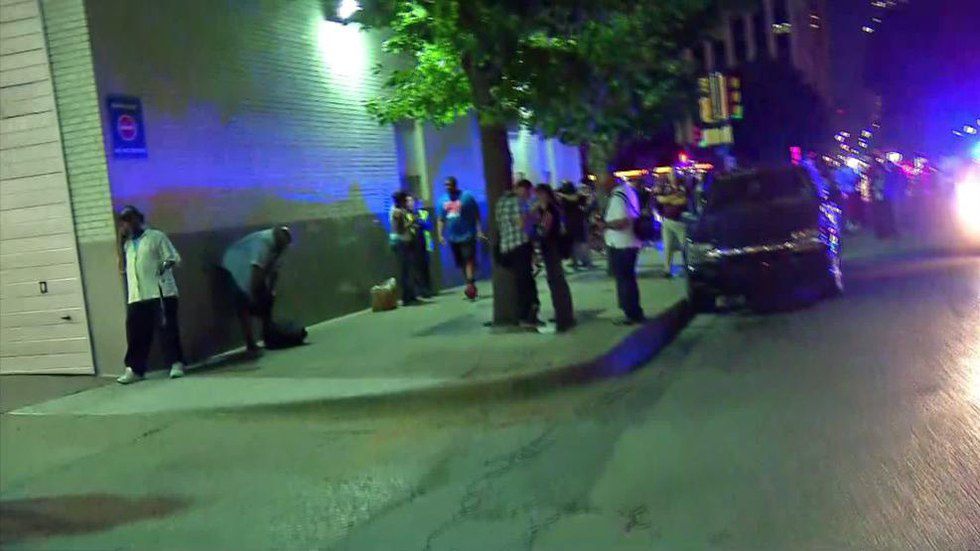 10:20 p.m. - DART officers report four additional officers down (six in total), with one officer suffering fatal injuries. This officer was Brent Thompson.
10:40 p.m. - Police Chief reports that 10 officers are shot in total, with three being deceased. He also reports there appear to be "two snipers from elevated positions."

10:50 p.m. - Police release a photo of Mark Hughes, stating he is a suspect. He later turns himself in and is cleared of all suspicions.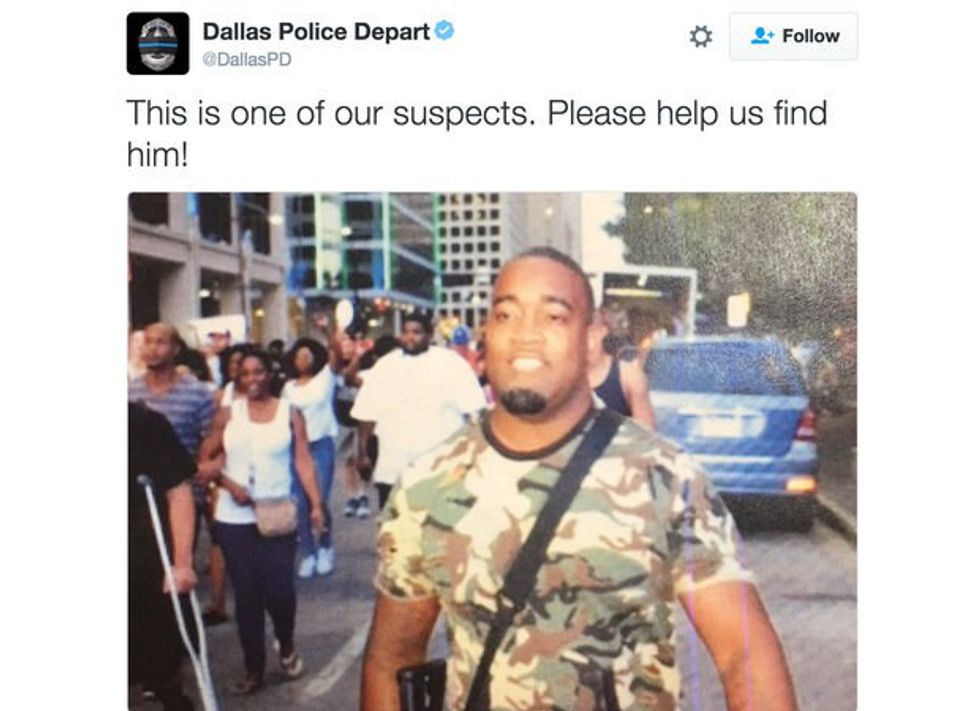 11:15 p.m. - Eleven officers have been shot, four are deceased.
1:45 a.m. - Five officers are now deceased.
3:00 a.m. - Suspect is confirmed dead. We later find out that Dallas SWAT and ATF agents with explosives training authorized that a robot armed with one pound of C-4 (plastic explosive) be used to neutralize suspect.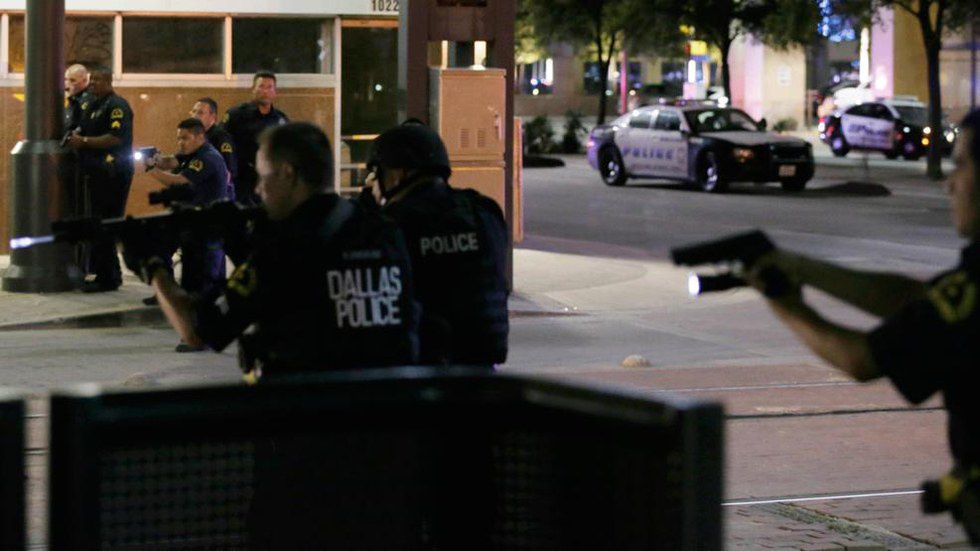 6:00 a.m. - Final injury count in released. Twelve officers and two civilians shot, five officers deceased (4 - Dallas PD, 1 - DART).
So, why did he do it?
Johnson targeted white police officers in response to what he felt were heinous crimes against African-Americans, perpetrated by white police officers. The most recent police-involved shootings in Louisiana and Minnesota are said to be the trigger for the Dallas shootings. Whether the police officers in these incidents were in the wrong or not, they provoked Johnson. He actively expressed his hatred towards white people to the police, even stating to negotiators that he would only speak to black police officers.
Some sources say Johnson was apart of a "black supremacist group," but he clearly stated during the shootings that he was acting alone and was unaffiliated with any group. Pictures online and found in Johnson's home show he supported black organizations, but they do not connect those organizations to the crime.
Other motives could still be discovered, as there are many questions left to be answered. For example, while Johnson was moving to the upper levels of the El Centro College building, he was shot by an officer. Still conscious, but hurt, he scribbled words and letters onto the walls with his own blood - one of the scribbles stating "RB." Investigators are not sure what the grouping of letters could mean, but are looking into it.
How is this significant on a nation-wide scale?
This hate-filled attack caused a stir in not only Dallas, but in the nation as a whole. For one, now police officers nation-wide feel like targets, similar to how many African-Americans felt after the Louisiana and Minnesota incidents. Immediately following the Dallas shootings, officers were killed in the line of duty in Ballwin, Missouri and Houston, Texas. Police departments around the nation are now on constant roll-call to ensure their safety. After a certain duration of time, the police dispatcher will check in on the on-duty officers to ensure they are alive and well.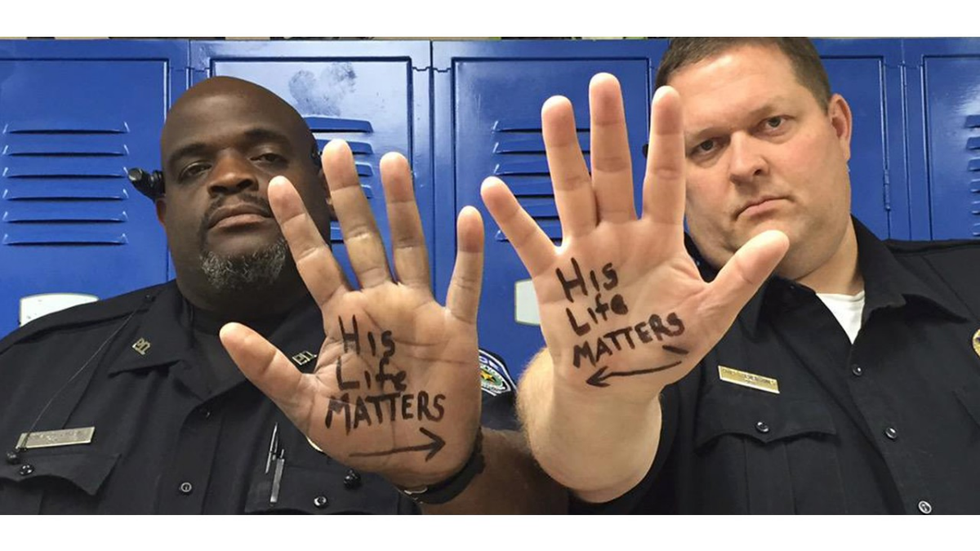 The #BlackLivesMatter campaign, and others like it, begin to take on a dark image in some eyes. Even during the shooting, while police officers were dying, protesters continued to yell and make negative gestures. Officers would direct civilians to safety, all while they were exclaiming "Hands up, don't shoot!" Police Chief, David Brown, compared the situation to being in the type of relationship where the partner doesn't love you back. The greatest way to show love is with your life, and even after five officers lost their lives, protesters and activists continued to show disrespect.
On social media, many people claiming to be part of the BLM movement praised the attacks on Dallas Police officers. Not only is this sick and twisted, but it gives the BLM group a militant, radical image - an image true followers do not support. As a side note, this is not intended to devalue the objectives and goals of the BLM campaign at all, but rather show where the flaws exist so that they may be addressed.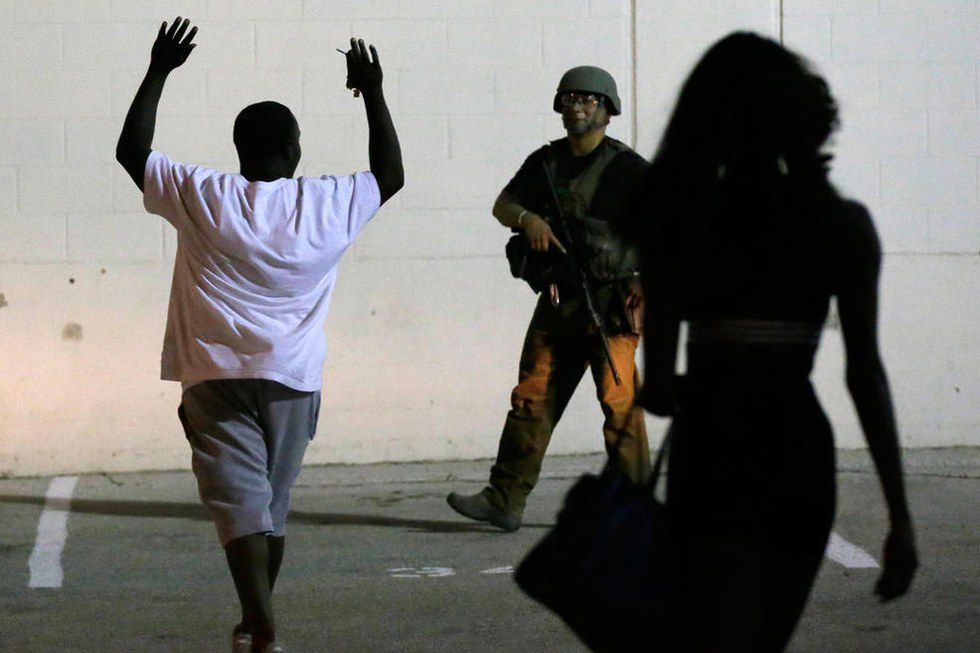 Almost immediately, President Obama brought gun laws into the picture. We are likely to see further gun control debates, similar to the aftermath of the Orlando shooting. Some sources stated that the weapon used was an AR-15; however, CBS stated that the weapon was an SKS—a Soviet single-fire rifle—invented during WWII and used primarily during the Cold War. We can't truly be sure until further information is released.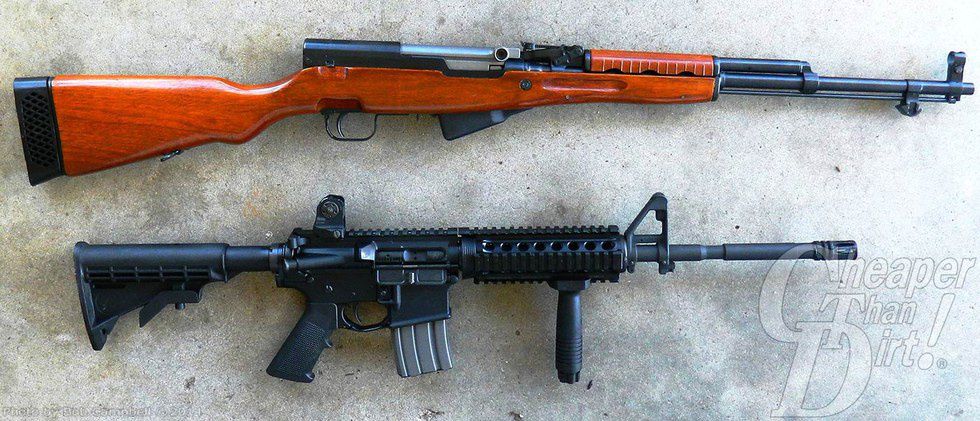 Another concern is how the suspect was neutralized. A bomb armed with explosives used to remotely kill Johnson is highly a controversial maneuver. Many will say that the method used was excessive and unnecessary, while others will say they took advantage of their resources and minimized officer and civilian casualties.
Hopefully we learn from this event and move on. We need to learn how hate, racism, bigotry, and violence affect the state of our nation. Our unity needs to be repaired, our confidence in our law enforcement needs to be reestablished, and our racial biases need to be suppressed.
---
Hearts and prayers go out to the Dallas Police Department.
If you wish to donate and support the victims of the tragedy, the Dallas Police Department has provided this webpage.
We believe now, that the city is safe. The suspect is dead, and we can move on to healing.
- Dallas Mayor, Mike Rawlings