We've all heard the old adage "a rising tide lifts all boats". It's a nice idea, but hearing today that the economic recession is over, many Americans are wondering where the "rising tide" has gone, and why it hasn't lifted them out of their troubles. If you're the visual type, perhaps this graph will better explain my point.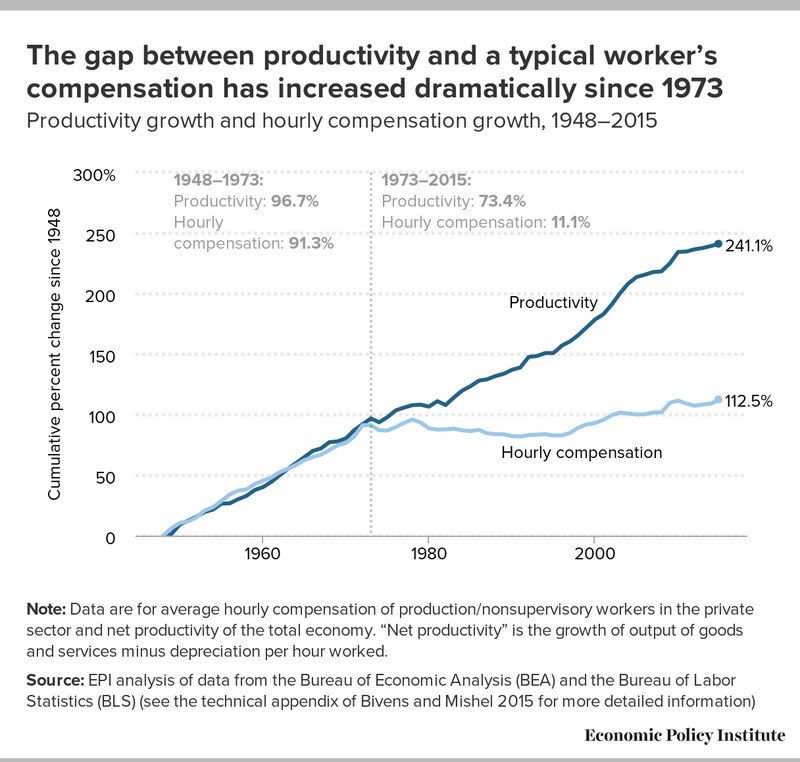 You can see just before 1980 the two lines diverge, productivity keeps going up, but Hourly Compensation stagnates. So, with more productivity, there should be more money, so - where has all that money gone?
Well, here is another graph to try and explain that: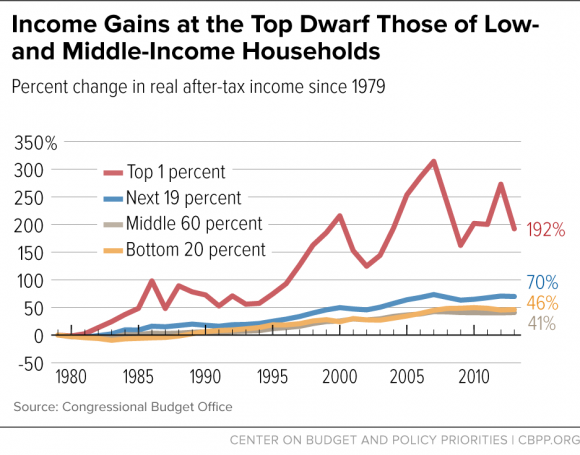 After the 1980s the income for the top 1% began to skyrocket. This is a pretty large gap, and I am sure I do not need to go into the effects of this too much, I think many of us have felt them. One thing I would like to include though is the effect this has on our economy as a whole.
As put in this Economist article, several economists from the International Monetary Fund said that "one percentage point increase in the income share of the top 20% will drag down growth by 0.08 percentage points over five years, while a rise in the income share of the bottom 20% actually boosts growth".
So the question remains, where is the tide that is supposed to raise all boats? Well, there is one idea that has support from Presidents Nixon, and Carter, and both Maritn Luther King Jr. and Milton Friedman, it's called Universal Basic Income.
A Universal Basic Income (or UBI) is pretty much what it sounds like, everyone in a country receiving a specified amount of money.
There are different versions, some would give everyone just enough to be above the poverty line, others involve disposing of the welfare system entirely, and others would see that all money is evenly distributed to everyone.
It has been favored by so many for being so easy (as in so little bureaucracy, just need to give the money to everyone somehow). There is little room to discriminate, everyone gets the same amount, and it would be a step towards ending income inequality, including the problems of growth mentioned earlier.
So at this point what needs to be done is allow this idea to be tested in forefronts of political dialogue, just as it was in the 1970s. Alaska has a version of a UBI, and it seems Hawaii might be looking into it as well. Hillary Clinton thought of having it as a part of her platform, and Obama and Sanders have mentioned the idea as something to consider. But at the end of the day, UBI is a way of giving everyone in America a chance at living with dignity.