For the last year and a half, I'd been employed at X-Mart: The Adult Supercenter in Monroe, LA. I enjoyed my time working there, but after learning so much I came to realize that not many people knew the difference between what was what and what they did. It seems simple enough, but just telling the store clerk that you want a vibrator doesn't help them sell it to you. So, here's just a few descriptions, instructions, and fun facts about a few of the toys that can be sold (or bought online).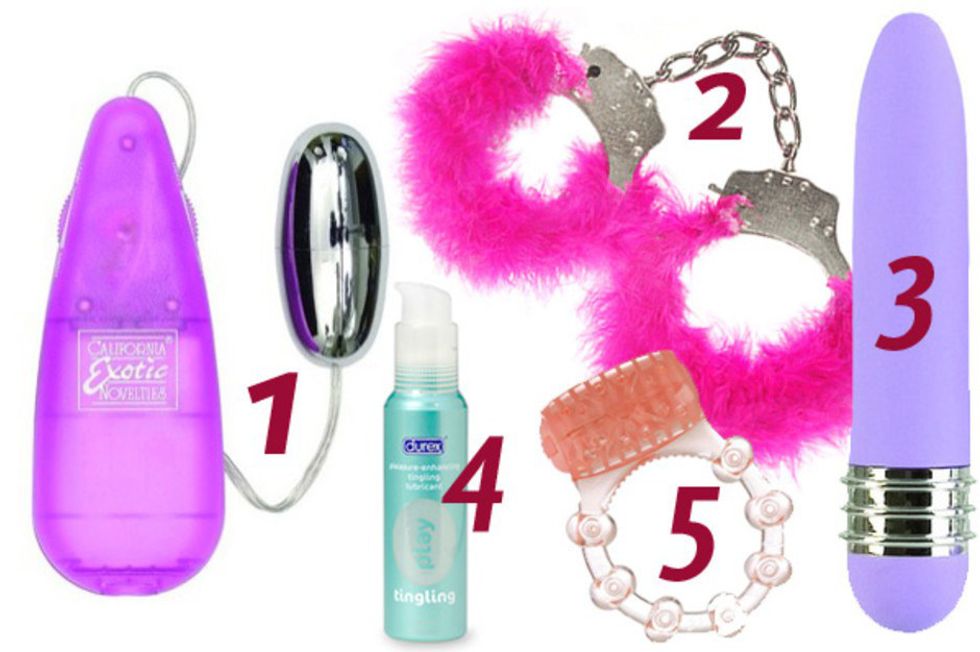 1. Bullets
These normally come small and are used for clitoral stimulation. Sometimes they can be used on men, if the guy's adventurous and into vibration play. Most people would tell you not to insert them vaginally, but if that's what you want to do in the comfort of your own home, then go for it. (I'm not telling you to go for it.) Just know that if it gets stuck, or there is some sort of shortage that you cannot blame the people who sold it to you. To my knowledge, there are at least three major types of bullet. There's the individual, which usually comes as a single. Many people refer to it as the "silver bullet." This is the more popular version of the toy. Then there are the ones with remote controls, usually attached by a cord. These are not my favorite because they tend to short out a lot. If someone wants one with remote, I suggest a cordless one. These tend to lead to more adventurous play (in restaurants, stores, public play, or even in different rooms of the house).
2. Dildos
These are pretty self-explanatory, but to make it known: these are penis shaped toys that can be used by men or women. These range in size from 3 inches to 17 inches, but for the larger sizes, it is recommended for "expert use only." There are also double-ended dildos for double penetration for solo play, or for partner use. There are also strap-ons, which are popular these days. These toys are good for solo play, but people do like to use these together. The common thought is that lesbians use these only, but that isn't the case. There are straight, gay, and lesbian people (single or not) that use dildos. More interestingly, it's becoming quite popular for men to buy hollow dildos to use on their partners (to give some extra length). Also, women using these on their husbands or boyfriends is becoming popular as well. And, no! I know what you're thinking--the guy is not gay. The whole body can be used as a big sexual entity, so explore what you like. Dislike is perfectly normal. There are plenty of straight men who like to be "topped" by their girlfriends every now and then, especially in the Monroe area.
[rebelmouse-proxy-image https://media.rbl.ms/image?u=%2Ffiles%2F2016%2F09%2F10%2F636091240219840743-814834963_PLL-Shh-Hanna.gif&ho=https%3A%2F%2Faz616578.vo.msecnd.net&s=305&h=274f909824cf9cfb2d331ff29f8dc59ce3a229e1865f70b87881542f7f4cb632&size=980x&c=1310076366 crop_info="%7B%22image%22%3A%20%22https%3A//media.rbl.ms/image%3Fu%3D%252Ffiles%252F2016%252F09%252F10%252F636091240219840743-814834963_PLL-Shh-Hanna.gif%26ho%3Dhttps%253A%252F%252Faz616578.vo.msecnd.net%26s%3D305%26h%3D274f909824cf9cfb2d331ff29f8dc59ce3a229e1865f70b87881542f7f4cb632%26size%3D980x%26c%3D1310076366%22%7D" expand=1]
3. Vibrators
Now, these are highly frustrating because it's what people ask for the most, though they have no idea which is what. To start off, there are just "standard" vibrators. These don't necessarily look like a penis, but they can have multiple functions. There are glass vibrators, wooden dildos, plastic, silicone, and more. They can range from single vibration function, to possibly up to fifty or more. Functions mean that you have options, and don't have to just settle with the same vibration function the whole time.
4. G-Spot Vibrators
These vibrators, also known as P-spot for men, are designed in order to stimulate the woman's G-spot (or the male's prostate). It has a curved head, which gives it the ability to do exactly what it needs to do. Now, most women's G-Spot is either 1 to 3 inches inside of the vaginal canal. It's up to you to play around and figure out where it is and how you like it.
5. Rabbits
Now these bad boys are very interesting. They vibrate, of course, but they also have extra extremities. There is the shaft, which can vibrate, rotate, thrust, or all of the above. There is also a smaller piece that hangs a few inches below the head of the toy. This is used for clitoral stimulation (just like a bullet, but with this you get two for one… or three for one). There are also rabbits that stimulate you on your clitoris, vagina, and anus. These are for those women who want a bit more in their solo time.
6. Realistic Vibrators
There isn't much to say about these toys, so I'll try to make it brief. These are vibrators that are designed to look like a real penis. Some are even molded after some of your favorite porn stars. They range from hard to soft jelly, and there are those that are made of UR3 (or UltraSKYN) material to make them look and feel like a real man's penis. These normally just vibrate, but there are some that have rotating or thrusting heads. These are good for solo play, but there are some with suction cups that can be placed against the wall or the shower wall for a hands-free approach.
7. Pocket Pals/Fleshlights
Now these are strictly for the men. These are made to look and feel like a mouth, vagina, or an anus for penile stimulation. Mostly it just gets the guys off easier than if they were to use their own hands. Now the material does vary as well, which will result in a different feel. There are jelly like pocket pals, which are all right but not my favorite. They get really sticky after a while and are usually disposable. There are those made of UR3 (Ultraskyn) or Cyberskin, and these will give you a more realistic feel. There are also toys that are made to look and be the size of a real person's body, or anus, or whatever. Those will be a pretty penny, but they are good if you can afford them. There are also Fleshlights, which seem to be every male's favorite. These are designed to look similar to flashlights on the outside, but have a material sleeve that feels like CyberSkin. At the end of these toys, there is a turn top. If you turn it certain ways, it can either be tight like a virgin or loose… or however you want to feel. The beauty of these toys is that if you take care of them the right way, they'll last you for a long time. Then the sleeve is always replaceable online.
8. Anal Toys
This is a touchy subject for a lot of people, because many don't want to openly admit to doing anal. That's fine! Keeping your sex life private is a good thing, but just make sure you know what you're doing. Now, when it comes to anal toys there are two main types: butt plugs and anal beads. The butt plugs are to be used before anal sex, mostly to open you up so that there isn't any pain upon entry, making it easier to get right to business. These can also be used for solo use, or even during sex (for straight couples, or maybe even the "top" in a m/m relationship). The difference between these and anal beads is that the beads aren't used to open you up. These are just used mostly for a teaser. Once again, these can be used during sex or solo.
Now, that was a quick rundown of a few toys that you or someone you know could buy. I won't delve into the S&M, BDSM, or other types of couples toys in this article, but maybe in the future. There are also several different types of lubrications. The important thing to know about lube and toy use is that you can usually only use silicone lubrication with glass or wooden toys. Always, always, always use water-based with anything else because if you put the silicone lube on the toy, you may end up rubbing away the material and then it'll be broken. It's also good to use cheap dollar store batteries instead of the "good ones" (energizer, Duracell, etc.) because those batteries tend to kill the toy faster.
I hope you all enjoyed this article and learned a lot from it. This will make shopping easier for you from now on, and easier on those adult store clerks that are always willing to help!