In this article, we explore the three most common issues experienced when wearing belts and the solution for each one to keep you comfortable and stylish.
---
1. Gapping
Pull an old belt, or even not so old belt, out of your closet and you'll see that familiar pinch of the leather where the belt hits the middle of your back. This is caused by the belt loop pulling down on the belt as you bend and stretch. Some pants and jeans manufacturers try to get around this by putting two loops, one on each side of your backbone, instead of a single loop in the middle This partially fixes the disfigurement but it does nothing to eliminate the gapping that still occurs when you belt down…aka plumbers crack.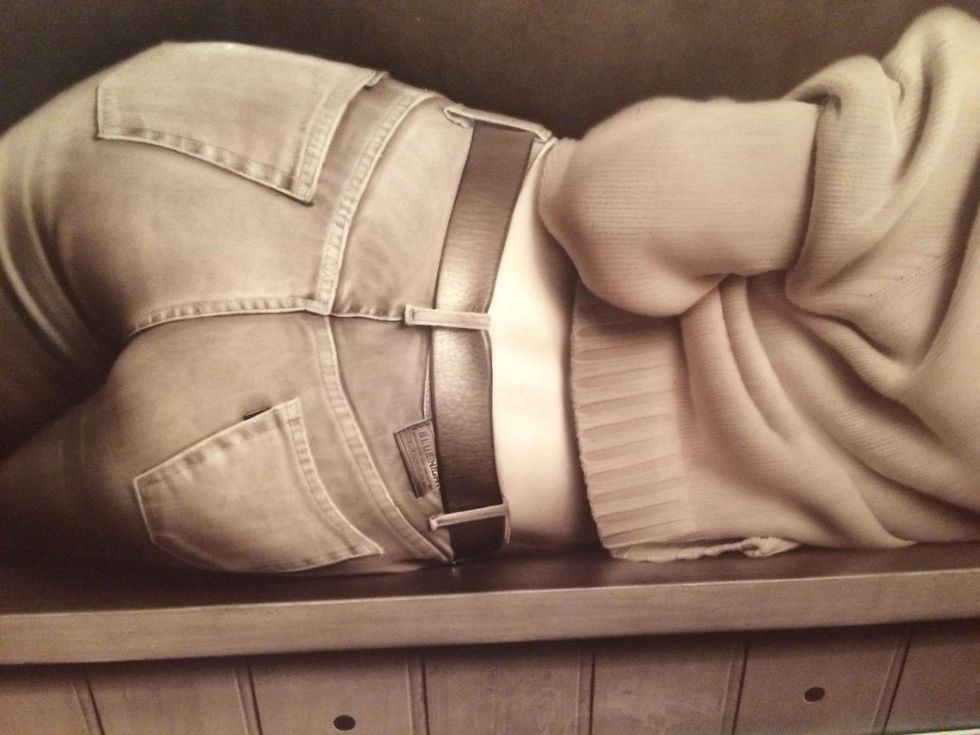 Solution to Gapping
The real way to prevent the leather pinch and gapping in the back is to curve the belt down in such a way that it naturally shapes with the curve of your body. This eliminates the conflict of a straight belt with a curved human.
2. Stiffness and Discomfort
So many belts you try on are stiff and create friction points on your hips. This is again caused by putting a straight belt on a curved body. If you look at a belt that's been worn for many years you'll see it takes on an s-curve or wave like shape. This is the way your body has forced the belt to change shape over time to fit more comfortably and naturally with the curves of your body. The pain and discomfort from a new belt that's not been "broken in" is especially irritating.
Solution to Stiffness and Discomfort
Why not simple buy a belt that has been cut into the curved shape that your body wants it to be? Up and over the hips and down in back and front is a shape that create the most comfort and the least friction points with your body. That's exactly what Embrazio of Boulder, CO did to create its patented curved belt shown below: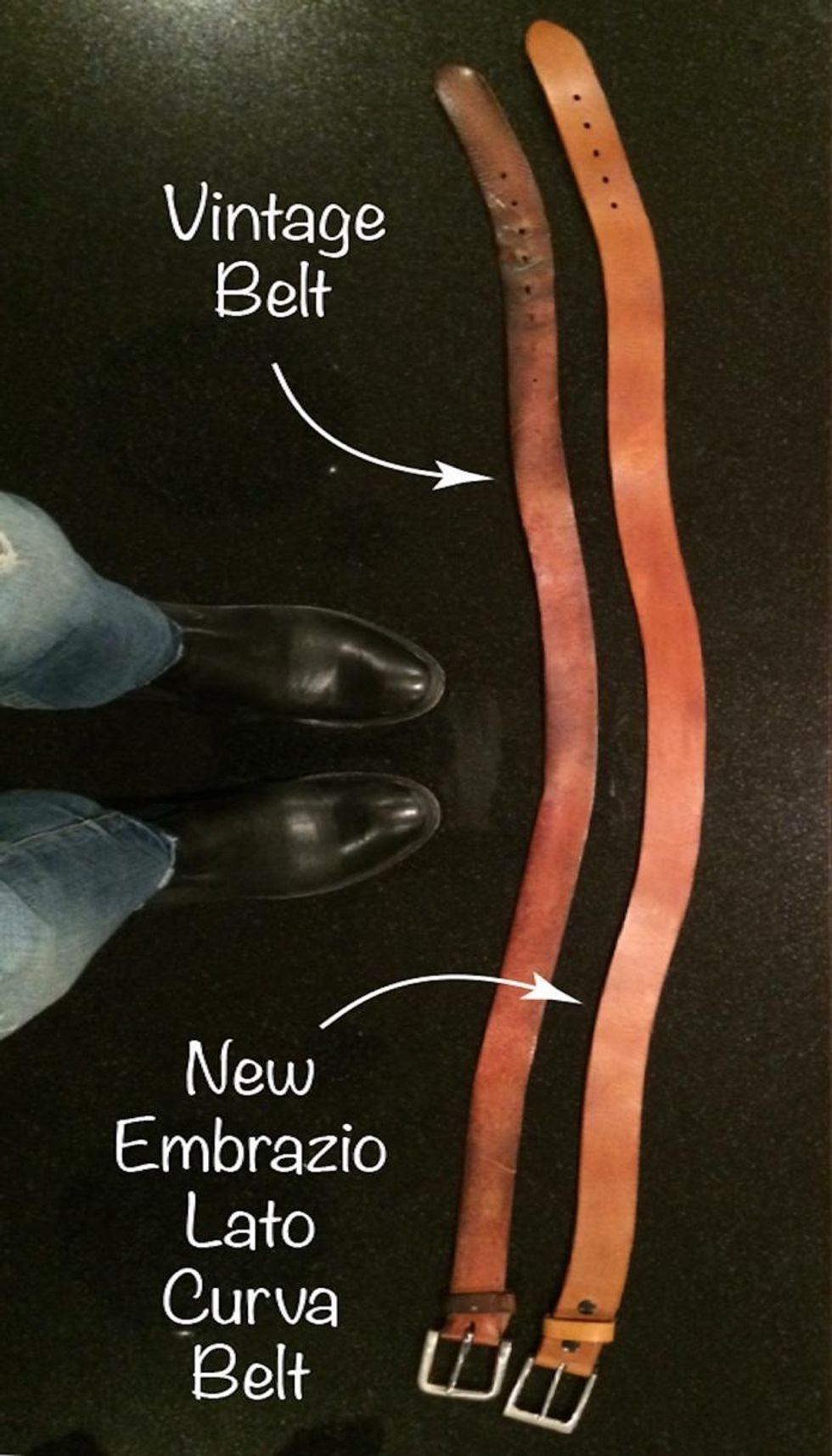 3. Cracking and Peeling

How many times have you been disappointed when a nice padded or embellished belt starts to crack and peel just a few months after you bought it? Some of the most expensive belts on the market will break down in this way. The reason for the cracking and peeling is that these belts are not a solid strap of leather. The manufacturer has stitched and glued to very thin pieces of leather together over paper for fabric "stuffing" to give the belt a rich cushy feel. The problem is the stuffing helps to dry out the leather causing the belt to start cracking and peeling after just a short while.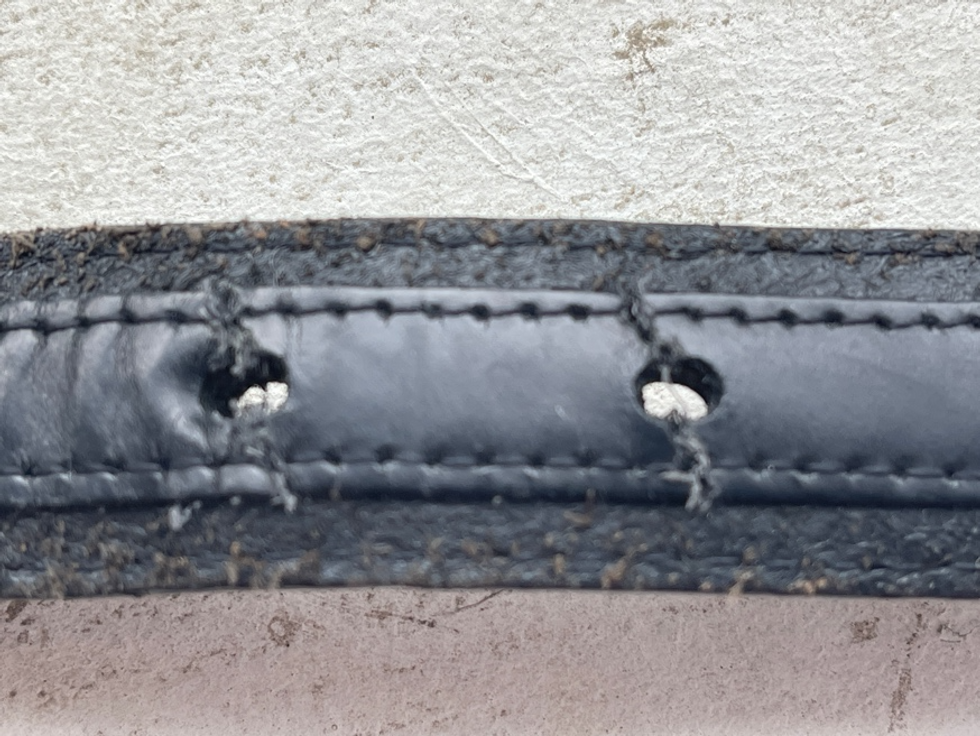 Solution to Cracking and Peeling
You can't fix cracking and peeling but you can prevent it by purchasing only high quality handmade leather belts that are a solid piece of leather. In addition, you can buy belts that have been hand finished with bees wax or another conditioner to soften the edges and preserve the suppleness of the leather. These solid strap belts will last without cracking or peeling for many, many years.