In the midst of tailgates and ladies' night, it is easy to forget about the harmful environmental consequences that our actions often inadvertently cause. From the noise and light pollution that disturbs wildlife in our community, to litter that is often strewn about the streets of Gainesville. One local Gator has gone above and beyond the norm to ensure that the community has a better understanding of not only their harmful actions but what they can do to make a significant difference in their everyday lives.
In this edition of Local Gators Making a Difference, we follow the story of Leanne Sheffer. Sheffer is a freshman at the University of Florida who constantly works to reduce her ecological footprint, as well as spread information on environmental-safe practices to her peers.
What is the project/ message you intend to share?
I was working on a project to reduce single use plastics in Gainesville by trying to incentivize both college students and bar owners to switch to more sustainable options. I created the BYOC movement that puts an emphasis on students bringing a reusable cup along with them to bars so that they do not have to repeatedly waste plastic. I met with various bar owners and discussed various options for reducing their waste and plastic use such as switching to biodegradable plastic, giving discounts to those who BYOC, plastic free happy hours, or eliminating plastic straws. My ultimate message was attempting to sensitize college students to the vast amounts of plastic they consume every week and show them the easy ways to help reduce.
What was your inspiration for this idea?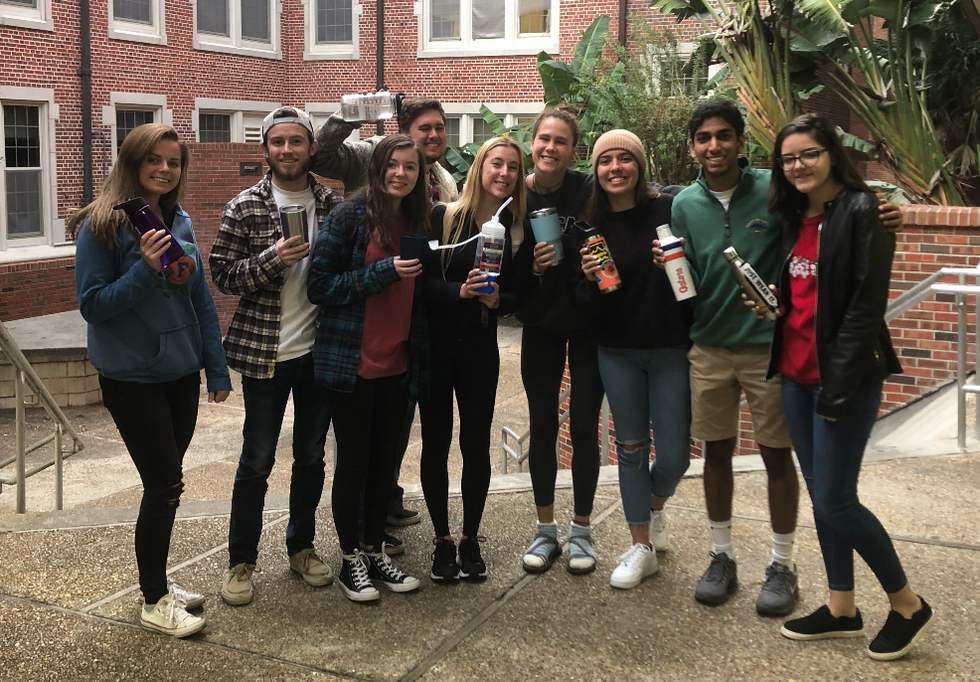 BYOC in Action
Photo provided by Leanne Sheffer
For my Facets of Sustainability class, we had the choice to create a simulated project for our final or to actually work on a project with the goal of bringing about real change within our community- I chose the latter. As a student that goes out often, I personally saw people going through multiple plastic cups every night, throwing away each one not giving it a second thought where this "away" is- sadly, it's the environment. I wanted to shed light on the fact that you can still go out, have a good time, but be environmentally conscious; all it takes is bringing your own cup along with you for the night.
What have you already done to make this happen?
The first step we wanted to accomplish for our project was to acquire support and spread the message of our organization, to do this we created an online petition that people could sign to pledge their support in bringing their own cup when going out to bars or parties. We ended up receiving over 300 signatures on our petition. The next step we took with this project was reaching out to various organizations and sources such as, the president of the organization #UNLITTER, who is also a bartender at White Buffalo, We Are Neutral, a carbon calculating company in Gainesville, and of course many bars across Gainesville including Grog, Simons, The Swamp, White Buffalo, and JJ's.
In teams of two, we assigned each team a bar to work on reducing their use of single-use plastics, the team would contact the bar and schedule a meeting with them to discuss the introduction of sustainable practices. Through the outreach, with the petition, we were able to find people within the community of Gainesville to work alongside us and introduce us to more people in the bar and club community. As we talked to more bars and people, our proposal shifted to become more adaptive as we learned what worked best with bar owners.
Some of Leanne's most notable accomplishments include:
Simons agreed to only give out plastic straws per request rather than with every drink!
Eco-Night at Visionary 11/30 (pre-established event but turning it into a BYOC)
Visionary agreed to try out biodegradable plastic (Tijuana Flats)
Plastic Free Happy Hour at White Buffalo
Plastic Free Happy Hour at The Range
Celinos Art Show Reception hosted by the Bull agreed to be tagged as an eco-night
So how can YOU contribute?
This is the first article in an ongoing series about Gainesville locals making a community-wide impact in creative and unique ways. If you or someone you know is making a difference within the community, please reach out to me [at giadejesus3@gmail.com] to possibly be featured in the next "Local Gator Making a Difference" article!