History of Rap, Wheel of Carpet Samples, and the ever famous lip sync battles. When you hear these three things you can only think of one man, James T. Fallon, Jimmy Fallon for short. He is the host of the ever popular The Tonight Show with Jimmy Fallon. Now, I may be a little biased but I love Jimmy; his smooth voice, his captivating humor, and most of all, his rise to fame. Today, I want to share with you ten reasons to love Jimmy Fallon and why you should become a "Fal-Pal" today.
1. His family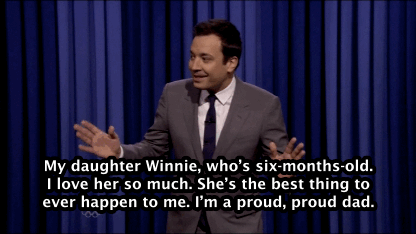 In 2013, Jimmy and his wife, Nancy, announced to the world they had a beautiful baby girl named Winnie Rose, born of a surrogate. Every fan of the show was in total support of the couple who had had trouble conceiving and tried many different ways. Worried about the way people would view his family, and rightfully so, the Fallon's kept the surrogate part a secret for a few weeks. Then in 2014, another baby girl came along via surrogate, Frances Cole. Two beautiful baby girls which made us love this host even more.
2. His sass
When he is not being a family man, Jimmy is hosting his show The Tonight Show. This, if you haven't seen it, is a late night television program that has been on for many generations and was left to Jimmy from Jay Leno. All through the show, Jimmy has given us moment after moment of sassy remarks. From his back and forth with Justin Timberlake to the "Ew!" skits, we never forget the white girl that lives in Jimmy and that gives us all a joy.
3. His moves
Some people have the moves like Jager, but then some have moves like Jimmy. His dancing as brought most of us to tears with laughter but it also makes us want to get up and dance along because even if you can't dance, Mr. Fallon has got your back.
5. His original songs
Although we know Jimmy sings songs by other artists, but sometimes he sings as other artists. Neil Young singing The Fresh Prince of Bel-Air, Tim Tebow singing to Jesus Christ, and so on. We can't get enough of these beautiful remixes.
6. The Famous Lip Sync Battles
Have you ever been to a party and everyone is singing karaoke but you don't have the voice for it? Jimmy's got you covered! His lip sync battles have gone viral every time. With Ellen, Emma Stone, Joseph Gorden Levitt, and many others have had the privilege of "singing" next to this lip sync master.
7. History of Hip Hop (What number are we on?)
YO YO YO! MCs Jimmy and Justin are back with some sweet raps to light your ear drums up! Taking this act to SNL for the 40th anniversary, this has been a running joke since Late Night with Jimmy Fallon (of which we all miss and now is called Late Night with Seth Myers.)
8. The Ship between Justin and Jimmy
Any person that says they are a fal-pal and say they don't ship Justin and Jimmy are liars. Just saying.
9. His SNL (Saturday Night Live) Days
Between his beautiful Berry Gibb impersonation, musical breaks, and the ever famous Weekend Updates. Some us remember the tape of Jimmy that came out of his SNL audition in which he did a Chris Rock impression that got the attention of Loren Michaels who of which hired Jimmy.
10. His love for the fans
Jimmy Fallon has done it all: music, comedy, drama, dancing and loving. Never once has he ever stopped loving his fans, even when not all of his fans supported the move to the Tonight Show. As a committed Fal-Pal, I will always stand next to Jimmy, and you should too!