Unless you live under a rock, you probably have heard about the recent drama revolving around YouTuber and beauty guru James Charles.
Tati Westbrook, a former friend of James and fellow YouTube makeup artist published this video expressing her disappointment and hurt over James' actions.
So, what is the "problem" with James Charles, you may ask? Ah, well, there are a few.
1. He has a history of racist comments.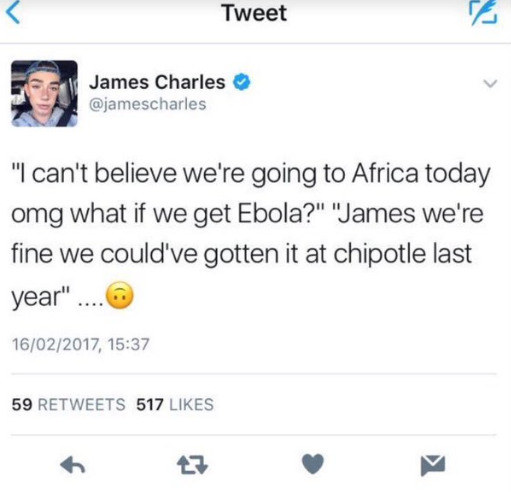 James tweeted this in 2017 and has since apologized for and deleted it. Everyone messes up from time to time, especially teenagers (which James still is). But, the purpose of this is to illustrate that James has not always had a squeaky clean record. Because of the scandal with Tati Westbrook, James has now lost over 3 million subscribers on YouTube. Why have his past racist comments not made as much of an impact on his career, while the allegations by Tati and others have? It seems like "canceled culture" likes to pick and choose what to take into consideration when "ending" someone's career.
2. He has exhibited predatory behavior.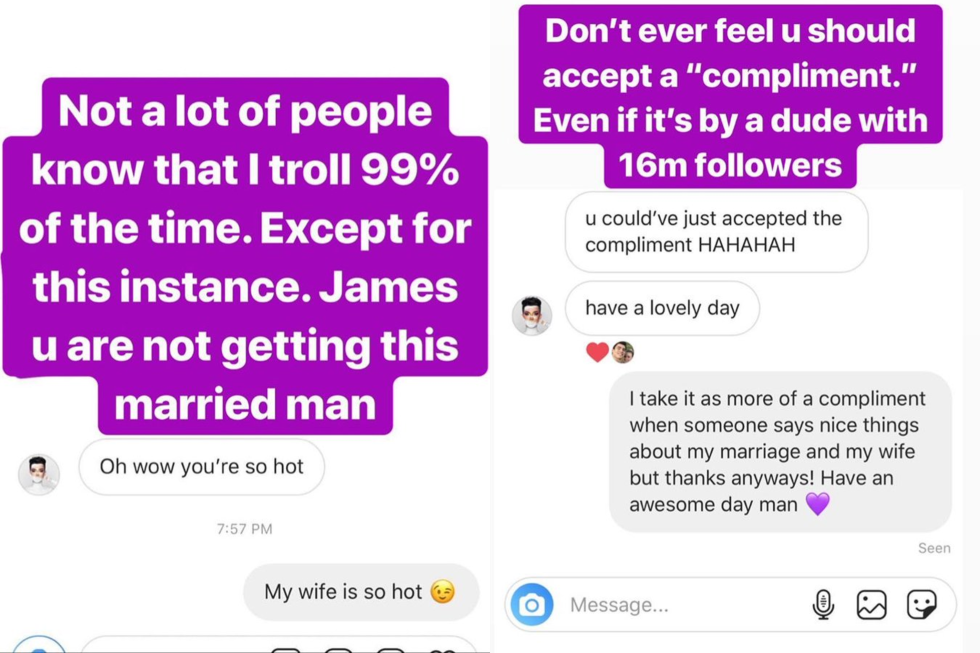 James slid into the DM's of straight, married model Stephen Harris...
James also has a history of forcing his sexuality on straight men— to the point where he will insist that they are not straight and never will be. Model Stephen Harris shared the above images on his Instagram story, but other models including Jay Alvarrez have come forth with similar claims. Sam Cooke, one of James' most recent interests, has explained in detail his uncomfortable interaction with James in this video. A straight boy who James demonized and called a "con artist" explains how he was manipulated by James in this video.
Tati Westbrook talked briefly in her video "BYE SISTER..." about the predatory behavior James has often shown, but it was only for a few minutes. It was evident that she was uncomfortable discussing this. Nonetheless, she talked about James ruining a dinner by constantly telling those at the table what he would do to the (straight) waiter.
Popular beauty guru Jeffree Star has stated that his husband no longer allows James to come to the couple's home and that the allegations against James are "100% true." Unfortunately, this tweet has since been deleted.
3. He has acted selfishly and betrayed friends.
Tati Westbrook's breaking point with James was when he participated in a brand deal with a company that rivaled one that Westbrook was working with. She has expressed concern over the entitlement that James has and his apparent disregard for friends. James has stated publicly that working in the beauty industry as a male is extremely difficult for him and that his job is very stressful. His portrayal as some sort of martyr has not sat well with many, including Tati. "How entitled do you have to be to think that you have it rough? You are a 19-year-old millionaire. You do not get to wake up and stress out about how unfair your job is. That is so ridiculous to me," are her words from the "BYE SISTER..." video. For some background, Tati acted as a mentor to James when he first entered the beauty industry. Now, Tati has said that she is "afraid of him," and for good reason.