I know four kids. Let's call them Sally, Molly, Matthew and Katie. When they go to the beach, they don't see shells. They see a galaxy of clattering stars hanging from driftwood. They see dinner plates, tea pots and sugar bowls.
When they encounter a forest of bamboo, which they tell me they did recently, what they saw was an army of soldiers and a parade of fairy princesses.
In many ways, their imagination reflects Yahweh, the God of the Jews you encounter in the first book of the bible - Genesis.
There you meet a God who takes the unformed world and flings stars into space. Whose imagination runs wild and free a He imagines - and brings into being - plants, people, snow, beatles that can sing and cats who purr.
And all of this makes me think: what is it that makes these kids so vivid in their imagination? What is it that makes them so alive to their surrounds? I notice that these kids don't watch television, and, , I think that counts.
What we put into our minds counts. Garbage in, garbage out, as they say.  Young Minds are formed quickly and tend to absorb and soak up everything around them. They delight an exploration.
Television robs us of so much of the imagination's capacity for free thought. Children also delight in the mundane.
As in his book Orthodoxy (1908),
"Because children have abounding vitality, because they are in spirit fierce and free, therefore they want things repeated and unchanged. They always say, "Do it again"; and the grown-up person does it again until he is nearly dead. For grown-up people are not strong enough to exult in monotony."
This sounds like the kids I spoke with above. And it also speaks of me. Somewhere along the line, wheat Grown Ups lose the capacity for spontaneity and the ability to exalt in monotony.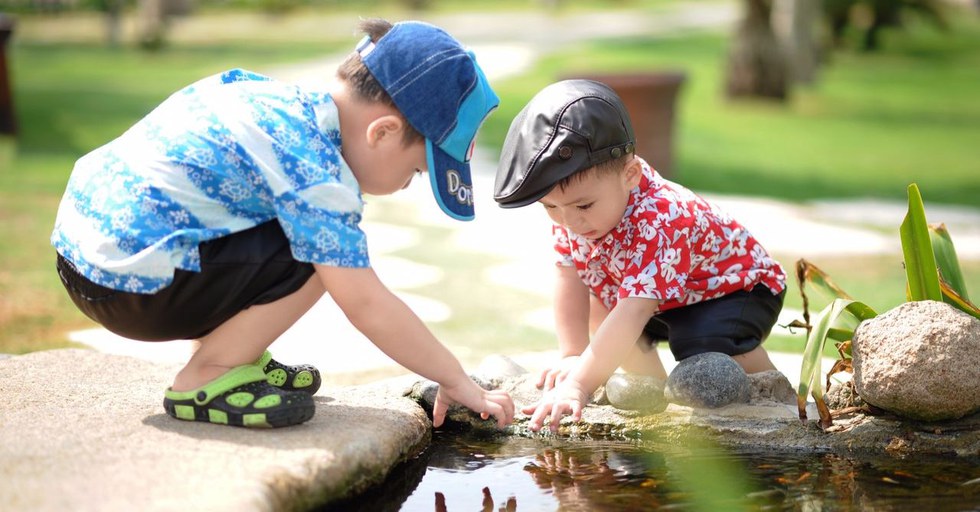 We consider monotony on a par with monogamy.  We think that the real satisfaction lives out there in the great unknown. We have lost the capacity to exalt and rejoice in the mundane.  and because of this, we grow restless.  We become agitated, anxious, depressed and irritable.
How can we remedy this?
Some people might say that this doesn't need a remedy.  some people will say that we ought not tolerate the mundane and the monotonous. But I beg to differ.
I love what I see in the freedom of these little children as they turned in sticks of bamboo into colourful dolls and brave soldiers.  I love the tea party is made entirely out of  beautiful shells.
I want to be there for that tea party. I want to see the bamboo at war and I want to see the princess saved and the dragon slain.
So I know what I want, but I'm not yet too sure on how to remedy the dullness that has come over me in my adult life.
I think I should start with reading some Classic Children's literature. A. A Milne and Winnie-the-Pooh would probably be a good place to start. Wind in the Willows would not be a bad place to go either.
beyond that I think I have to simply start spending more time with my children..  I think there's a reason why the elderly get such a thrill when they see young children.  there is something vital, and rejuvenating about young children who still have an imagination.
Whatever steps I need to take to rediscover my own imagination, I am prepared to take. If I only to be closer to those who in this world seem to have the most life.