Chandler Bing: President.
Chandler has an unique mix of characteristics that would make him a good fit for president. He's caring but he doesn't let his emotions cloud his judgement; he's loyal but knows how to call people out; he can make decisions but hears other people's input first. He's definitely the most intense of the group, so with Chandler as president, he would be able to take control in chaotic situations (chapter meetings), but keep things light with a sarcastic comment every once in a while.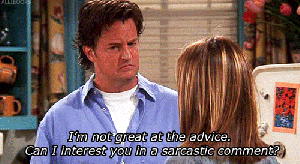 Monica Geller: House Manager.
Monica has the perfect storm of characteristics that make up a great house manager. She is a chef so you know she would choose only the best food to be served in the house. She is also a neat freak so the house would always be clean (not just clean, Monica clean). She loves being the hostess so you can always count on her to help prepare for parties, pregames or whatever the occasion.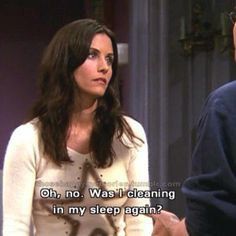 Recruitment Chair: Rachel Green.
Rachel is energetic, popular, and is not afraid to say what's on her mind. Her knack for fashion will give your chapter an edge, and make sure you are the best dressed on sorority row during recruitment. Many see Rachel as the girl next door and America's sweetheart, being the perfect choice to represent your chapter during rush.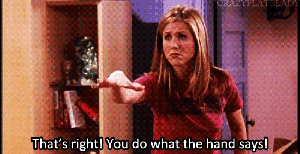 Phoebe Buffay: New Member Coordinator.
Phoebe has been through all the worst scenarios in life, from being homeless at the age of 14 to her mother's suicide. She is honest and kind, two necessary qualities needed to guide your new members through their new member period. She's willing to go the extra mile to help her family (like carrying triplets for her brother), but she's not afraid to tell it like it is. She will gently guide your newest pledge class through whatever the year throws at them.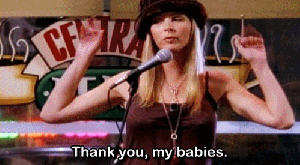 Ross Geller: Standards.
Although he makes his own mistakes, Ross is the voice of reason for the group. He has a stable, albeit boring, career as a paleontologist. He loves commitment (his three marriages and his three divorces), and knows how to handle the biggest curveball life can throw at him. As standards chair he would serve as a steadfast member of your executive council, always making rational decisions even when times get tough.

Joey Tribbiani: Social Chair.

Joey is a smooth-talking, charming, lady's man, not-to-mention attractive. Joey comes from a big family so he has connections and knows how to interact with others. His way with words will come in handy when planning social events with other chapters. You will be able to swap with all the houses thanks to Joey's way with words, and if you get into a pinch with a venue, all it takes is a wink and a smile from Joey to work it out.