I have been seeing a lot about hygge on Pinterest and I didn't have a clue what that was. I love to go on to Pinterest for inspiration and self-love motivation, so when posts and articles with hygge kept popping up, I was very intrigued. After I learned more, I could easily see how hygge fit into a mindset of self-love.
What is hygge?
Hygge is a quality of coziness and comfort that creates a feeling of contentment or well-being. It is a Danish and Norwegian phrase, pronounced "hoo-gah" and is also called hyggelig. It is a mindset and a standard in which to live life. Hygge is a way one finds the beauty in every moment and finds more contentment in what they have. It can envelop every aspect of one's life but mainly focuses on the home and with downtime.
From the VisitDenmark website, they define hygge as illuminating the Danish soul.
"In essence, hygge means creating a warm atmosphere and enjoying the good things in life with good people. The warm glow of candlelight is hygge. Cozying up with a loved one for a movie – that's hygge, too. And there's nothing more hygge than sitting around with friends and family, discussing the big and small things in life. Perhaps hygge explains why the Danes are some of the happiest people in the world."
This might sound very simple, but it includes active awareness of your emotions and the willingness to be genuinely engaged and relaxed in your surroundings. Sometimes we don't think to put the extra little effort into lighting candles and making ourselves physically comfy and content. It makes sense, if you wrap yourself up in a cozy blanket and dim the lights, your thoughts will follow suit and slow down. We are all so familiar with our smartphones, the internet and watching tv, we forget to be present in the moment.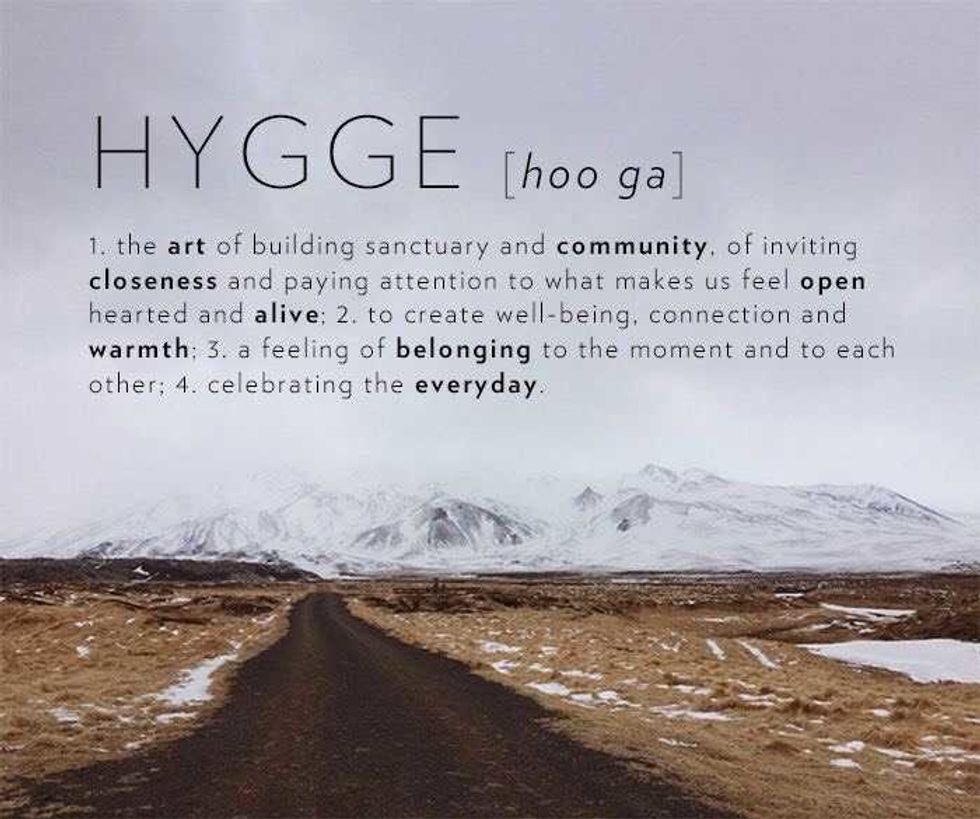 How can you live a hygge inspired life?
One of the points to hygge is to add warmth into your life. I think hygge is celebrated a lot more in the Fall and Winter because we all want to get out of the cold and get comfortable. However, we can add warmth without it being overwhelming. A hot tea before bed, a new soft blanket and lighting a clean smelling candle are small ways to add warmth to your day. You don't have to do these things every day, but taking the time to light candles can become a relaxing part of your evening. Warm colored fairy lights and home décor that is purposefully cozy and makes your home a place you love being and feel relaxed in. Hygge encourages warmth physically and emotionally. Be kind to yourself and others.
Being comfortable and content at the moment is something we all strive for, but don't always consciously try to do. This is another point to hygge. Being comfortable on the outside will result in being comfortable on the inside. Limiting the stimuli around you allows your mind to rest and process your day. Hygge routines highly recommend tech-free nights to declutter your mind. Gratitude is also highly encouraged in the hygge lifestyle. One cannot be content in their life if they don't fully appreciate what they have. Being one with nature is also suggested. Bringing indoor plants into your home, gardening, and taking long walks outdoors inspires a feeling of well-being and being content. Be spontaneous if it will bring you happiness.
Good food with good people is another objective to hygge. You are in control of your own life, keeping things or people in your life that don't bring you peace and positivity is not healthy. Hygge promotes positive interactions with family and friends. Socialize with genuine people and keep a few close, deep friendships. The things and people you surround yourself with predict your contentment with life. Hygge also is big on eating delicious foods that bring you joy. Baking and learning new recipes can be fun and relaxing. It can be done alone or you could invite friends over to bake. Basically, treat yourself and don't worry too much.
Challenge yourself to live with hygge in mind for a week or two! Check out Pinterest for more inspiration. Be mindful and at the moment. Hygge can alleviate stress if you keep comfort and contentment in mind. Make time for yourself every night. There is a Buzzfeed article of someone trying to live a hygge life. Hygge can be implemented all year around, as well. Don't forget to check out this article to help you plan to live a more hygge inspired life. Here are some suggestions to have a hygge inspired Summer.