Santa Clara, California, is going to see a huge influx of people this upcoming weekend -- along with bars, restaurants and grocery stores nationwide. There will be a rise in sales, television views and human trafficking. That's right. Human trafficking is one of many industries in America that sees a growth in customers on Superbowl Sunday.
You probably don't give much thought to the issue of human trafficking on a daily basis. The average person doesn't give it any thought on Superbowl Sunday. But it is all around us, at the airport on your way to the game, in Santa Clara where the game will be played and in the strip mall you pass on your way to grab snacks. This business is carefully hidden from us where we would least expect -- in plain sight.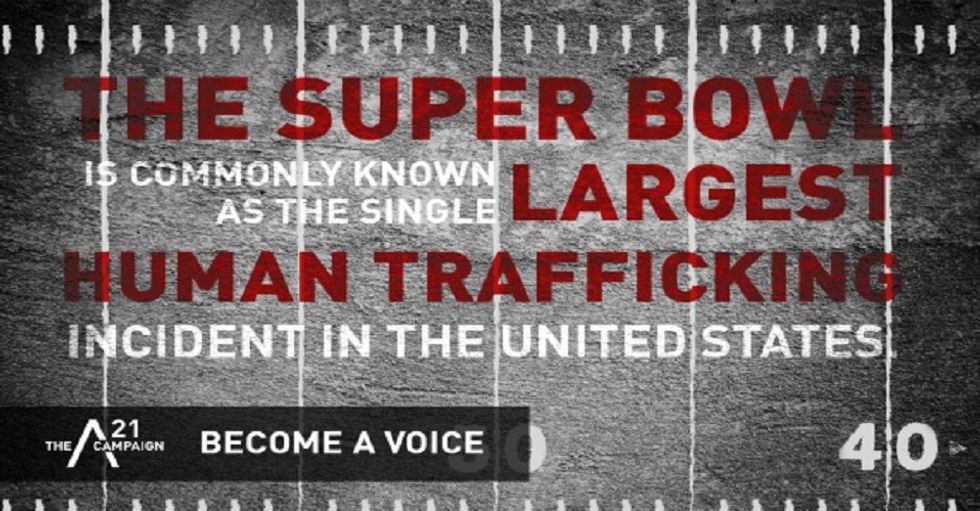 At The Game
For those attending the game in person, you may sit by victims on the plane. The groups are usually older men leading along multiple younger women, who speak little to no English. The man talks for the ladies, who quietly keep their heads down. They don't make eye contact with anyone. Heather Poole, an airline attendant, explains signs that could indicate human trafficking in her article, here.
A group like that could be shuffling their workers for any number of reasons -- to keep their operation from getting busted, to prevent their workers from getting used to one place, to avoid relationships between workers and customers, who may help them escape, or any other number of reasons. Some trades are made only to rotate fresh faces in and keep satisfied customers coming back. Poole mentions that some airlines now train employees to spot potential signs of human trafficking. Flight attendants volunteer at the Super Bowl each year to help police spot these kinds of cases.
In the parking lot, pop-up tents will sell anything and everything you can put a logo on. The person selling those trinkets? They could be trapped in a life of domestic servitude. Other ladies are going to be sold to different men over and over while you're concerned about the game. When the final whistle blows, new merchandise will be unloaded. The person you buy your Superbowl Champion shirt from may be working to pay off the debt they accrued coming to America.
In Your Neighborhood

Americans tend to think of slavery as part of our past; we abolished slavery 150 years ago. But slavery is the present and the future for many people around the world. It's even hidden in our own communities. The businesses these workers are forced into don't have a neon sign that indicates their illegal operations. Many are disguised as massage parlors and are located right in your local strip mall. Next time you're driving down a main road in a suburb, count how many massage parlor signs there are. Now think about the other businesses in that strip that closed: a grocery store, a restaurant, a hardware store, Blockbuster.
When you look at the picture that way, it's very odd that a massage parlor would stay open but a local business would close. That massage parlor is probably more than a massage parlor. Tell-tale signs of these operations usually include: bars on the windows, security cameras outside the store and no large advertisements.
While you're driving to the store to get snacks, women all over are being exploited for profit. They work hard and see little to none of this money. Nobody deserves slavery, especially in 2016. Look for the signs around you, because if we don't spot it they can't stop it. While you're inside the Levi's Stadium watching play after play, women in the parking lot are being sold to man after man. The Broncos and Panthers will battle inside and women will fight to survive just outside.
If you're interested in learning more about human trafficking in America, here are some links to check out.
http://www.columbusmonthly.com/content/stories/201...