In episode 10 of the first season Winston, in an attempt to ruin Nick's date to get his payback, reveals that Nick invented the famous "bro juice."
The episode essentially narrates how Schmidt's 29th birthday went on the party bus and shows how everybody had a good time.
Nick's words are "This is not going to be attractive" right before drinking the mysterious mixture of alcohol.
He drinks it from a big cooler and gets immediately wasted, which made me wonder what's inside. It might have had to do with the amount of alcohol ingested or I could have been attributed to the number of different types of liquor all put together, nonetheless it kinda made me curious about its taste.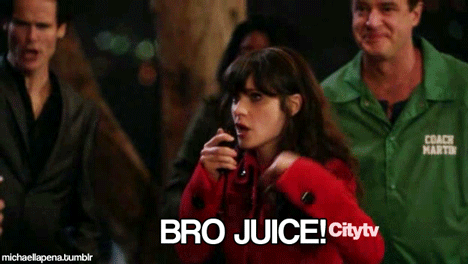 Therefore, here's the recipe used to made Bro Juice:
- one bottle of vodka
- one bottle of everclear
- one bottle of fruit punch
- large cooler
- one heaping cup of despair, anxiety and self-loathing
Then, stir the liquids together until they are thoroughly combined.
Have fun and drink responsibly ;)