It's that time of year again when everyone flocks to make a change. Every new calendar year, lots of people, myself included, make new year's resolutions for a chance to change a habit or improve in a general area. But as we have all experienced, these resolutions are hard to keep.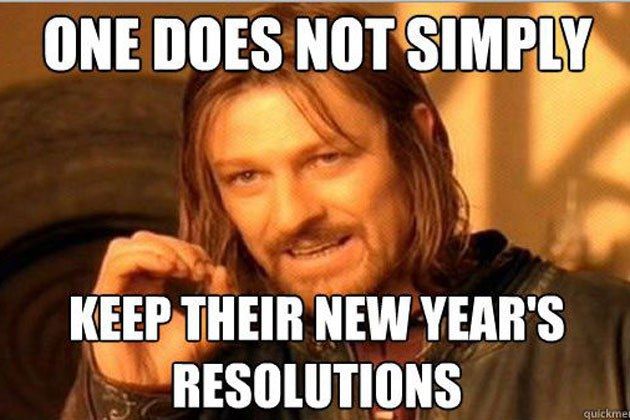 However, it is not impossible to keep these goals. So how does one go about making a resolution and then actually following through with it? Here are some tips that have worked for me. Keep in mind, this is not a universal end all be all. Find what works best for you and stick to it.
Do it for you.

Making a goal is only going to be effective if you truly want to see it through. The biggest motivator is yourself. So stick to a resolution that will make you a better person -- physically, mentally, or spiritually.
Keep yourself accountable.

Making a goal for yourself does not mean you can't ask others to help you. My boyfriend and I text each other to check and see if we have both done our devotionals. Knowing that someone else is behind you makes the transition into a new habit even smoother.
Remind yourself why you did this.

It's normal to lose interest after months go by. So at the beginning of the year, write down all the reasons why you want to make this resolution. When you feel discouraged, read the note and remember why you wanted to do this in the first place.
Make specific goals.

It's easy to feel inspired the first week of January and make an unrealistic goal for yourself. Instead of planning to go to the gym every day this year, try starting with small goals and working your way up. First try to go twice a week for a month. Then if that seems to be working, bump up the frequency.
Utilize technology

Setting alarms on your phone can be a gentle reminder and increase motivation for maintaining resolutions. Also, there are many apps that will help you schedule your day and alert you when it's time to complete your goal. I personally use the app Fabulous: Motivate me! This app keeps track of your habits and sends you notes with tips and tricks to fulfill all of your resolutions.
---
Remember that resolutions do not have to be made only at the beginning of the calendar year. And also, keep in mind that sometimes it takes several tries to have a successful goal. This doesn't mean you have failed; it just means you have a chance to start over. I wish you the best of luck in this coming year to keep all of your resolutions. Have a blessed 2016.