Just because you live in a residence hall and have a low grocery-shopping budget does not mean you have to eat like one. Here are some quick, easy recipes to treat your taste buds, even if you may not have a kitchen table to eat it at. Most of the recipes don't even need an oven, just a microwave and basic staple items!
1. Overnight Blueberry Maple Oatmeal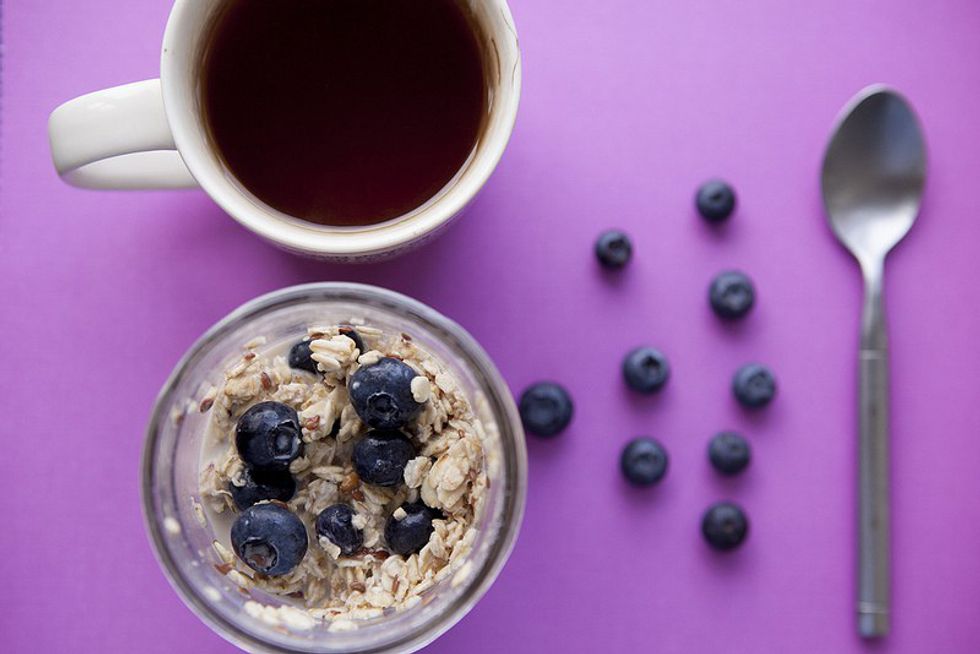 Overnight oats are must for a college student, it is quick and easy but also tastes amazing. Simply prepare it the night before so all you have to do in the morning and roll out of bed and grab it out of the fridge. Use this recipe as a starter and then feel free to put your own spin on it by adding in different fruits!
Ingredients
1/2 cup old fashioned oats
1/2 cup milk + splash in the morning
1/4 teaspoon cinnamon
1 teaspoon flax seeds
1 teaspoon maple syrup
1/2 cup fresh blueberries
Instructions
Put all ingredients in a jar or bowl.
Stir so everything is combined.
Put lid on, and put in refrigerator overnight.
In the morning, splash a bit of milk on top and stir around again.
Source: http://brooklynfarmgirl.com/2013/06/11/overnight-b...
2. 5-Minute Vegetarian Burrito Bowl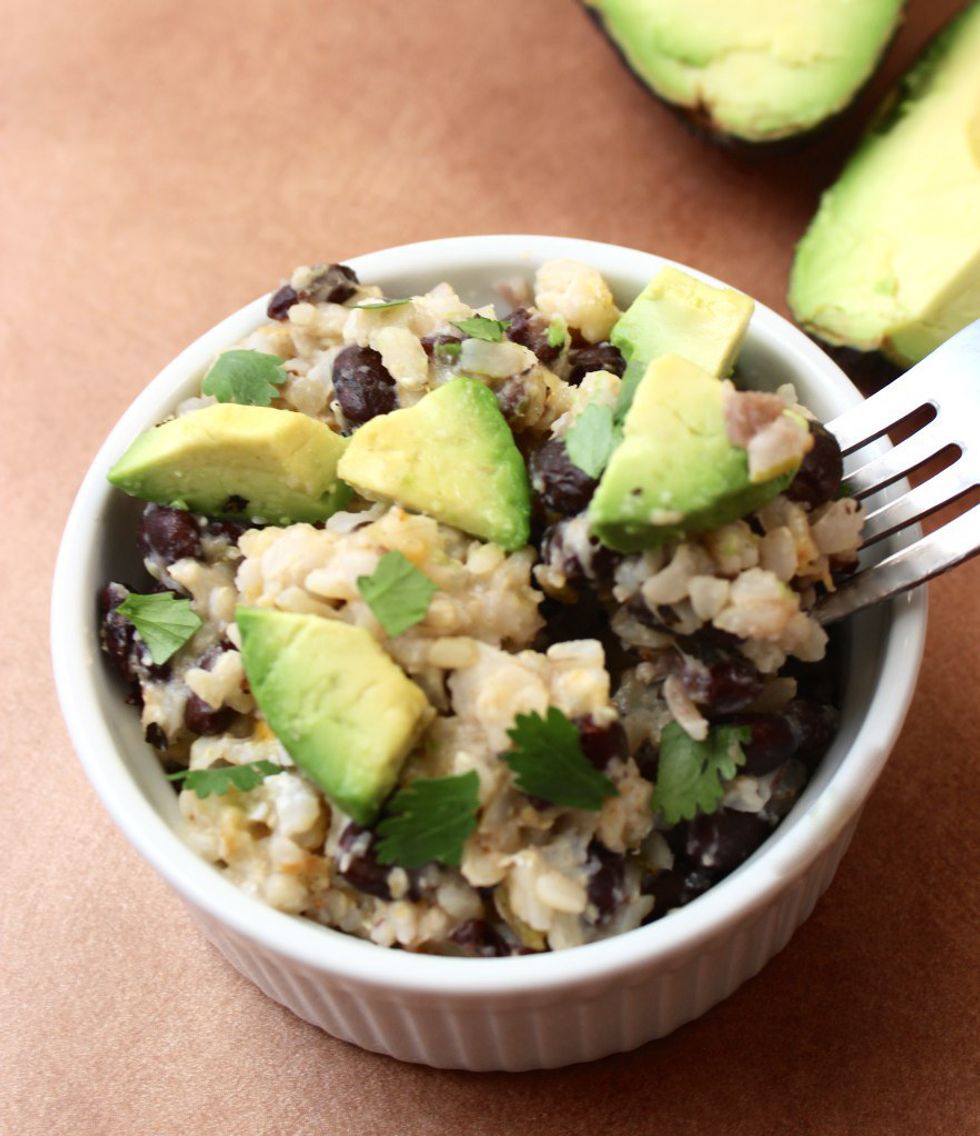 1 cup cooked brown rice (I used Trader Joe's frozen pre-cooked brown rice)
1/2 cup black beans, drained and rinsed
2-3 tablespoons salsa, or to taste
1 tablespoon plain Greek yogurt
1 tablespoon shredded cheddar or Mexican-blend cheese
Diced avocado, optional
Prepare brown rice according to package instructions.
In a microwave-safe bowl, combine rice, black beans, salsa, plain Greek yogurt, and shredded cheese. Microwave on high for 30-60 seconds, or until heated through.
Top with diced avocado, diced tomato, guacamole, pico de gallo, crushed tortilla chips, or other desired toppings.
Source: http://www.healthy-liv.com/5-minute-vegetarian-burrito-bowl/
3. Mason Jar Greek Salad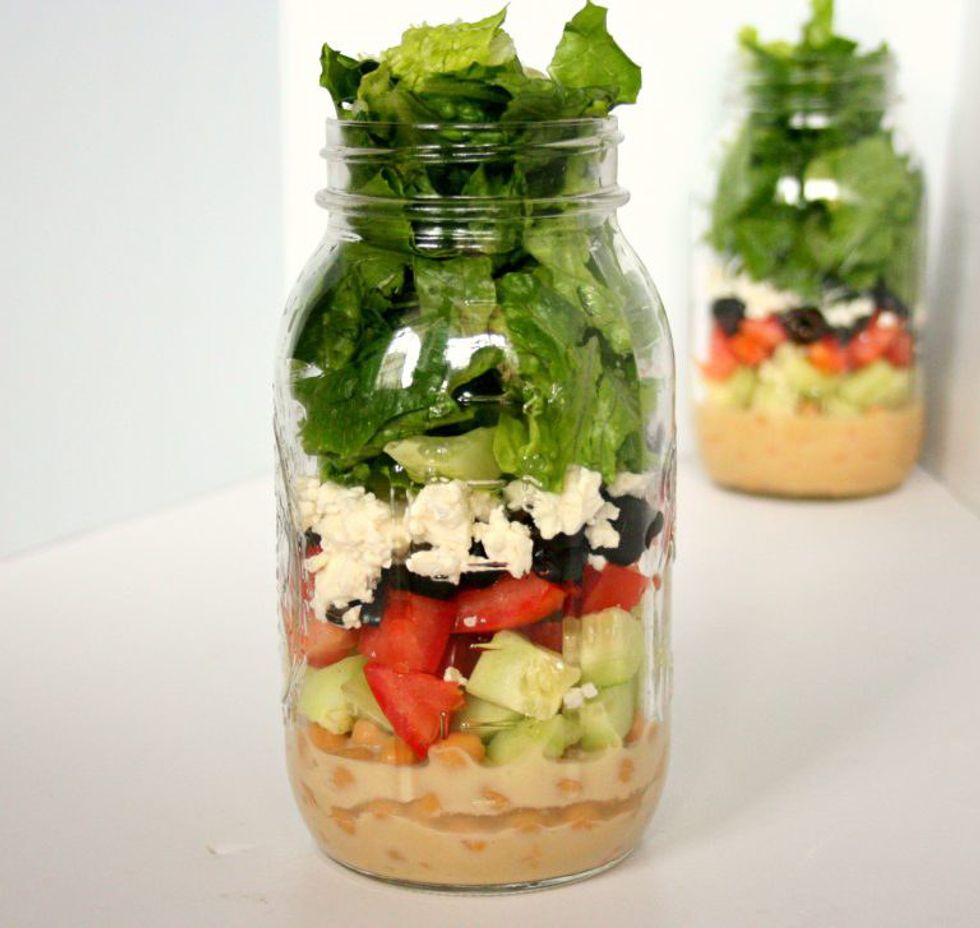 This salad is a perfect lunch when you do not have time to stop back in your room to cook something. No separate dressing container is needed because the mason jar separates the diced veggies from water absorbent vegetables!
Ingredients
Dressing
1 Tbsp water
1 Tbsp Tahini paste
1 Tbsp+ 1/4 tsp lemon juice
1/4 tsp minced garlic
1/2 tsp honey
1/8 tsp salt
1/2 cup drained chickpeas
1/2 cup diced cucumbers
1/2 cup diced vine ripe tomatoes
2 Tbsp sliced black olives
2 Tbsp crumbled feta cheese
1-2 cups chopped romaine lettuce
Instructions
In a small bowl, whisk together water, tahini, lemon juice, minced garlic, honey, and salt.
Pour dressing in the bottom of the mason jar then begin to layer your salad.
Start with the chickpeas, then the cucumber, tomatoes, olives, feta cheese, and lettuce.
Place the lid on the mason jar and store in the fridge.
Salads will keep for about 3 days.
Source: http://holleygrainger.com/mason-jar-greek-salad/
4. Nutella Energy Bites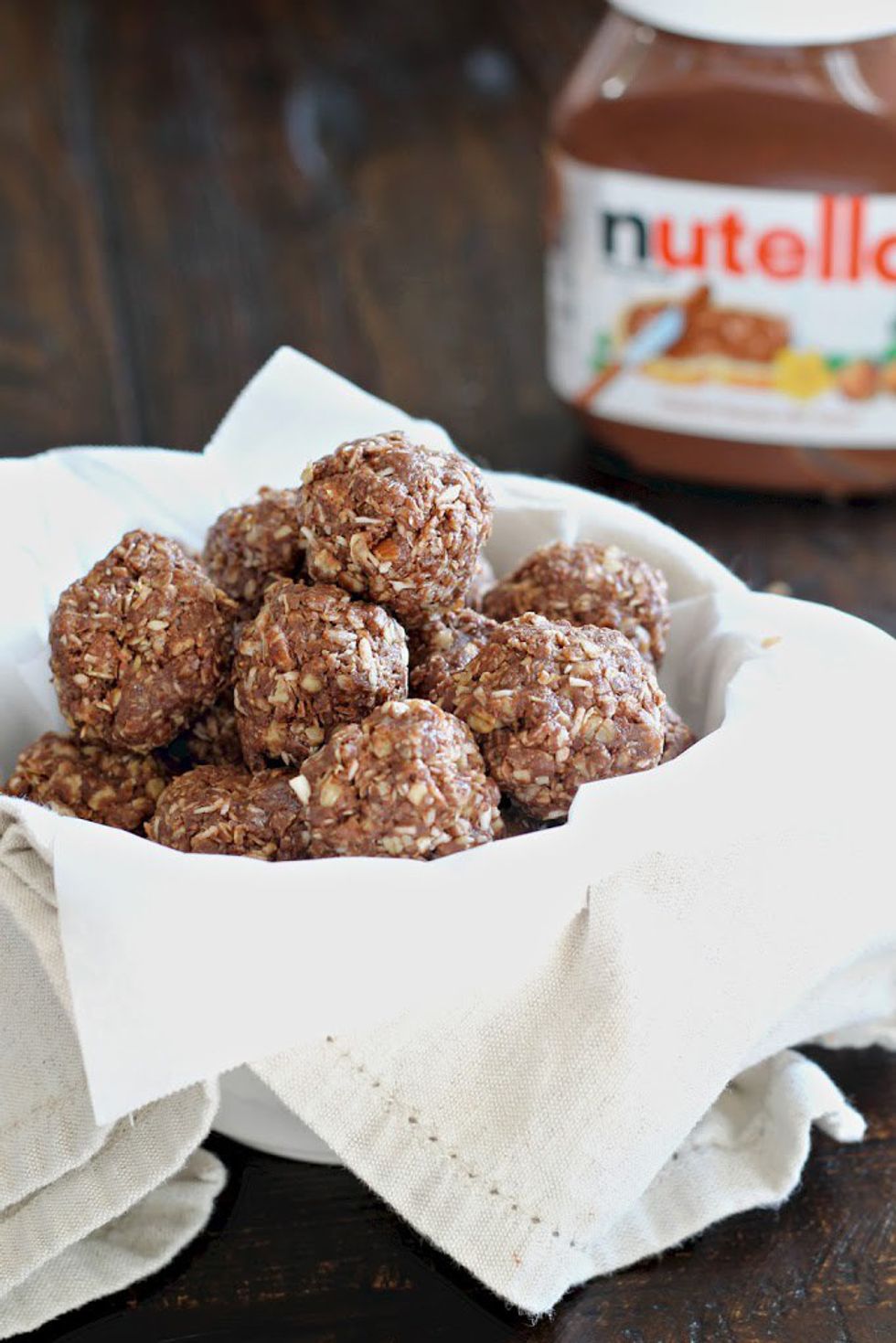 Ingredients
2 Cups Oats
1 1/4 Cups Nutella
1/4 Cup Agave Nectar
1/2 Cup Chopped Hazelnuts
1/4 Cup Flaxseed
1/2 Cup Coconut Flakes
Instructions

Combine all of the ingredients in a medium sized bowl. If the mixture is difficult to stir, simply place the bowl in the microwave for 15 to 30 seconds to soften it up, then stir until all of the ingredients are combined. Refrigerate the "dough" for about half an hour, this will help it stick together better. After the dough is cooled, I scoop it up by the spoonful and roll into bite-sized balls. Store these in the freezer or the fridge, and indulge as you please!
Source: http://www.loveandbellinis.com/2014/10/no-bake-nutella-energy-bites.html
5. Ramen Noodle Stir Fry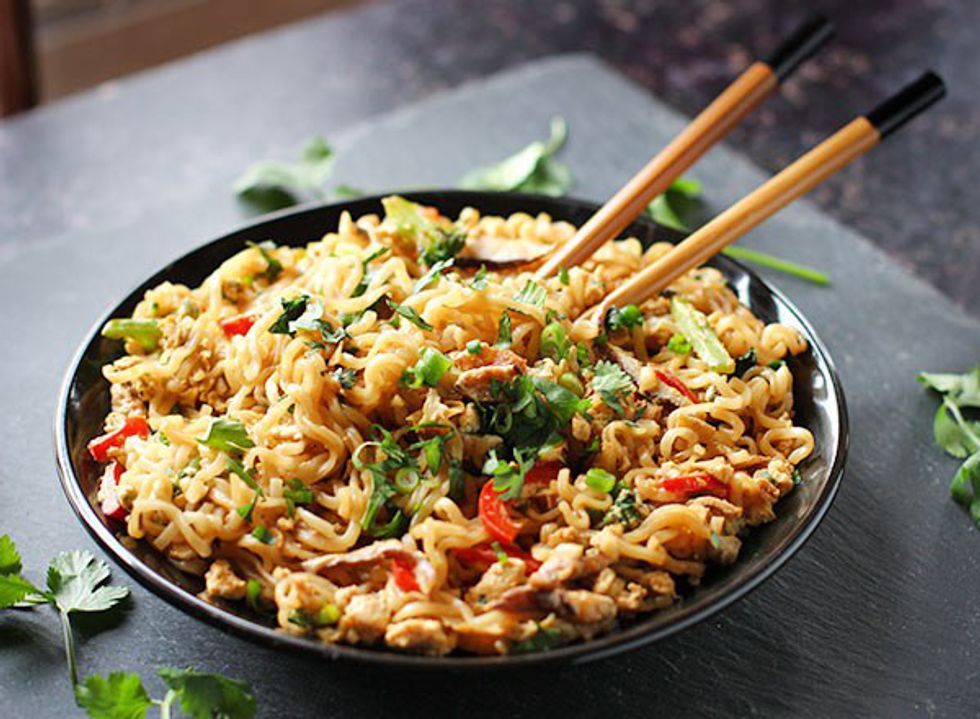 An easy dinner option. Sub the spice packets in ramen noodles for fresh vegetables and fresh spices.
Ingredients
for the sauce:
1 tablespoon rice vinegar
1 tablespoon toasted sesame oil
2 tablespoons soy sauce
2 teaspoons hoisin sauce
1 teaspoon brown sugar
1 teaspoon minced garlic
1 teaspoon minced ginger
for the ramen noodle stir fry:
9 ounces ramen noodles, about 3 packs (discard the flavor packet)
1 tablespoon peanut oil (or other high-heat oil)
1 teaspoon minced garlic
1 teaspoon minced ginger
4 ounces shiitake mushrooms, stems removed, sliced
1 small head of broccoli, cut into florets and sliced julienne
1/2 red bell pepper, sliced julienne
1 egg, lightly scrambled (optional)
2 scallions, sliced
1 heaping tablespoon minced cilantro
Instructions
Whisk the sauce ingredients together in a bowl and set aside.
Bring a medium pot of water to boil over high heat, and cook the noodles according to package directions.
Meanwhile, heat the oil in a large skillet or wok over medium-high heat until shimmering. Add the garlic, ginger, mushrooms, broccoli, and peppers, and saute for about a minute.
Add the scrambled egg, if using, and stir until it's mostly set up. Mix in with the vegetables.
Add the noodles, and, if desired, use scissors to snip the long strands into more fork-manageable lengths. Drizzle the sauce over the stir fry, plus a big pinch of cilantro, and mix well.
Garnish with scallions and more cilantro before serving.
Source: http://soupaddict.com/2014/03/ramen-noodle-stir-fry/
6. Chocolate Muffin In A Mug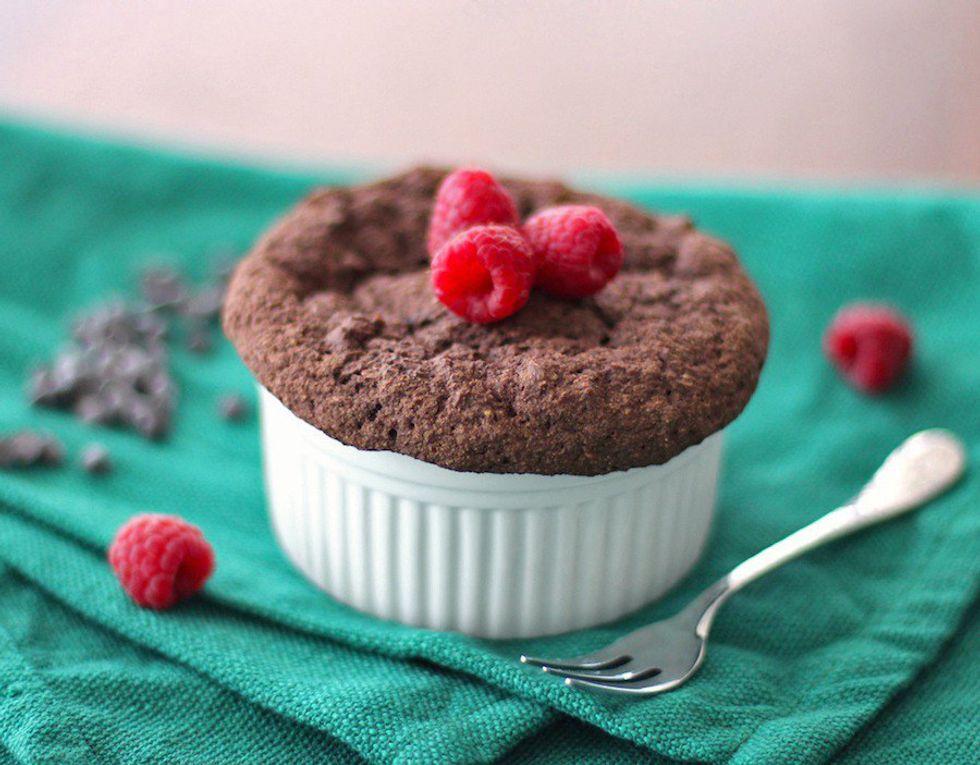 Ingredients
Muffin:
7g (1 tbs) Ground Flaxseed
1/3 cup Unsweetened Vanilla Almond Milk
62g (1/4 cup) Unsweetened Applesauce
4 packets Truvia
1/8 tsp Salt
15g (3 tbs) Unsweetened Regular Cocoa Powder
45g (6 tbs) oat flour
1 tsp Baking Powder
Icing:
3 tbs peanut flour
2 packets Truvia
2 tbs Unsweetened Vanilla Almond Milk
Instructions
Spray a 5" baking dish or 4" ramekin with cooking spray.
In a medium-sized bowl, stir together the flax and almond milk.
Stir in the applesauce, truvia and salt.
Stir in the cocoa powder, then stir in the oat flour.
Last, stir in the baking powder. Scoop batter into the prepared baking dish and microwave (the 5" baking dish takes about 4 min + 30 sec, the ramekin takes 5 min) until surface springs back when tapped.
For the PB Icing:
6. In a small bowl, whisk together all the ingredients until smooth.

Source: http://dessertswithbenefits.com/single-serving-chocolate-microwave-muffin-with-peanut-butter-icing/#ixzz4IZWoJfik
7. Macaroni And Cheese In A Mug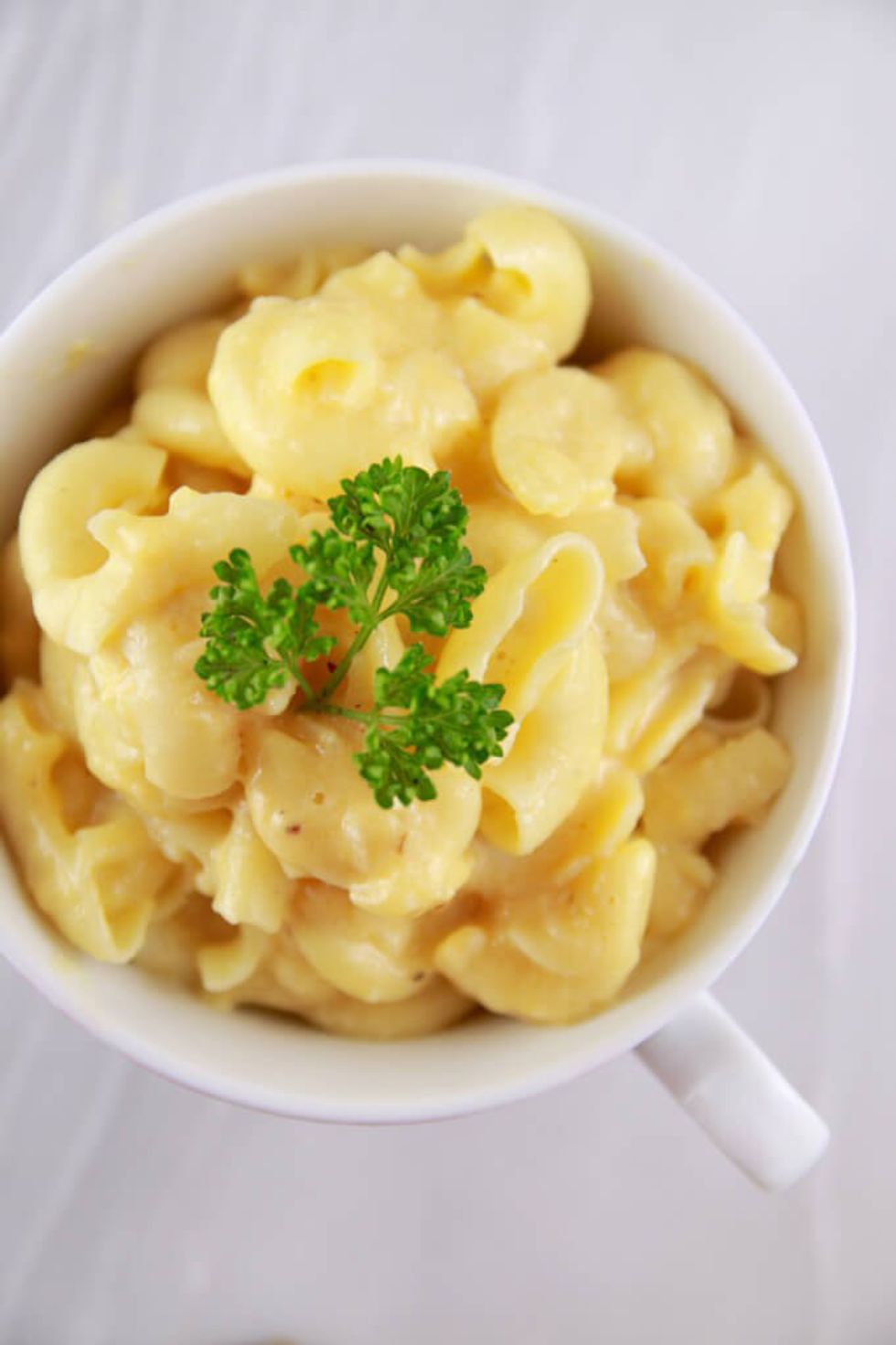 Almost as easy as EasyMac but less dishes than mac & cheese made on the stove.
Ingredients
⅓ cup (28g/1oz) pasta
¾ cup (175ml/6fl oz) water, cold
4 tablespoons milk
¼ teaspoons cornstarch (aka cornflour)
4 tablespoons cheddar cheese, grated
salt and pepper
Instructions
In a large microwavable mug or large bowl add in the macaroni and the water. You need a large mug as the water will boil up.
Microwave for roughly 3 ½ minutes. You want the pasta to be fully cooked. (timing is based on my 1200W microwave so your timing might vary)
Pour off the remaining cooking water.
Stir in the milk, cornstarch and shredded cheese and microwave for a final 60 seconds to create your sauce. Stir well, season with salt and pepper and enjoy.
Source: http://www.biggerbolderbaking.com/microwave-macaro...