On Thursday, October 13th The Pride Network at Hofstra University hosted its ninth annual drag show. I was fortunate to be a volunteer to sell tickets, attend the event, and volunteer again to help with show breakdown at the end of the night. So, what exactly was all of this like? I'll be glad to tell you.
Within the days leading up to the event, I spent some time tabling with some incredible E-board members of the Pride Network in the Student Center to help with ticket sales. On the last day of tabling, I was volunteering when the last ticket was sold. That's right, we sold out the show and had no tickets available for purchase at the door. People told me that the event always gets sold out, and I was extremely happy I bought my ticket with plenty of time to spare.
The show was scheduled to begin at around 8' clock pm and the doors opened at around 7:30 pm. I arrived at the event at around 7:30 pm and there was already a huge line outside of Monroe Theatre where the show would take place. Shortly after I arrived, they opened the doors and I walked with some friends to find a good seat. I sat right in the center aisle and eagerly awaited the start of the show.
The night was full of incredible talent. From student drag performers, student dance groups, a student a cappella group, and last but definitely not least, performances from professional, well-known drag queens Anita Waistline, Yuhua Hamasaki, and Latrice Royale. For anyone who doesn't know, Anita Waistline is the reining Miss Pulse Nightclub and Latrice Royale was on season 4 of Ru Paul's drag race. Sceams and cheers filled the room while each performer completely commanded and dominated the stage with their incredible performances and larger than life personalities. The queens really got the crowd involved as they came out into the crowd during their numbers and grabbed students to come up on stage for some fun.
Towards the end of the night, Latrice Royale made a heartfelt, inspiring speech I will never forget. She talked about how we always should follow our passions in life, no matter what it is and to never let anyone discourage us. She also said for anyone going through a tough time that it really does get better and she loves us all. It was just such a memorable and beautiful moment. This year's drag show was especially was especially special because it was also a benefit show. Collection bowls were passed around through the audience three times throughout the course of the show. Between the money collected from these bowls, other donations, and ticket sales, Hofstra raised over three thousand dollars. From this money, half of it is going directly to families and people affected by the Pulse Nightclub tragedy.
At the end of the show, we were fortunate enough to have a meet and greet with the queens. I eagerly waited in line to take a photo with them. It was such a cool experience to stand next to them and pose for a picture after I admired them all night.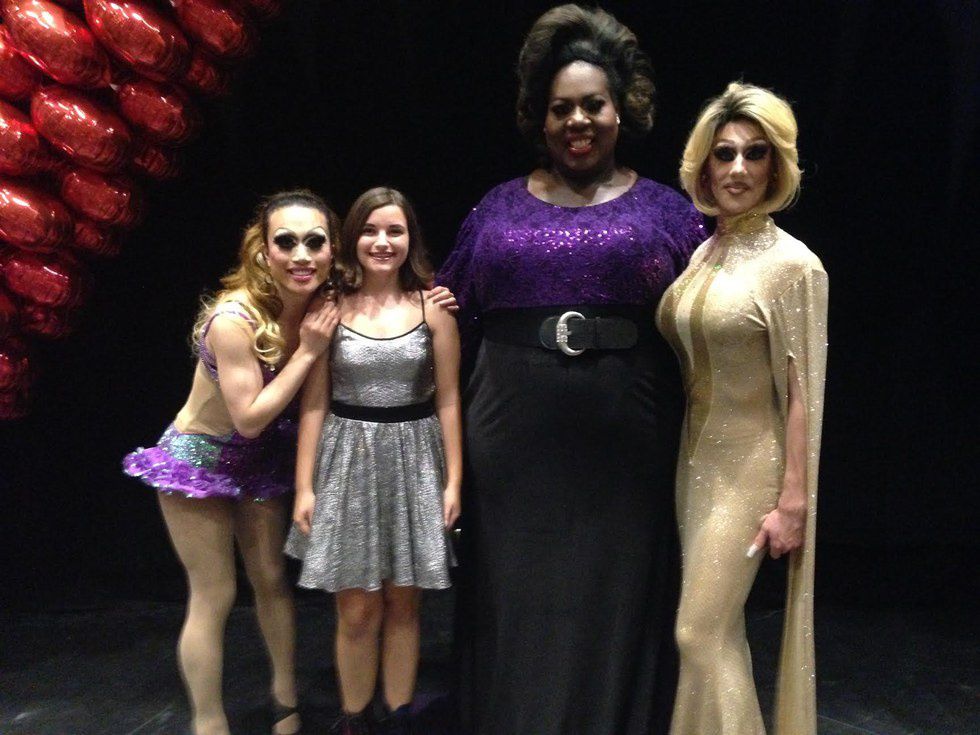 Photo courtesy of Josh Metzler
Overall, it was an incredible night. I had never been to a live drag show before, and I had a blast! It was so much fun and so exciting to watch all of these beautiful people perform. It was even more amazing to be a part of it since half of the money raised was donated to a very special cause.