Terrible. Just terrible. There is seriously no other way to put it. I mean to be completely honest I do not know why on deadline day for articles to be posted I chose to write about this but I just think as a fan I have too. For any of you that do not know the Mets had their worst loss in team history last night. Yes simple and frank just like that. It was legit their worst loss in team history and I lived through it, I watched it. To add insult to injury I watched the ninth inning from Applebees, yes an Applebees. Last night's loss was probably the worst loss I have ever watched out of all of my sports teams. It was so bad when I called my dad this afternoon his first words to me were not hello or how are you doing? It was legit "what a terrible loss". He went on to add "I went to bed last night when it was 10-4 then I heard on the radio this morning "Mets lose" and went no freakin' way." Yes it was one of those. He woke up, actually we all woke up realizing the nightmare was a reality.
It was 6-4 in the top of the ninth. The Mets had 1st and 2nd with 1 out and Tomas Nido was at the plate. Nido grounds the ball to short for a tailor made double play but Nationals shortstop Trea Turner pulled a "metsie" moment, forgot how many outs there were and just threw the ball to first to retire Nido. LOL. McNeil was up next drove in the runners from second and third advanced to second on the throw and the Mets were suddenly up 8-4 with 2 out in the 9th. Next up was our slugger Pete Alonso and he did what he does best, Alonso hits a 2 run homer and the Mets completely blew the game open leading 10-4. TEN. TO. FOUR. Thats 6 runs just in case you didn't realize. Also what made it so great is they got 4 of those runs because of a dumb fielding mistake that not even most little leaguers make. I mean you have 80 scoreboards surrounding you on the field, every time an out is made every player looks at each other and signals how many outs there are in the inning, like dude how do you forget. Straight stupidity. But when you are facing the Mets even when as a team you are stupid, the Mets will try and one up you and that is exactly what they did…
I am not going to go into the details of the bottom of the 9th because it was a nightmare. The big hit was the game winning 3 run homerun by Kurt Suzuki. Yes Kurt freaking Suzuki who, for the life of me I can not understand, seems to always kill the freakin' Mets. But that is besides the point. The point goes back to the manager. WHY NOT KEEP SETH LUGO IN. Literally Mickey Callaway might be the worst bullpen manager-ing manager in the league. His team went up 10-4 and instead of just closing the door with your best reliever who was fresh to throw 2-innings, he tried to save him for the next game and guess what happens, you lose the game you should have won. Paul Sewald, Luis Avilian and Edwin Diaz…. THREE PITCHERS, could not get three outs in a 6 run ball game. A serious joke. A nightmare. I would have fired Mickey right after the game. This was a prime example of do not think about tomorrow, handle what is in front of you today. ESPECIALLY in baseball when you are in a wild card race trying to make the playoffs. Every game to the Mets should be handled like a playoff game.
ARE YOU BRINGING IN PAUL FREAKIN' SEWALD INTO THE WILD CARD GAME UP 10-4. NO. SO WHY DO IT LAST NIGHT.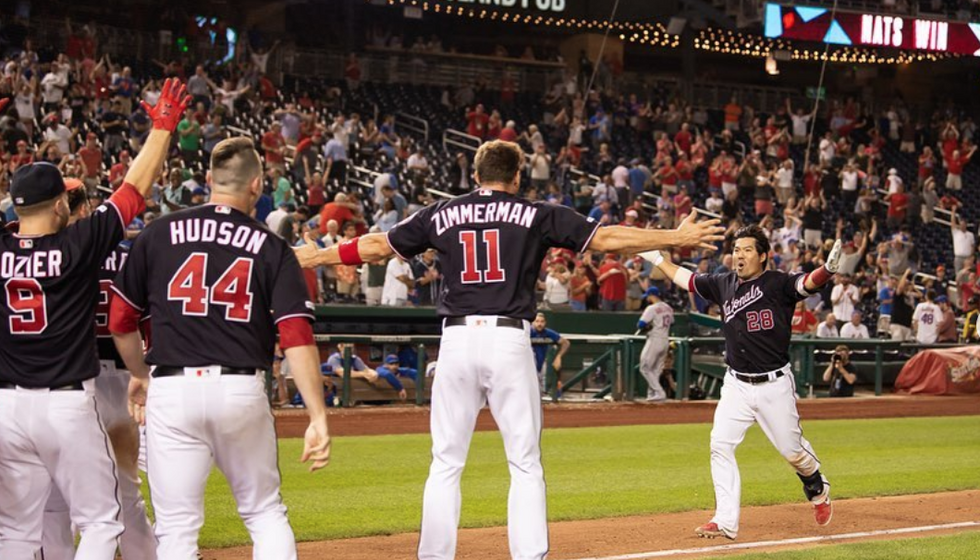 Washington Nationals Instagram
I mean it is beyond frustrating. After the loss I listened to my favorite radio voice Evan Roberts on his instant reaction podcast. And he said some words that hit me and should be a reality check for all Mets fans. Roberts said
"This team sucks, the manager sucks, about ever player suck… and you know who else sucks… we suck as fans we are the worst because we watch this garbage and take it seriously."
I mean he is 100% right, we really do suck. Everything about being a Mets fan sucks. I know most of us can not really make much sense of happened last night and yes it is only one loss but this one was so historic, so bad, it just hits differently. This was the stab in the heart and the slow turn before they rip it out. That's what this loss was. I'm sorry to my other Mets fans but if you still believe kudos to you because I do not know how much more garbage this team can feed us before we realize it is garbage. We are literally holding on to this season because of a 3 week stretch this team had in late July into early August… their true colors came out last night. The story of this 2019 season has been "death by bullpen" and no matter how good the position players play, how good the starters pitch or how many runs they score, no lead is safe for this team. This team is nothing and will be nothing until management gets it in their head that they have some serious lifting to do with this bullpen. Fix it or we win nothing. Don't fix it and watch this fanbase turn because as hard as it is to believe a loss like last night can always happen.