- After not really having much success with other CBD bath bombs in the past, I wasn't sure what to expect when I tried the Highline Wellness x HBFit Premium CBD Bath Bomb. While I went in with low expectations, I was almost immediately proven wrong for doing so as it blew them out of the bathwater. I actually felt the effects of the Highline Wellness bath bomb calming my entire body within minutes of soaking and I never wanted to get out of the tub.
- When I previously tried a CBD bath bomb (one not by Highline Wellness), I got out of the bath wondering whether I was relaxed because of the CBD or because baths are naturally calming. With the Highline Wellness bath bomb, though, there was no question. I knew it wasn't just a normal bath as the calmness seeped into my muscles — I got out of the bath feeling so much lighter.
- You can buy one Highline Wellness x HBFit Premium CBD Bath Bomb for $15, or a pack of 3 for $35 and it is worth every penny.
- On October 13 and 14, Highline Wellness is offering FREE two-day shipping.
Spicing up date night — especially when you factor in the cold, gloomy days ahead and a pandemic — can be tricky. There isn't much you can do outside in such circumstances and there's also only so much you can do inside without things starting to feel monotonous. But, lovers, it's time to stop sleeping on baths. Specifically ones including a CBD bath bomb — and perhaps some candles and soft music.
Not just any CBD bath bomb is proper for the occasion, though. There is a difference between a relaxing soak in warm bathwater and one with quality CBD, and since not all CBD is created equal, you don't want to end up feeling like your CBD bath bomb was no different from a normal bath (trust me, this happened with my last one). Because of this previously underwhelming experience, I honestly thought the CBD hype wasn't for me until Highline Wellness and HBFit blessed me with their Premium CBD Bath Bomb.
Trust me, they changed the bath game for me, and honestly, I'm grateful I'm single because they're so good I don't want to share.
Whether, like me, you're having a "me time" date night or you're trying to scrub-a-dub-dub with your S.O., it's time to get your hands on a Highline Wellness x HBFit Premium CBD Bath Bomb, light some candles around the tub, and turn on some relaxing music to get zen.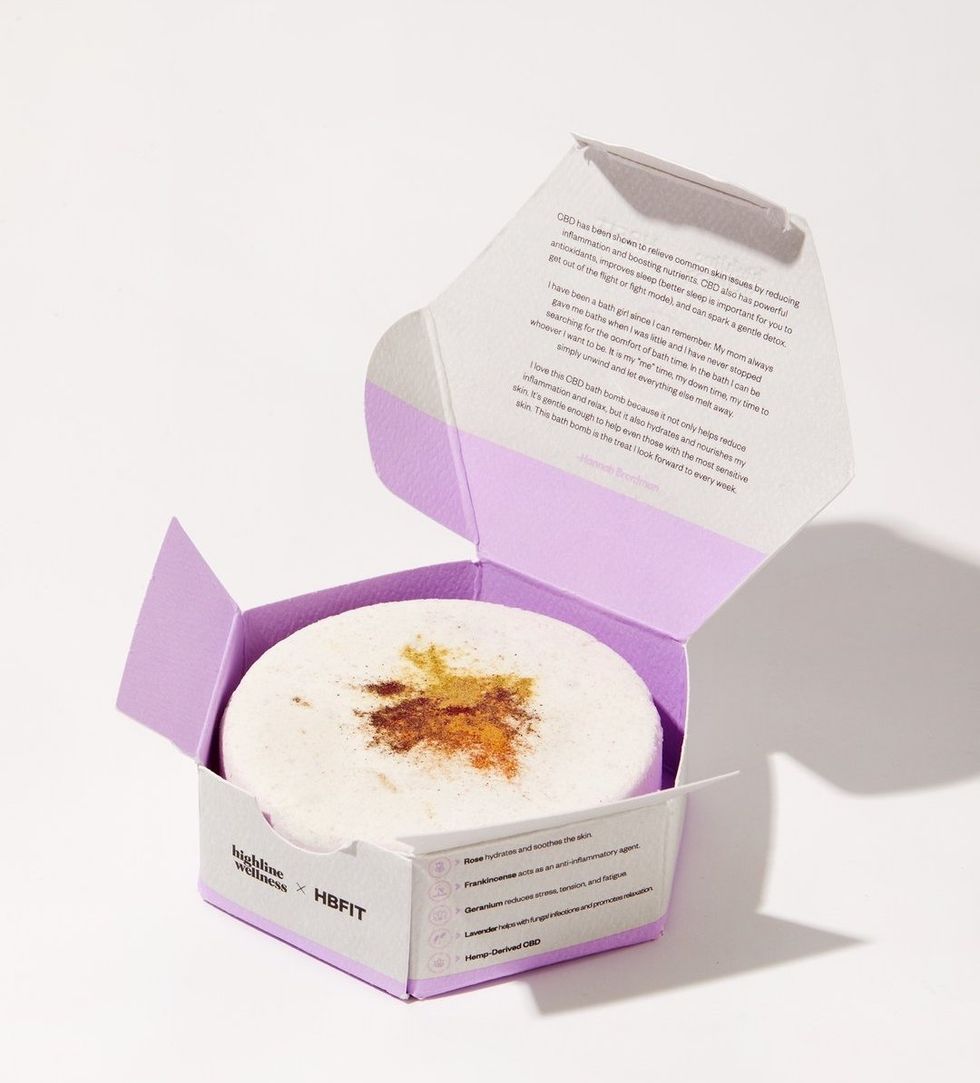 Highline Wellness x HBFit
What to Expect
The second you submerge the bath bomb in the water and it starts to dissolve, you'll be hit with a strong scent from the lavender, geranium, and frankincense in the bomb. While the scent does fizzle out as you soak, it lingers just enough to make the steamy air smell good throughout your experience. The combination of ingredients (also including coconut oil, Himalayan salt, and, of course, 100mg of CBD) work together to soothe and restore skin and relieve stress.
Though my expectations were very low because of previous experiences with CBD bath bombs (not by Highline Wellness or HBFit), I quickly learned not to be so quick to assume all CBD is the same. Truly. After you use the Highline Wellness x HBFit bath bomb, prepare to not just be calm in the then-and-now, but to sleep like a baby (if you bathe before bed).
What's more? Highline Wellness is offering free two-day shipping on October 13 and 14.
The Cons
Because of the strong floral smell of the bath bomb, it may not be right for everyone, particularly if you are or your partner is sensitive to scents. Even though I found the scent to be lovely, it was very strong at first, so definitely keep this in mind.
Lastly, though I think a Highline Wellness x HBFit CBD Bath Bomb is a fun something to try on a romantic night with bae, definitely don't go in thinking "ah yes, maybe I'll get lucky after this bath." Because, quite honestly, the only thing I wanted to do post-CBD bath was sleep (and I did so soundly). This was absolutely a plus for me, but be sure you keep this in mind when you're planning the schedule of your date night. If you want to squeeze in some sexytime that requires a lot of energy, you may want to consider doing so first, then bathing second to wind down (and soothe your muscles) after an intimate evening.
Follow Swoon on Instagram.