Dear Class of 2017,
Treasure the time you have left in high school. It goes by faster than expected. The year is filled with laughs, cries, and memories that will last a lifetime. Bottle up that excitement of starting senior year with an open mind and a positive attitude. This is the best year of high school, but it is the most stressful.
Time management is the key to having a successful senior year. It is crunch time and you need to get all college applications submitted on time, apply for scholarships, and manage a social life and school. You do not want to be the only one at home filling out your college applications the night they are due when there is a playoff game. Start the Common App in the summer and begin looking for scholarships online. It is important to stay ahead of the game and apply for as many scholarships as possible.
Staying organized makes senior year easier. Having a monthly planner helps organize the deadlines so you don't have to rely on Mom to remember everything for you. The planner becomes your guide to surviving the school year and learning how to plan events on your own. It is important to try this year by studying and being prepared for all of your classes every day. First semester is the most critical semester. Colleges pay close attention to these grades. Hand write your notes, read the material, and take notes on your own. Doing this will make the test easier to take. Organize all your classes into separate binders or notebooks. Even keeping your backpack and locker organized can make a huge difference. It is easier to get stuff done when you can find it quickly.
The Common App is fairly simple to do, but it's just a matter of sitting down for a couple of hours to get it done. It becomes a hassle during the school year so don't wait until the last minute to finish it. Write an essay that will capture the essence of who you are. Colleges might have an additional essay, but it is not more than 500 words. Keep it short and sweet. Do not stress too much on your essay, just let it come naturally. It is important to get constructive criticism by teachers, family, and guidance counselors. Develop an essay that is not difficult to read and shows your character. Make sure to ANSWER the question completely. Do not ramble on.
Applying to a hundred colleges is not a great idea. Pick schools that give a lot of merit money. Go to each college's website and use the net price calculator to get an estimate of the amount of merit money you could receive. Thoroughly researching several schools can help narrow down your choices of which college would work the best financially. If you go to a Catholic School and are applying to a Catholic college check to see if the Diocese of your town or city grants scholarships. Do the research and don't apply to hard reach schools that you know you won't be accepted to. I was accepted to every school I applied to because I did my research, asked questions, visited various times, and asked for help when I did not know what to do.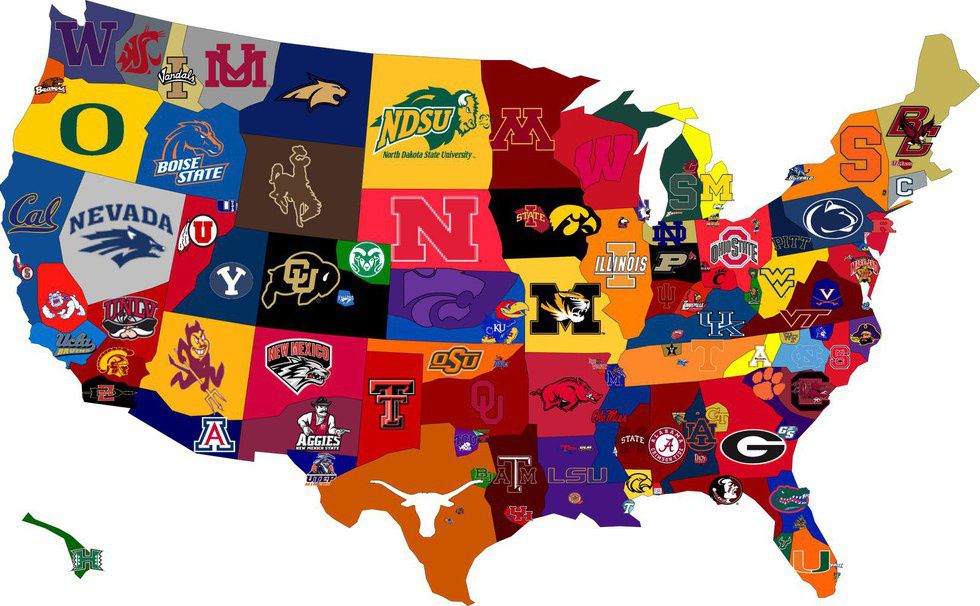 Fellow classmates of mine spent over $600 to apply to college. I paid a total of $40 to apply to six colleges. The best way to save money when applying to schools is simply asking for a fee waiver whether it be on the phone or in person. I called and asked for fee waivers and received five out of six. The worse that they can do is deny it. Only one school denied a fee waiver for me, but that was not the school for me.
Pick a school that you see yourself thriving at both socially and academically. It would be extremely awkward to be in a group of nerds when you're the only jock around. Pay attention to the atmosphere and really think if this school is the place for you. You want to make sure you fit in. Talk with the admission staff, ask students around the school questions, and visit the school more than once. Make sure you are comfortable with the location of the school. Decide if you want to move far away or stay close to home.
I recommend making a pros and cons list for the schools that seem like the perfect fit for you. Do not have your heart set on a school just because of the names or the party life. Fall in love with the overall atmosphere of the college. When it is the right fit, you just know.
After you pick that ONE school you know is the perfect fit for you, remember to RELAX. I was so stressed out waiting for the mail to come in everyday after school. I drove my family crazy. Remember that your family is just as nervous and anxious as you are. Remember all the hard work you put into applying to school. You will get accepted! Do not take it out on your family and friends. If you do not get accepted to the school of your dreams, it is not the end of the world. It just means that it was not the college for you. There are plenty of schools out there and there is that one school for everyone.

My best advice is to follow your gut. It is a scary, but an exciting time. Give your senior year your full attention and make the best out of it.