Just like that, I became their brown-eyed girl.
My brothers, Jeffrey and Justin, being only a year and a half apart from each other, were each other's best friends for their first three years on Earth. Three years of being the only Martin children to my parents, three years of having all the family attention, three years of gifts, toys, and fun bunk bed memories. Being 'the boys' of my parents was probably really fun and exciting. But little did they know, they were missing out on something special until I came along. And I will say, proudly yet humbly, but mostly proudly, that I changed everything. All the attention was now on the girl of the family. And yes, I enjoyed it. Instead of being even numbered, we now had this little oddball. Instead of just the two of them on Disney rides, I was squeezed in between. Instead of playing with G.I. Joes, Barbie had to be invited. Jeffrey, or "Waffrey" in my language, was very fond of me and even had the privilege of naming me. Justin, or "Dutin," was living in his own world and was very confused as to why I didn't stop crying. But our love for each other as siblings brought us together. Or maybe it was the totally cute but extremely embarrassing, every day, matching Gymboree outfits. Regardless of the reason, I enjoyed becoming the little unit of two best friends and their little brown-eyed girl.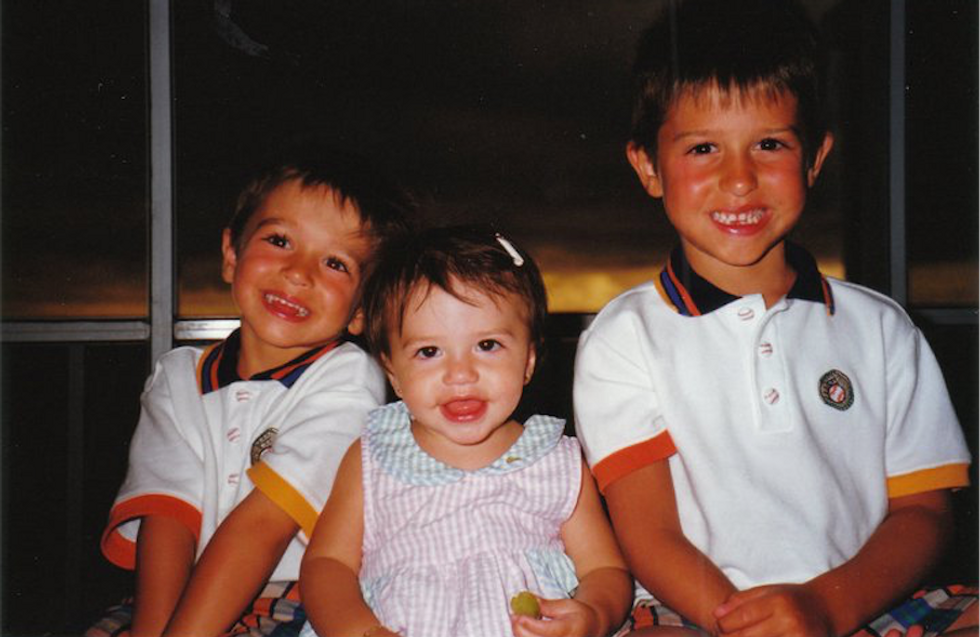 The Knights Watch of G.O.T has nothing on my brothers.
No joke, I think the Night King is all cool and powerful, but I doubt he could even survive a few seconds in a round of swords with my brothers. Jeffrey would be strategizing the plan and Justin would probably be talking smack to distract it. Whether my brothers were fighting the Night King or simply protecting me, they were the best at keeping me safe. When I was little and growing up in school, I remember Justin literally nailing a kid in the face with a kickball at aftercare because the kid got me out during the game. I can also remember when Jeffrey was always by my side, holding my hand to make sure I was okay on our family trips to North Carolina. Growing up with them as my protectors were the coolest thing. It made me feel so special knowing that I had them by my side in the world.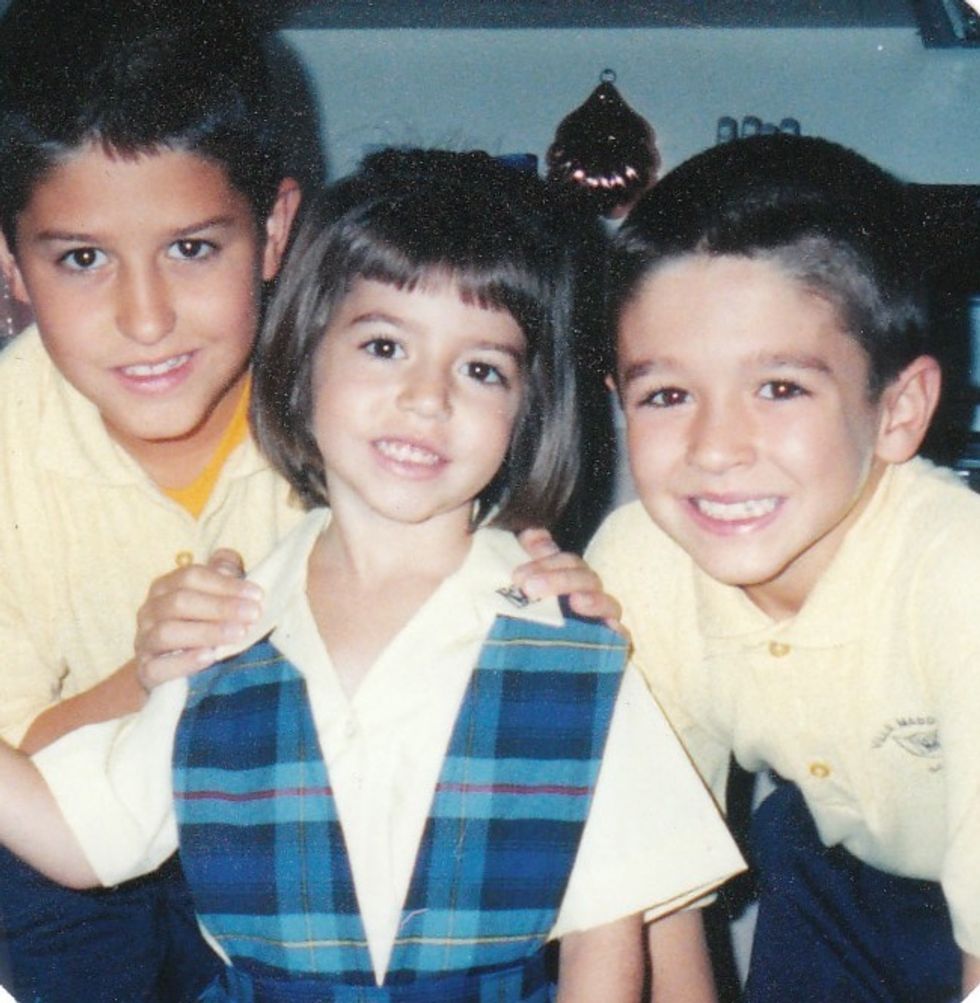 It has been proven that tough love is a better treatment than a little band-aid.
Of course, as every kid has experienced, we all go through those super awkward stages of being a pre-teen and then a teenager. And let me tell you, I hit those stages harder than Aaron Judge can hit a baseball. I will spare you from the details, but let's just say that my brothers were probably very confused by my awkwardness. That's probably why we fought so much. I won most of the time, but I let them win a few times to boost their confidence. We screamed, we kicked, we called each other names. However in the end, even when our fights got bad, we still managed to apologize or even laugh after. I remember when Justin and I were fighting and he threw a ball at me. Of course, his baseball arm was terrible and he missed, completely shattering our mother's china cabinet full of Precious Moments statues. We quickly apologized to each other as we were running away to our rooms before our mother started to yell. There was another time when Jeffrey and I were fighting. He literally threw a giant medicine ball at me, rocketing me into the air and landing me straight on my face. I cried because it hurt but then we laughed together as he re-enacted the tremendous altitude I reached. I'm actually grateful for all of those moments of us growing up together. They created my solid thick skin that was ready for anything, including shoes being thrown at me or a 'two for flinch.'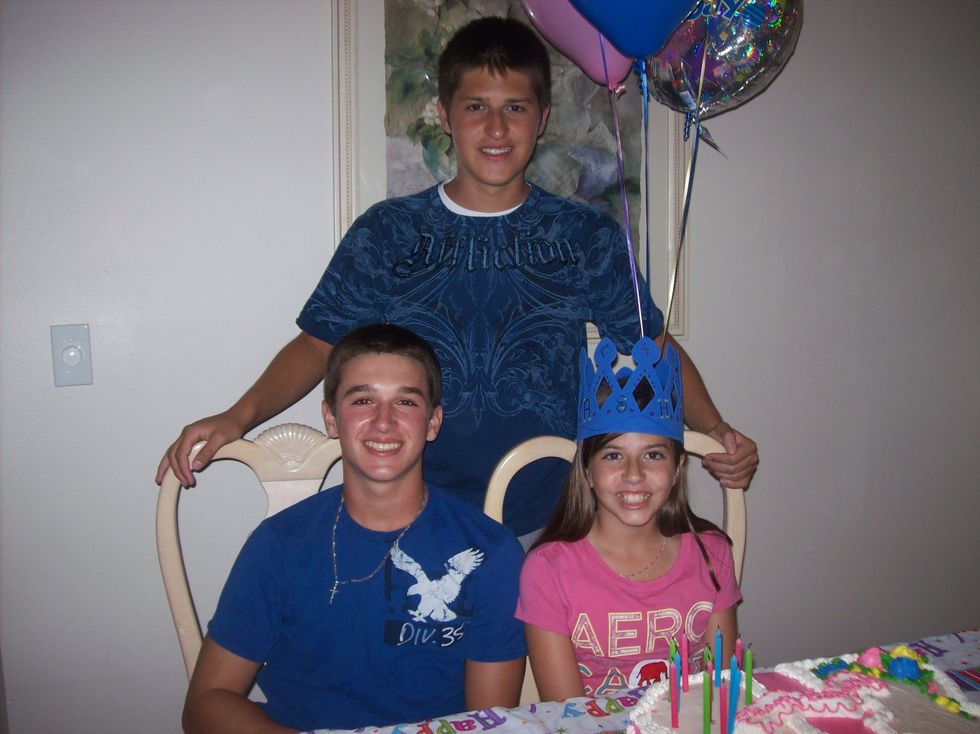 We watched our paths grow apart, only to take them to a place that has brought us together again.
As we grew up more and more, the screaming turned into arguments, the kicking turned into badgering, and the names turned into just truth talk. We were pretty brutal with each other. But I know that I wouldn't want to be in an argument, be badgered by, or told the truth from anyone else besides my brothers. It was our tough love for each other that compelled them to always call me out for my mistakes. And it is our tough love that is helping me become a better version of myself. Jeffrey is the brains of the family and landed a great job in Jacksonville. When he comes home it's the best time of the year. He guides me, gives me advice, and is still, just like our younger days, making sure that I am okay. Justin is striving for excellence in the medical field, graduating with a Masters, and found himself a sweet gig at Moffitt Cancer Center. And even though I went farther in athletics than he did, I still appreciate any time I can look up to him for words of wisdom. Any chance there is, either one of them is there to tell me how it is, speak some truth to my stupidness, show me my faults, praise my excellence, cheer me on, grab my hand on the dance floor, and on the rare occasion give me some Team Martin love.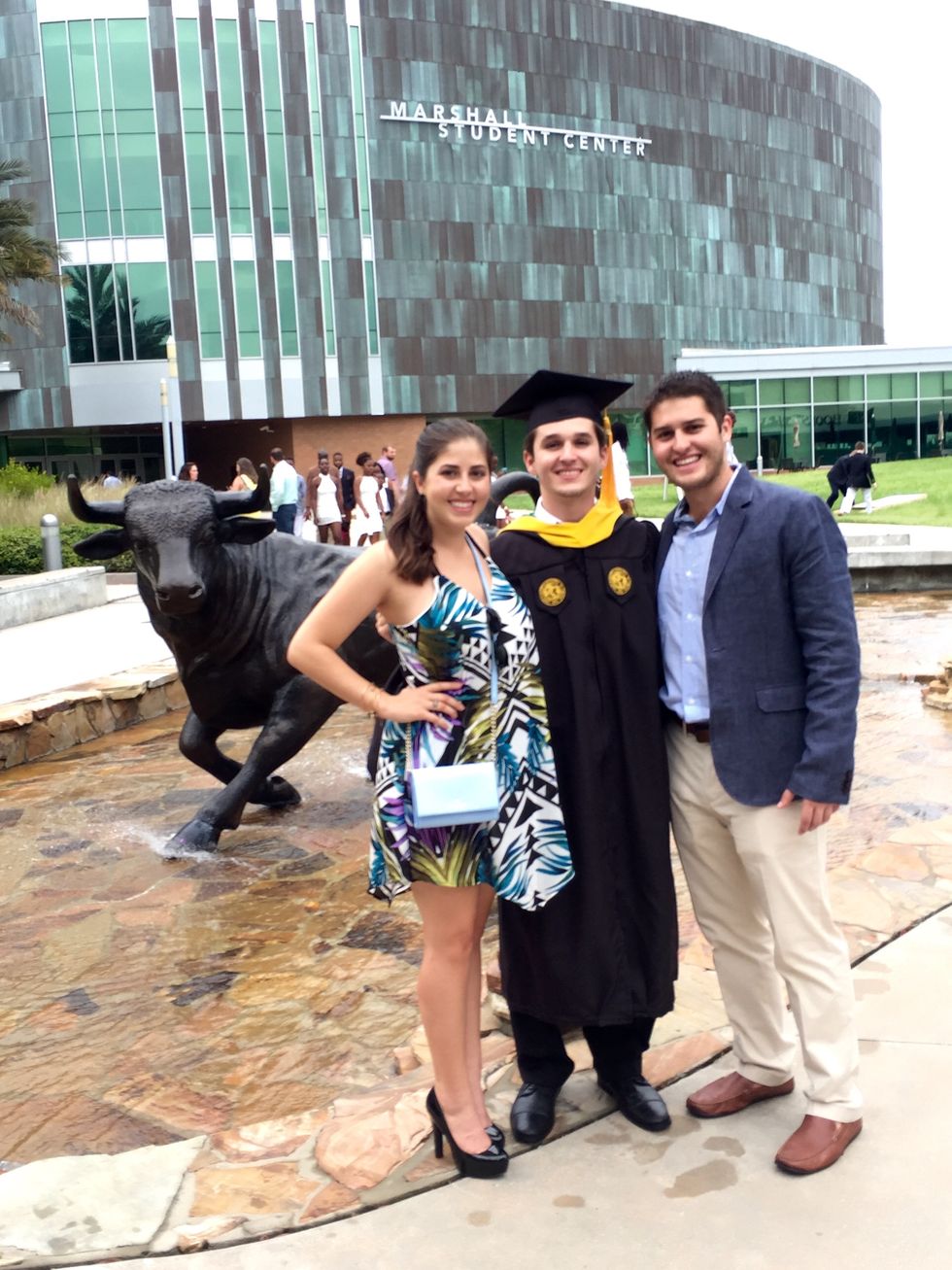 As life continues, I will always have my brothers.
And with their help, I am where I want to be, at UCF, happily studying and pursuing my hopes and dreams. We each went our different paths, failed many times, overcome setbacks, and made sacrifices. But as individuals, we have always been there to help each other get through it. As a unit, I must say we have done a pretty darn good job in life. Each one of us has made an impact on the world, made many great memories and lifelong friendships, and has a family that loves us. We have had many successes in school and in life and we have a long life left to celebrate. I know that no matter what or where life takes us in the future, they will always be there for me. I will always have my two protectors, and we will always be the perfect little unit of two best friends and a brown-eyed girl.