Welcome back
Sign in to comment to your favorite stories, participate in your community and interact with your friends
LOG IN WITH FACEBOOK
Report this Content
This article has not been reviewed by Odyssey HQ and solely reflects the ideas and opinions of the creator.
Subscribe to our
Newsletter
Featured
Should retail outlets close on holidays so their employees can be with their families?
264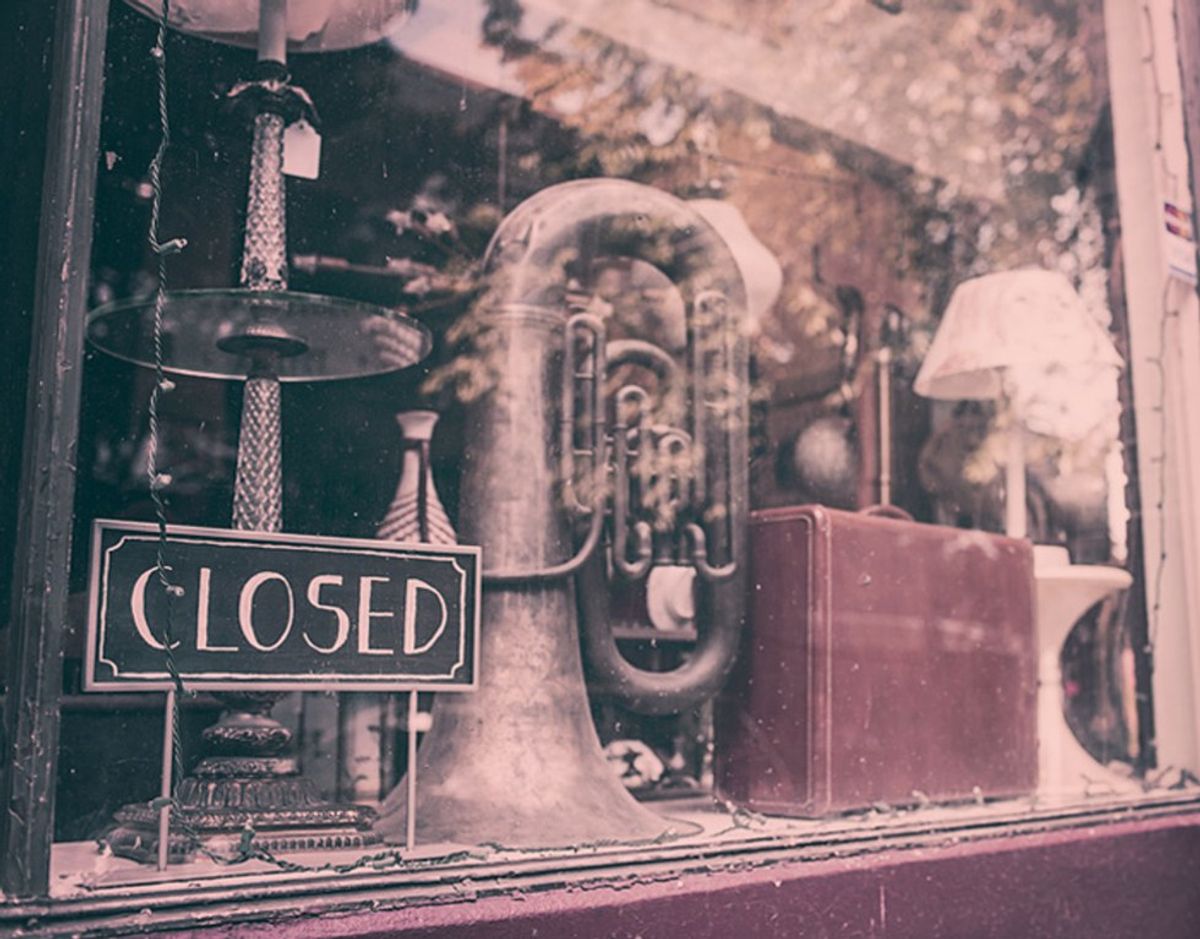 Pexels
For the past few years, having stores open on Thanksgiving has become a popular trend. The sales have started earlier on the day known as Gray Thursday. Now, the Mall of America has taken a bold stand and is closing its doors on Thanksgiving. They are very excited in giving the day back to their workers so they can spend time with their family.
With the largest mall in the US closing its doors on a day that is spent with family, will other stores follow suit? Unfortunately, for the majority, the answer is no. The CEOs of many retail stores and restaurants would rather make money instead of allowing their workers to be with their family. People wake up on the mornings of holidays, such as Thanksgiving or Christmas, and instead of getting ready for a big family dinner, or opening presents, they have to get dressed and go to work. For some people, they only get to see their family on holidays because of distance and time. Now, the stores have taken this chance away from them.
Parents don't get to enjoy seeing their kids opening their presents in the morning. Someone might not get to make it in the annual family photo. College students might not even get to come home. All because of corporate greed.
Of course, there are the few lucky employees who asked off in time. But, there are a limited number who are allowed to do that. Sometimes, it's always the same employees every year. This might start to cause resentment among the other workers who want off also. It's almost never the CEOs who suffer this unfortunate circumstance. They have the choice to stay home and experience all the holiday joy without having to worry about work until the next day. What happened to the days when everything closed on holidays except for hospitals? Once upon a time, even being open on Sundays was shocking. Being open on holidays was not even considered. People believed in the importance of family and being there for them. Now, we believe in money and how to make more.
It isn't just the CEOs who are guilty of making the stores remain open. It is also the people who decide to go to the stores, all to save a couple bucks. Do people really need to go out on Thanksgiving? The biggest sale day of the year is the very next day! What is so important that you can't wait one more day to get? Not only is there Black Friday, we also have Cyber Monday. So, if the store sells out of an item, you can still go online and get a good sale price for the same thing. Do the customers not realize that because they keep coming, the employees are missing out on important moments? Thanksgiving, Christmas, Easter, Memorial Day, Fourth of July, and Labor Day. These are the days that people spend the most time with their family. Even government buildings and schools close on these days. Why not retail? Let's try to get back to the time where companies cared about families and about families. We all need to help bring this back. When the customers stop coming, the stores will start closing.
Keep Reading...
Show less
Featured
Time to question this unofficial corporate holiday.
2723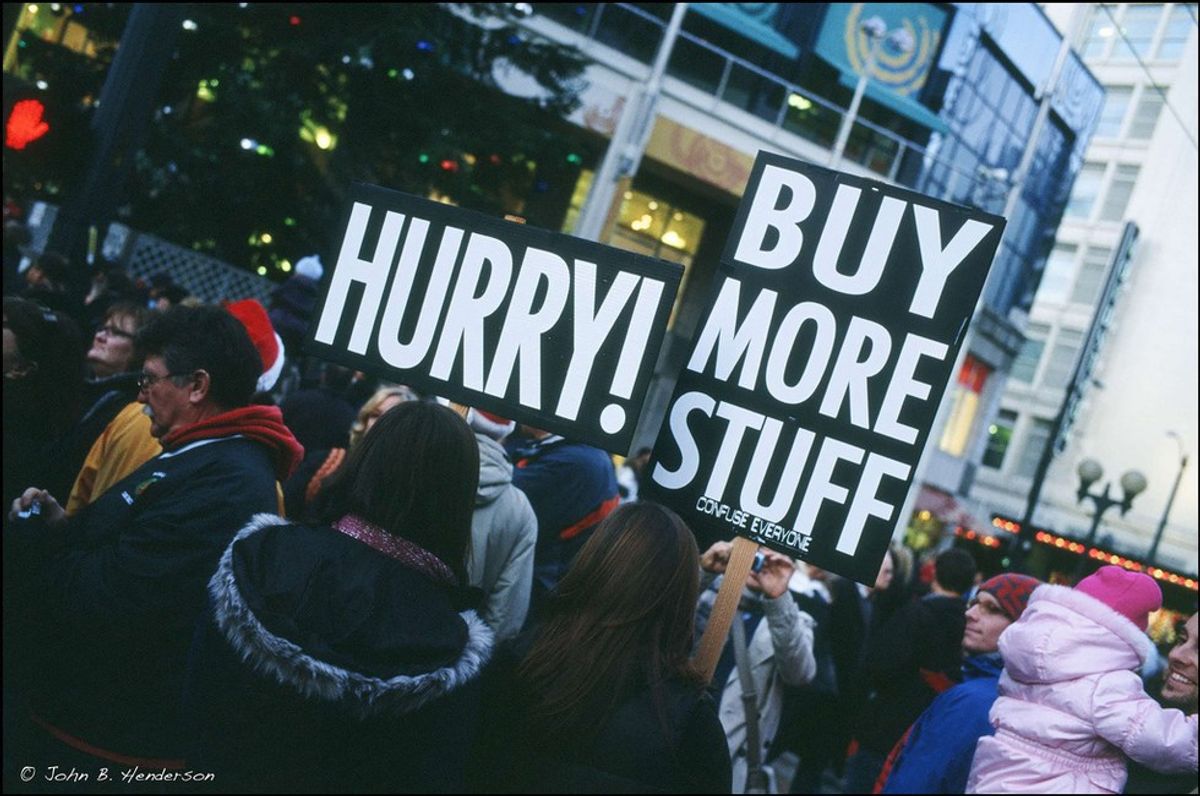 Flickr/John Henderson
On a personal level, Black Friday has always confused me. Everyone just ate a ton and spent all day with their families—why would we want to go out and vigorously shop, fighting crowds? I totally see why other people want to go do it, but I've never quite understood the concept myself. While I've been Black Friday shopping once or twice, I don't get that excited about it unless it's an opportunity to spend time with family or friends. Don't get me wrong; I am the queen of bargains. Still, I never seem to have the energy to go out into the jungle of shoppers early the day after Thanksgiving, or even immediately after Thanksgiving dinner. Many people, though—including my loved ones—are enthusiastic about Black Friday shopping, and it seems most other Americans are the same way. So, it's worth looking at the reasons for this commercially-driven, unofficial American holiday.
The story usually goes that "Black Friday" earns its name from retail companies' previous system of recording losses in red and profits in black: After spending most of the year "in the red," the holiday shopping season begins, and the companies are "in the black" again in terms of profits. However, these color-coded records are not the real origin of the name of Black Friday.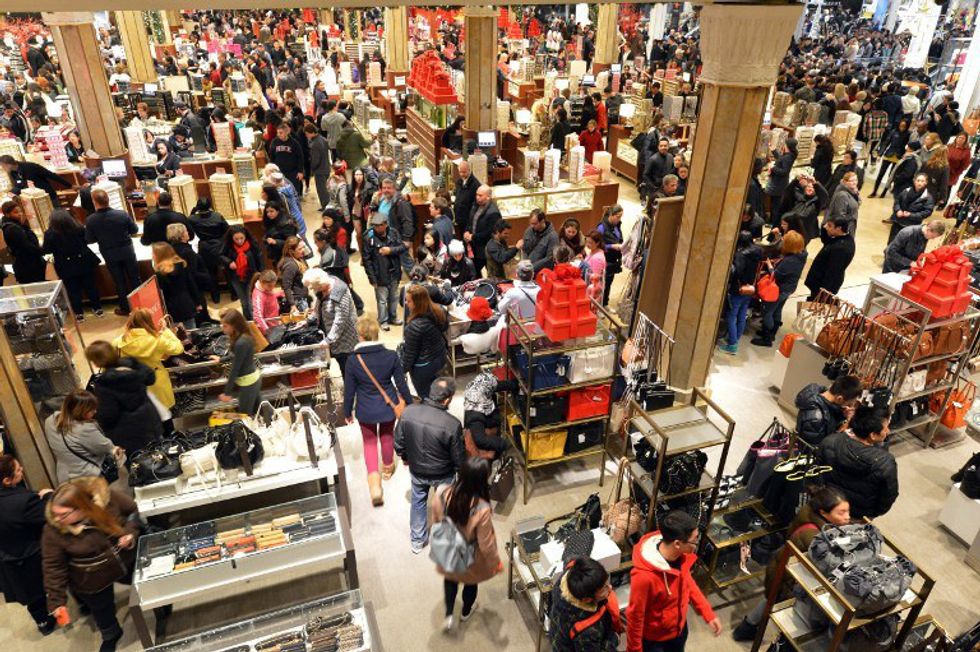 Back in Philadelphia in the 1950s and 1960s, the Army-Navy football games the Saturday after Thanksgiving were a huge deal, and suburban folks would rush into the city on that Friday. Law enforcement was overwhelmed with not only the intense crowds but also the shoplifters that would take advantage of the mass confusion. Philadelphians began to refer to this day as "Black Friday," and this term caught on by 1961. Retailers around the nation, who had already held this day as the commencement of their holiday shopping season, decided to adopt the term as well, but with a positive spin: They'd say the "black" represented the color of their profits, rather than the stress of that day.
Since I was little, though, I'd always assumed it represented the day's hectic nature. I saw many of my family and friends gearing up to shop, and attended a few of these adventures myself. When I went, I saw people who were deeply stressed about this ordeal. On top of that, occasionally I would hear on the news that someone had been injured or, in a few extreme cases, even killed just trying to get through the madness. Sales are awesome, but are they worth that risk? I would say no. I also disagree with the idea of Black Friday being pushed back onto Thanksgiving Day itself. That completely defeats the purpose, and it comes too soon. On another note, I do appreciate many stores' recent spreading of the sales into later in the weekend or online, that way more shoppers can avoid the lines and the crowds.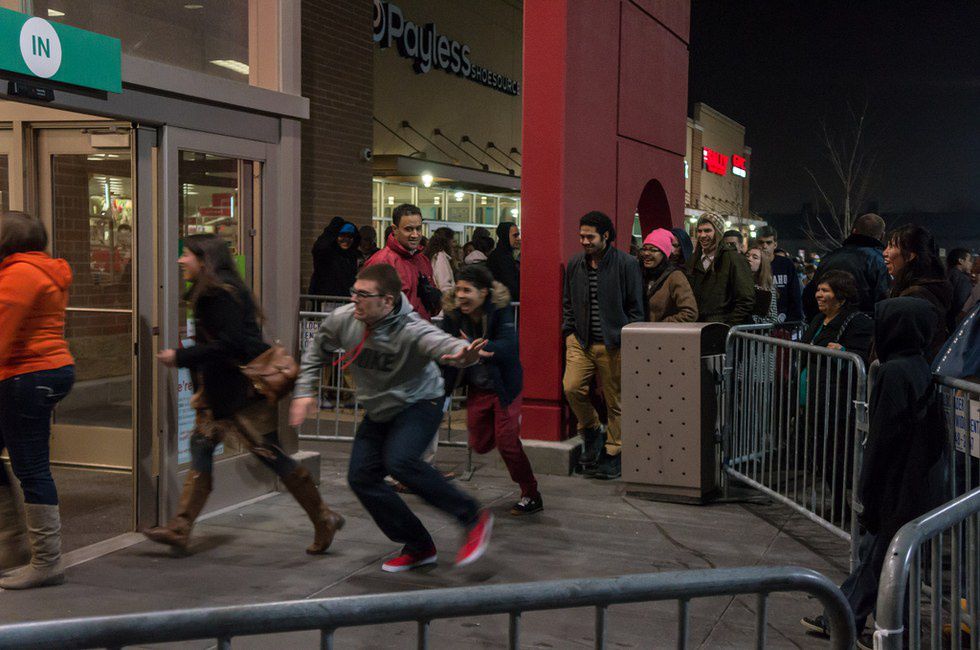 A day filled with sales? Heck yes. But placing this hectic shopping day where it immediately follows time with one's family and being thankful for what we already have? Maybe not. This is absolutely a pipedream, but I wish that we could change the date of Black Friday. Everyone would have more time to prepare post-Thanksgiving, refine their shopping needs, and get in and out of the madness safely. It's super great that these sales become available for the holiday season, and I would never advocate for getting rid of Black Friday altogether. I feel a similar way about Election Day--it should certainly occur, but why on such an inconvenient date? The corporate "holiday" of Black Friday should never override Thanksgiving weekend, which is a special time with one's family and friends—and it should never be pushed back onto Thanksgiving Day.
Keep Reading...
Show less
Featured
I am opting to go outside this Black Friday, and I hope you do so as well.
5605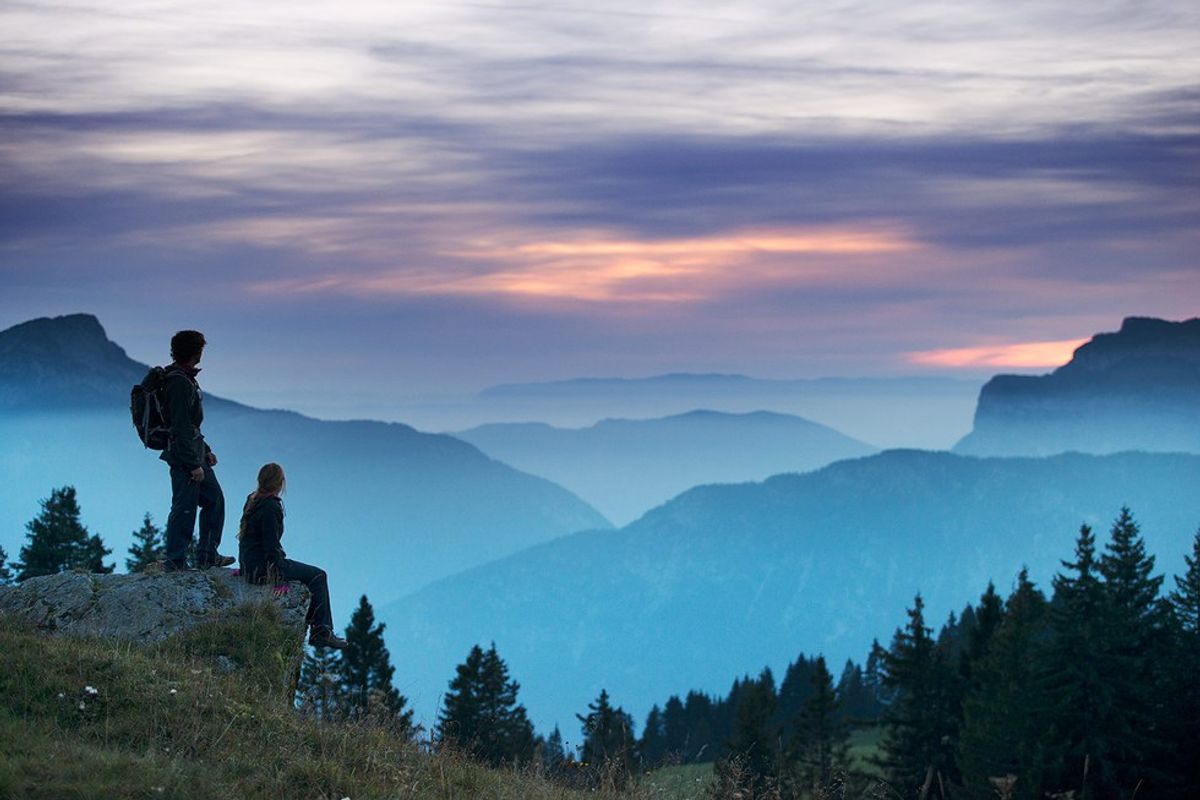 Ross Woodhall
The day after Thanksgiving has always been regarded by many as the beginning of the Christmas season. While not a federal holiday, many people take off work, spend time at home with their families, and enjoy the beginning of the holiday season. This Friday off turned into a prime opportunity to begin the never-ending chore of Christmas shopping. Soon it became one of the busiest shopping days a year, which companies capitalized on by bringing the best deals of the year to this day we know as Black Friday.
Since 2005, Black Friday has been one of the busiest shopping days of the year. In 2012, the big-box stores further capitalized on the madness and began to open their doors on Thanksgiving day, with most retail chains following suit in the years after. This day has often turned violent, with mothers, fathers, brothers, and sisters alike fighting over the best TV deal, the last Xbox set in the bin, or the newest laptop computer. For many, the day after Thanksgiving is no longer a day spent baking cookies and decorating the house, but is rather a day consumed with stuffing shopping carts full of material items we could all live without.
Having worked retail before, I know Black Friday is a nightmare. There are people running all over the place, clothes strewn in every direction, kids that cannot be found, coffee cups that cannot be filled fast enough, and there is surely no end in sight. I also know I can shop similar deals any other day of the year. I know I would rather be anywhere else but that insane mall, which is why I have become a supporter of REI's #OptOutside Campaign.
If you are unfamiliar, REI (Recreational Equipment, Inc.) is an American retail company specializing in outdoor recreation equipment and sell everything from sporting goods, to camping gear, to clothing. REI began their OptOutisde campaign in 2015 where they announced they would be paying their 12,000 employees to not work on November 27th (Black Friday). All of their doors- including their 143 retail locations, their two distribution centers, and their own headquarters- would be locked shut in order for their employees to do what they loved most, go outside. The campaign was such a hit, REI decided to make it even bigger and better this year with more sponsors, more accessible information, and more social media outreach. So far, for November 25th, 2015, about 1.5 million people have chosen to #OptOutside, and I hope you do as well.
I plan to Opt Outside this Black Friday, not only to burn off the thousands of calories I will consume at Thanksgiving dinner, but for many others reasons as well. I want to forget about the material objects, and focus on the beauty of our world. I want to stop constantly checking social media to see what people are doing or thinking, and rather walk and talk with one of the most important people in my life. I do not want to consider shopping "exercise" anymore, and I want to actually get up and moving before the winter takes its toll, bringing the inevitable weight gain. I do not want to buy more shoes, but rather I want to break out the hiking shoes I own, the ones I do not use as often as I should. I want to support the OptOutside Partners, not the big box stores that believe the right thing to do is to open their doors on Thanksgiving day. I simply want to enjoy the beautiful part of the world I live in, and that is why I plan on opting outside.
What about you? Are you in? Find ways to get outside
here
; and while you are at it, encourage others to get outside with you, because the shopping can always wait.
Keep Reading...
Show less
Featured
Cereal never seemed more appealing than at 10 pm.
6925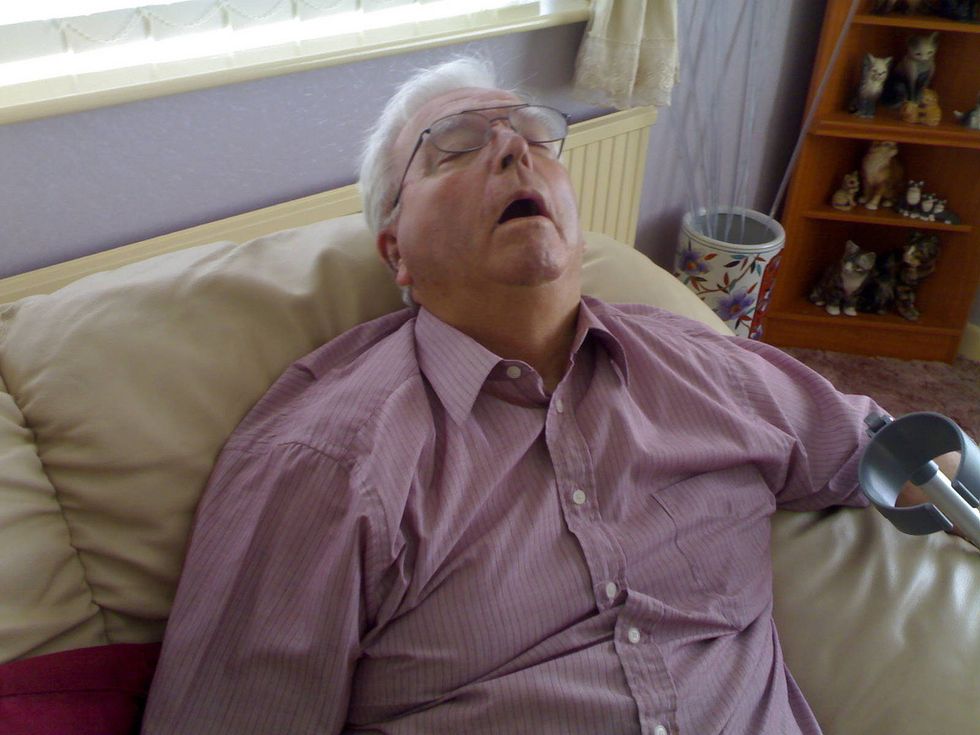 There is almost nothing more annoying in the world than waking up to the sound of an alarm. From the moment you get up until the time you get to bed, you are bombarded with responsibilities. You have to go to work and school, run errands, and do favors. But if you're a night owl then you have an advantage of getting a few more extra hours in the day. Here are seven perks to being a night owl:
Life can be hectic starting from the moment you wake up. By the time it comes for you to finally have some free time, it's sucked away from those around you. It's not that you don't love those around you, but sometimes you just need some me time. But if you're a night owl, this resolves the problem. You can do everything you need to do throughout the day, spend time with your loved ones, and have some me-time. If your extra tactful, you can still get eight hours of sleep.

Keep Reading...
Show less
Featured
Air fryers are becoming a staple in all health conscious households because of its delicious, yet grease free way of cooking your favorite dishes! We all love a good fried chicken dish, but this is a great alternative if you are eating mindfully.
There are plenty of places that sell air fryers such as Target, Bed Bath and Beyond and Amazon.
5491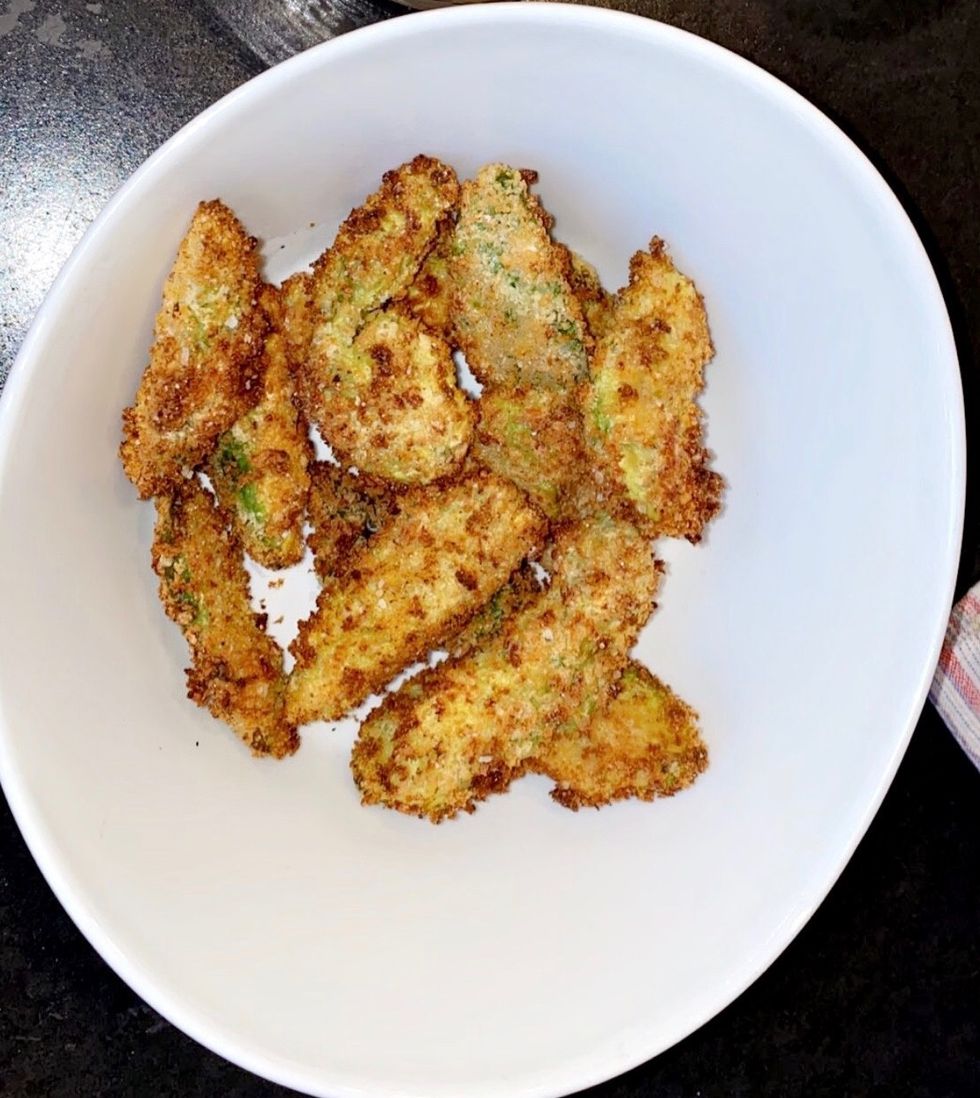 Photo by: Tatum Oblonsky
1. Avocado Fries 
2. Brussel Sprouts 
3. Air Fryed Chicken Tenders 
4. Cauliflower Tots 
5. Skillet Cookies
6. Sweet Potato Fries
7. Air Fryer Pickles
8. Air fryer Coconut Shrimp 
9. Air fryer Truffle Fries
10. Air Fryer Pizza 
11. Buffallo Cauliflower 
12. Chicken Parmesian 
13. Air fryed Salmon
14. Air Fryed Donuts 
15. Air Fryed Baked Potatoes 
16. Air Fryed Oreos 
17. Air Fryed Corn and Cheese
The list above is just a few unique air frying foods I have tried that tasted even better than if they were fried normally. I enjoy eating my favorite unhealthy foods with less guilt, thanks to my air fryer!
Keep Reading...
Show less
Subscribe to Our Newsletter