It's not every day that you come across a band that has amazing music and is made up of genuine people. Alternative/Electronic Pop band, Handsome Ghost is one of those few. With their catchy tunes and relatable lyrics, they will pull you in from the first note. Believe me, when I say, you don't want to miss out on this band.
On Friday, February 9th, Handsome Ghost stepped out of their van and into the cold, Minnesota weather. The band is accompanying, Alternative/indie band, Flor on their "come out. you're hiding North American Tour." The bands unloaded their gear for the sold-out Minneapolis show at the 7th Street Entry which is a neat little venue connected to the legendary, First Avenue.
After the bands finished unloading and doing the soundcheck, Patsy and I were lucky enough to sit down with Tim Noyes and Eddie Byun from Handsome Ghost and discuss the tour life, their new album, and future plans.
1. You are only a few dates into it, but how is being on tour?
Tim: "So far, so good. It's been great to play our new record live. It's the first time we've played a lot of these songs on stage, and it's been really fun. The Flor guys are awesome. It's been a very cool fit musically, and they're just good guys. It's been great."
Eddie: "We've also been on "good mood tour" so we're just trying to always be in a good mood and all the little stuff that always pops up we try to look at positively. It's worked so far, but we're only a few dates in so check in with us in about a week and see where we're at."
2. Your new album, "Welcome Back" was recently released. Why did you decide to give it that title?
Tim: "We called it "Welcome Back" because several years ago when I was writing the first songs for Handsome Ghost, I for whatever reason wanted to call an album, "Welcome Back" at that point. So then when we finished this album, many years after that fact, it was like, I want to call it that and take it back to the beginning in a lot of ways."
3. What did the writing process for the album look like?
Tim: "I had written a lot of songs, and we had been recording what was supposed to be an album a little bit of everywhere. We did a little in New York, a little in LA, and at the very end we were like, "we're not happy with this." So, Eddie and I put together a little studio at our house in Massachusetts and didn't use any of those songs and only used the songs that we thought were the best representative of the band and just did everything out of the house at the studio over the course of like a year. It felt better. Honestly, it felt more genuine. Because we did it at our house, we had the time to do trial and error and think through how we wanted everything to sound and whether we genuinely liked everything that we were doing which is important."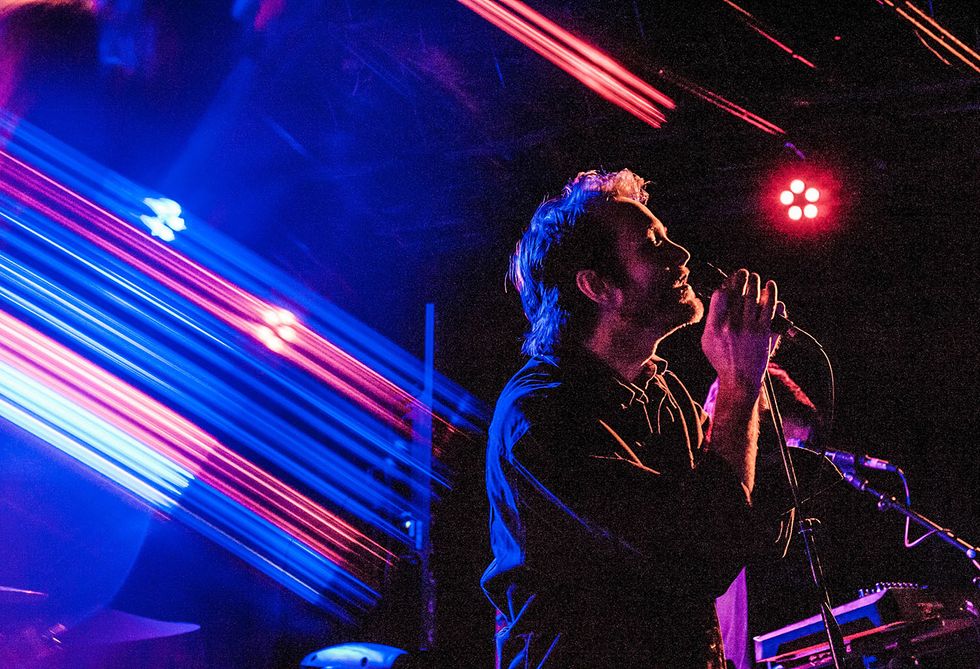 4. What did you guys expect when putting out your new album? Are you happy with the reaction from fans so far?
Eddie: "I think so. I really didn't have many expectations. I think initially I was just terrified whether or not people would like it. But, yeah it's been good. It's felt like a nice release because we worked on it for so long and it almost feels like now that it's out that we're ready to get started on the next thing."
Tim: "I think that while we were making it, we made an effort to be like, "let's not worry how people are gonna receive this. If they like it, great, but let's do what we want to do and make a record that we feel really good about." But, then once it's done and you release it then your like, "ok I actually hope people like this!" But, yeah the feedback has been awesome so far. It's going pretty well."
5. The artwork on your album cover is super cool. Why did you choose that to be on the cover?
Eddie: "The artwork was done by an illustrator named Dadu Shin whos one of my best childhood friends. We grew up together, and I've always wanted to work with him. So, when we were going through the artwork and designing what to do with him, we decided to send him a pretty rough cut of the album and just let him do his thing. We also sent a few lyrics that were meaningful to us, but beyond that, he just drew a few options, and the one that he came back with was kind of perfect for the album sonically. It kind of has this intimacy to it, but it's still very wide. He nailed it."
Tim: "It was impressive to see. We sent him our favorite lyrics and some of the themes, and he was like, "how about this?" And we were like, "ok it's done!"'
6. Out of all 11 tracks, my favorite has to be "Better Off." It has a cool sound and is just really relatable lyrically. How does it make you feel that people connect and relate to your music?
Tim: "Beyond making and writing music for me and us, I feel like that's the best thing that can come from it. I know that's why I started writing music because I would do the same thing with the bands I loved in high school or even before that."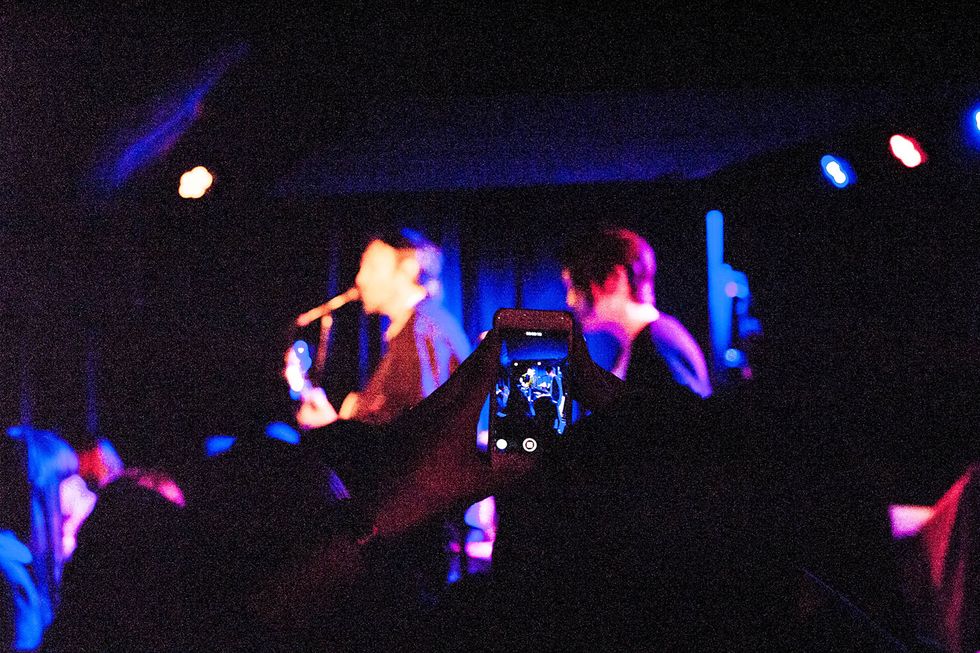 7. Which songs or artists did you find yourself connecting and relating to throughout your high school/college years?
Eddie: "In high school, I was really into Saves the Day and Taking Back Sunday."
Tim: "Yeah, we didn't have the same taste back then. No disrespect to those bands. In college, I listened to a lot of indie rock. I was a big Shins fan. I've always been a huge Elliott Smith fan. But, just any band with great lyrics are who I connect to beyond anything else."
8. If you have one, which is your favorite song on the new album?
Eddie: "My favorite is probably, "Creatures." A few of the songs were from before I was in the band. Tim wrote them a long time ago like in 2014 or so. And that was the one he sent me that kind of helped pushed me to quit my job and try to do this. It's nice that song is finally out there."
Tim: "I think it kind of goes in phases for me. Like, I have a favorite right now, but it changes. A lot of it I think has to do with what we play live and what I'm feeling at the moment. Right now I would say "Reckless Lover" is my favorite, but it always shifts."
9. How has your music evolved since you began playing music together?
Tim: "I think the biggest difference is the creative trust that has developed between the two of us. When Eddie was first involved it was more of a like, "ok play some shows" and wasn't so much in the studio like working on the songs together. It was more focused on the live stuff. I think that was the biggest difference and growth of the band. There are now two opinions, and we both trust each other and push each other, and I think you can hear that in this album more than you can in the two EPs."


10. Which song do you enjoy performing live the most?
Eddie: "Reckless Lover!"
Tim: "We're playing a cover on this tour that we just released recently called, "Harvest Moon." I really like playing that one. I don't have to play much guitar on that so I can just get really into it."
11. If you were to choose one of your songs to play to somebody who has never heard any of your music which would it be?
Eddie: "I think probably "Better Off." I just think those lyrics are really good and it was the first song that we finished for the album. We took a lot of time for that one to kind of set the tone for what the album would be sonically."
Tim: "I think I agree with that. I think that would be a good one."
12. What is a song that you guys can't stop listening to at the moment?
Tim: "I would say the song that has been played the most in the van since the tour began is Carly Rae Jepson's, "Run Away With Me." Our drummer just discovered it though, so that's why it's like back. He was like, "this is really good," and we were like, "yeah!"
Eddie: That album for me was kind of like the end of music. I don't think I've listened to much since then."

13. What does the future look like for Handsome Ghost? What can your fans expect?
Tim: "It's going to be busy which feels really good. We are obviously doing this tour first which we are very excited about, but when we get back we're going to put out, I don't want to call it an acoustic EP, but an acoustic EP for the sake of this conversation. We're taking a few of the songs from the album, and we've stripped them way back and then there's a new one that we wanted to include on the album but didn't. So, we're going to do that, and then we have more touring and work."
Eddie: "I want to start working on the next album as soon as we get a little bit of time back at home. There is also still a queue of songs, going way back that I want to get back and work on."
Tim: "It's tough, like I'm so happy with how our album came out, but there are some songs that you love that just don't fit and would make no sense on the album. But, I want to write new songs, like I don't want to pick from the old, but there are a couple that I'd love to have see the light of day at some point."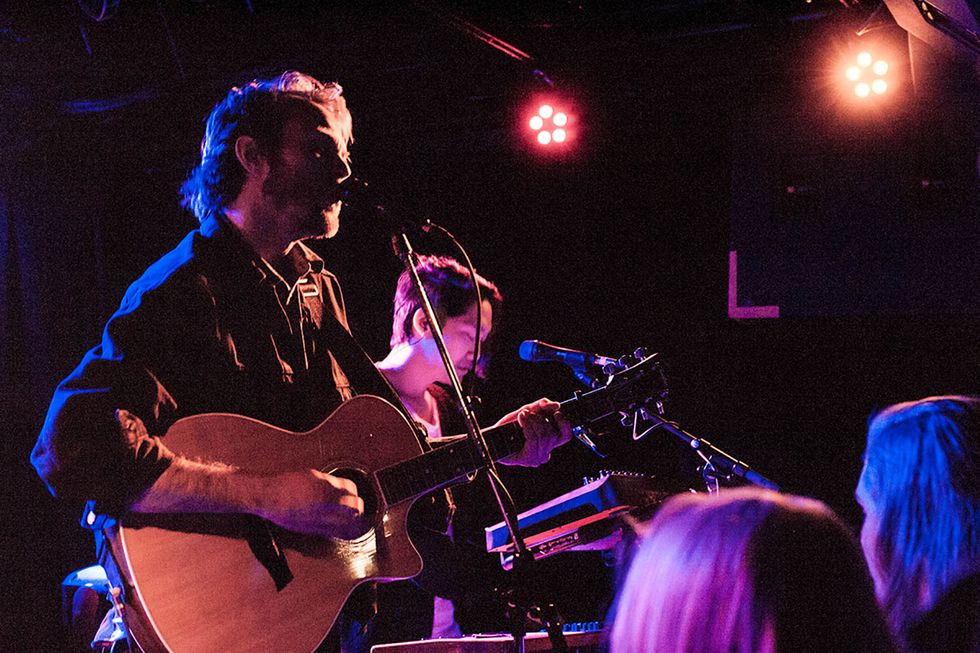 ---
After talking with Tim and Eddie, we headed into the 7th Street Entry to grab a spot for the show. Throughout the first few songs I took a few photos, but then I decided just really to enjoy the show and soak in the music.
The band started off the night with the track, "Shallow City." Personally, I think it was a great choice to open with being that it is the opening track of their new album. Following was, Eddie's favorite song to perform live, "Reckless Lover" which the crowd seemed to get into right from the start.
"Weight Of It All" was played next. The track is from the band's EP, Steps, which was released in 2015 and it was another one that the crowd instantly connected to. It was definitely a highlight of the set. Following was "Honest Mistake" and "Fool" which are both tracks off of the new album. "Honest Mistake" is full of relatable and perfectly thought out lyrics. A lyric that continues to catch my attention is,
"Summer passed, fade to fall
I'm a tourist in your town
Photographs, on your wall
Oh, the life that you have now."

I love that lyric so much. I wish I could have it on a poster on my wall and stare at it all day. "Blood Stutter" was played next and wow, that song just pulls you into this almost dreamlike, beautiful trance with its deep lyrics and mesmerizing tune. The track was released as a single in 2014 and listed as a track on the band's EP, Steps in 2015.
Handsome Ghost ended their set with their tracks "Steps" and "Harvest Moon." "Harvest Moon" was the perfect ending to the band's set and was another crowd favorite. You could tell that it was a track that the band loves performing live, as Tim stated in the interview before the show.
Overall, Handsome Ghost puts on one heck of a show. Being the opening band on Flor's tour, they did an incredible job at getting the crowd hyped for the set to follow. I would love to be able to see Handsome Ghost headline a show of their own, and I am sure many other of the show's attendees would as well.
---
Handsome Ghost Setlist: Shallow City // Reckless Lover // Weight Of It All // Honest Mistake // Fool // Blood Stutter // Steps // Harvest Moon

Handsome Ghost Socials: Website // Facebook // Instagram // Twitter

Stream/listen to Handsome Ghost's new album Welcome Back here.

Find tickets to Flor/Handsome Ghost shows here.