Just in case you don't know, the Second Amendment states: "A well regulated Militia, being necessary to the security of a free State, the right of the people to keep and bear Arms, shall not be infringed." However, in this day and age, it seems like people are taking their "right to bear arms" a little too seriously.
On May 18, 2018, a 17-year old opened fire at Santa Fe High School. This resulted in 10 deaths and 13 injuries. Both guns the gunman used were registered to his father. Just in 2018 alone, there have already been 22 school shootings so it is obvious that America has a gun problem.
While most people see that there is a problem, others seem not to care. I am not going to bring politics into this because it doesn't matter if you are a Democrat or Republican - even though it is mostly Republicans who still defend their "right to bear arms" through all of this - everyone should realize at this point that the US needs gun control.
Let me repeat that for those of you who are triggered right now. The US needs gun CONTROL. Not gun ABOLISHMENT. If parents were to put their guns in a safer place, kids wouldn't have as easy access to getting guns. If all gun shops actually did their jobs and did background checks on their customers before being able to purchase a gun, A LOT fewer people would have a gun.
Another thing, if guns weren't so glorified, the want for a gun would decrease. What? Don't believe me that guns are glorified? Well, here is my proof.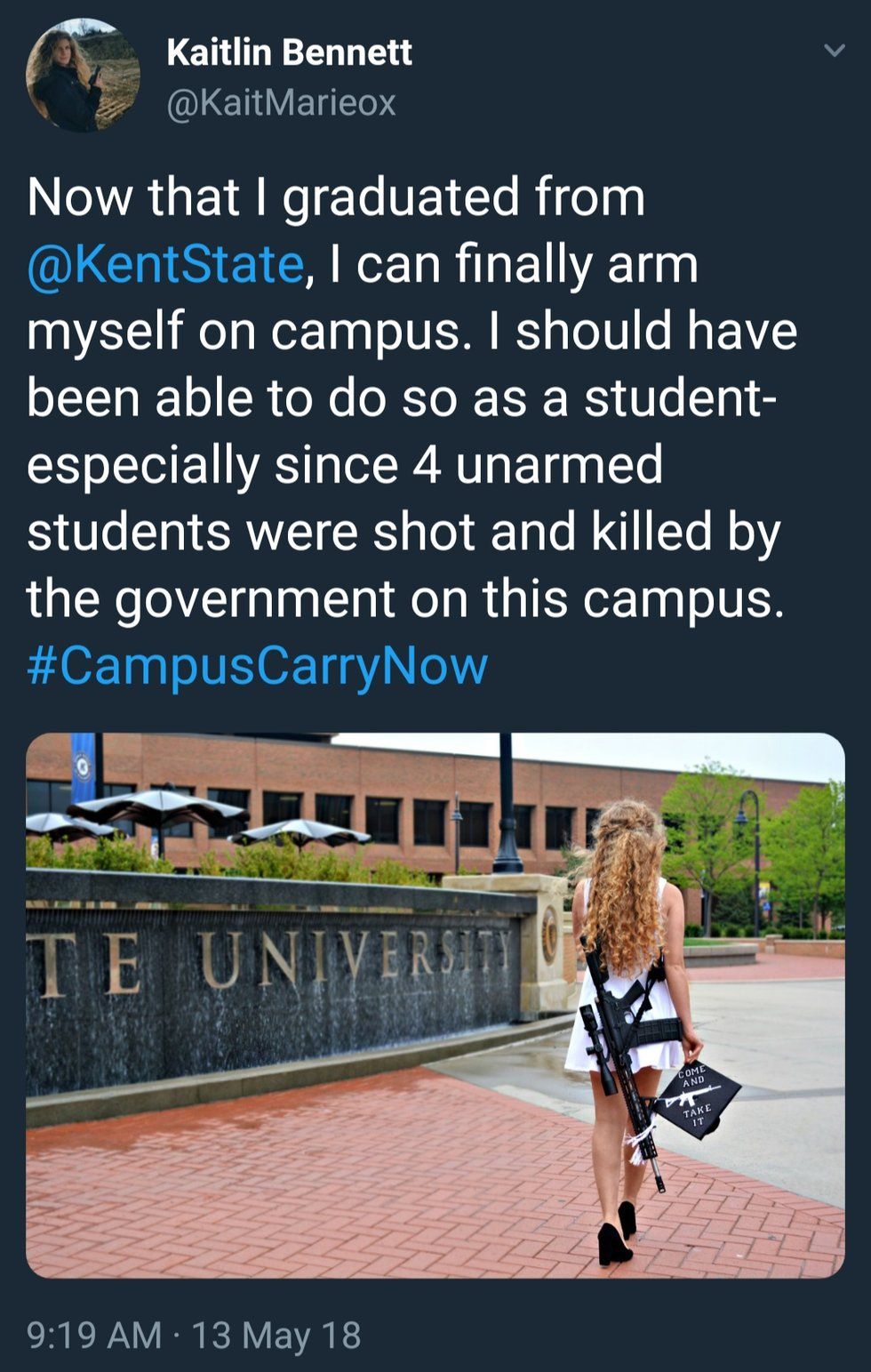 This picture goes with a series of graduation photos for a Kent State University student. See something odd about this photo? If not, you might want to zoom into the semi-automatic rifle she has strapped to her back! What kind of person takes their graduation photos with a gun on campus? Apparently, she does.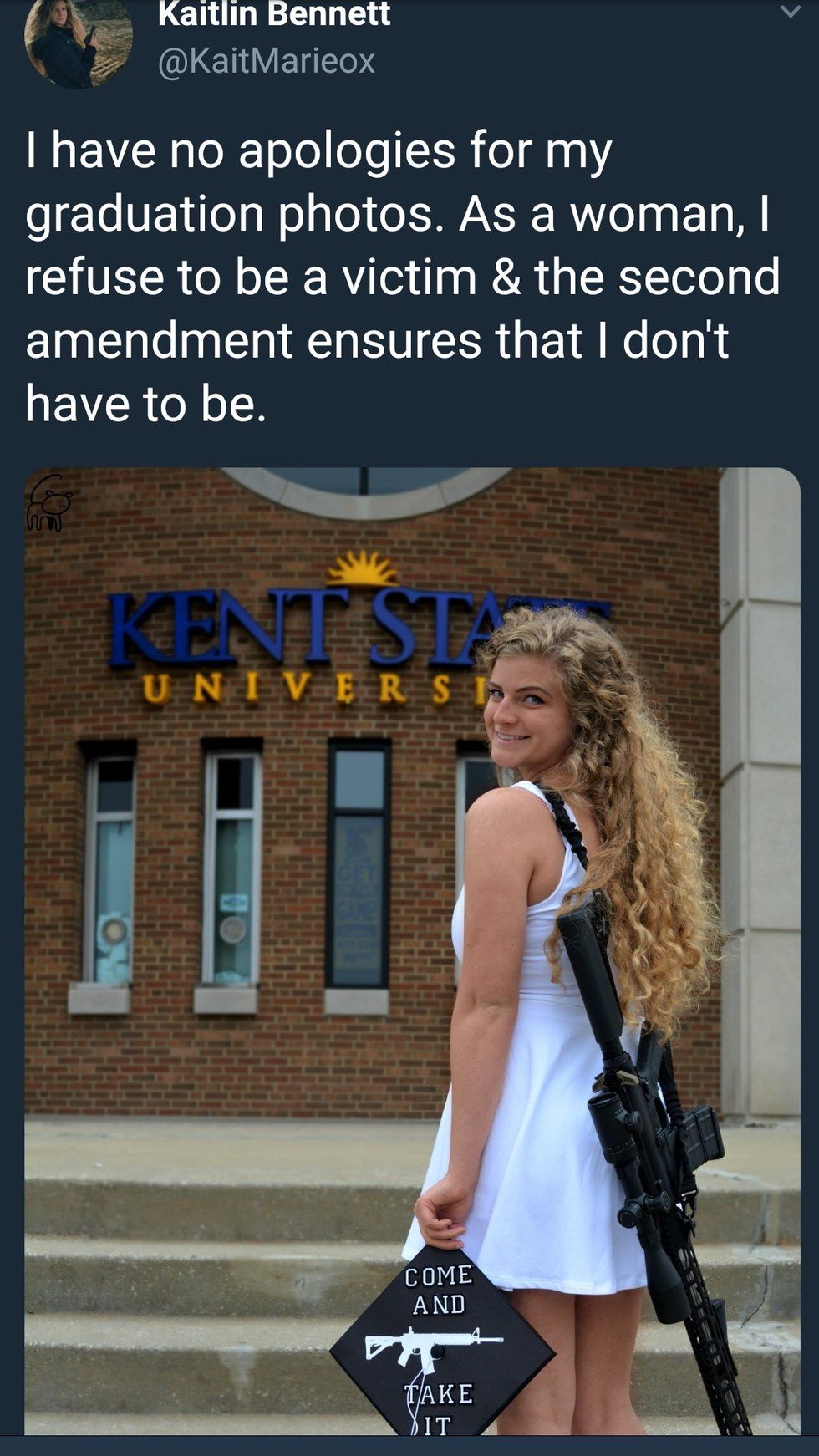 Kent State University was a victim of a
school shooting
in 1970 where 4 students were killed and 9 were injured. This was all the result of members of the Ohio National Guard opening fire on a crowd who had gathered to protest the Vietnam War. Knowing the background that this university has, she still had the audacity to show up on campus to take her graduation photos.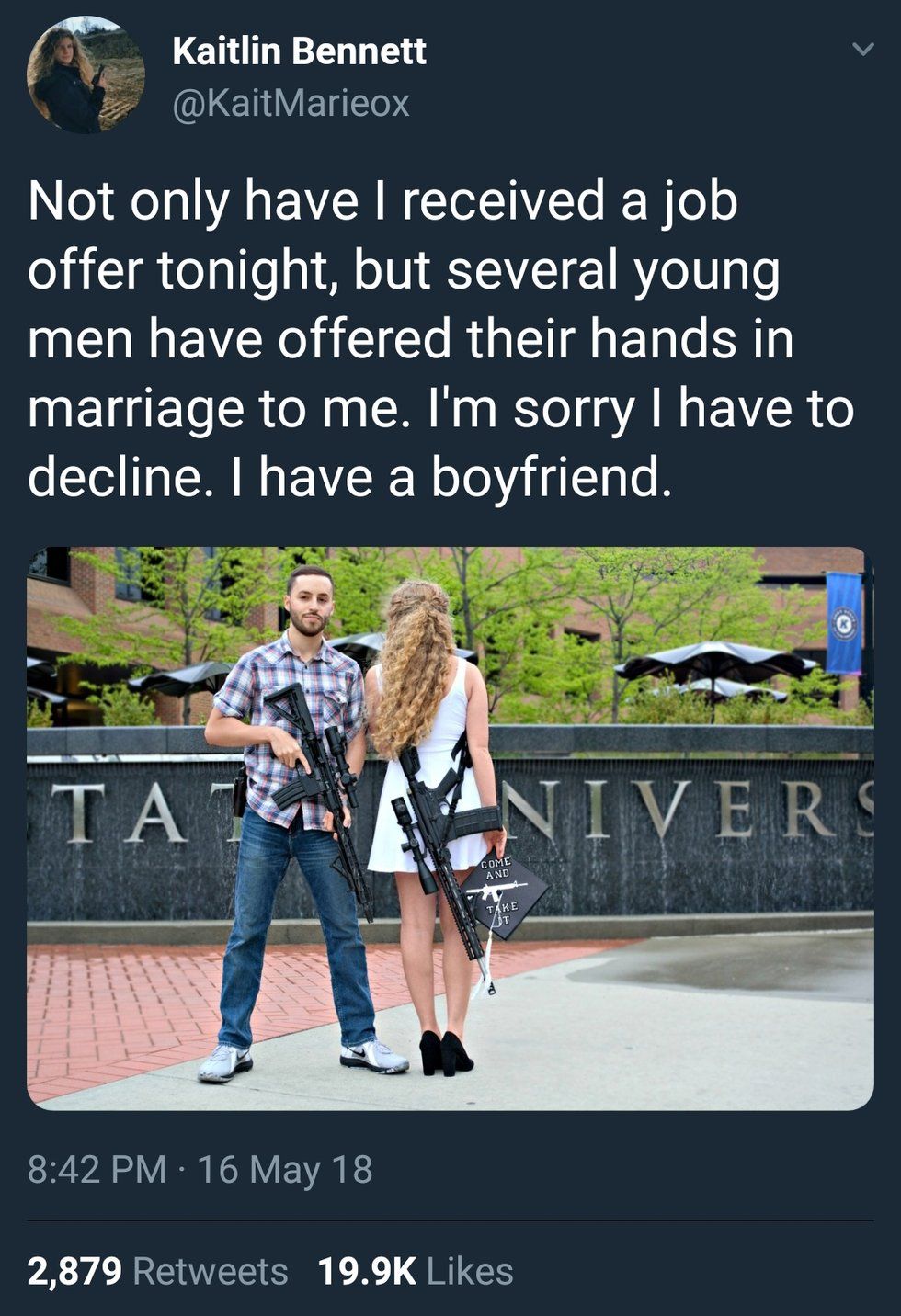 Using her very inappropriate graduation photos to brag about getting a job offers and marriage offers - whether those offers are actually true or not is beside the point - is just furthering my point that a lot of people actually glorify having a gun.
In all honesty, whether you are against guns or for them, having a gun on campus should never be allowed. The 22 shootings in 2018 already proved that.
Now, I am sure that if you have made it this far into the article, some of you have already come up with this defense: "Well, if teachers were armed, school shootings wouldn't happen" and I don't believe this to be true.
Arming teachers is a bad idea because who knows what could happen to the gun while in the classroom. A teacher could easily shoot a student accidentally, or a student could get a hold of the gun and make it that much easier for a school shooting to happen.
Another defense: "Well, I am exercising my right to the second amendment and no one can take that away from me!" Again. . . no one wants to take away the second amendment; just restrict it. You can exercise your rights but just know that all rights have limits.
Your right to free speech has a limit: You cannot shout "fire" in a movie theatre or "bomb" in an airport. The same with your right to bare arms. Go ahead, legally obtain a gun, but you don't need to parade it around and it is actually illegal to bring a gun onto a campus! Any kind of weapon actually.
Guns are a huge problem in the US among many other things. Some people don't want to admit that, but any person with common sense could see that with all this police brutality and school shootings, guns are not being used as they should be. People are taking advantage of their second amendment right and the more this happens, the more guns will continue to be a huge problem in our country.