Pokémon Go initially became famous when it first came out in the summer of 2016 and while the hype about it has died down significantly since then, there are still a lot of active gamers out there who are still on the go, trying to catch as much Pokémon as they can. Recently a Harry Potter version was teased out by Niantic to reel fans back into the interactive, location-based augmented reality game world.
Both Pokémon and Harry Potter are widely popular franchises, but now get ready to hunt down some murderers with this new app called "Gruesome Gotham" that allows you to go to six specific locations all around New York City and be a witness to actual killings that took place in the 19th century.

With your phone, you will be able to approach the scene of the crime and view it through the lens of the bystanders that had been a witness to the crime years ago. Animated figures reenact the scene on your smartphone's screen and bring murder to life.
You are able to explore the animated murder from any angle you please. Emily Hom, the spokeswoman for Tribeca-based Firstborn, which developed the augmented-reality app, explained, "You see the actual murder scene, with a spooky voiceover narrator, explaining the act of the crime," and you can even read more about each case in the "read all about it" newspaper section.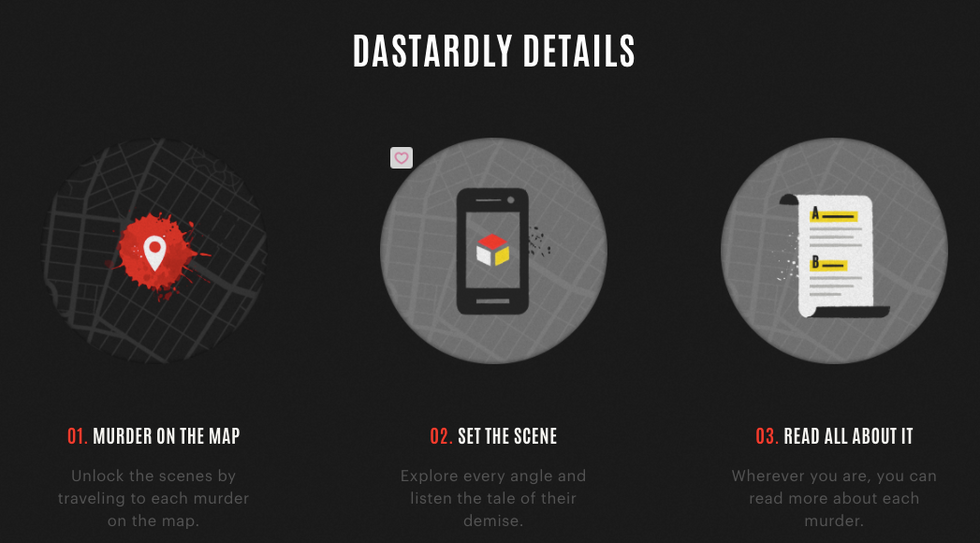 Locations include:
Little Italy
Greenwich Village
Broadway
Tribeca
Here is a trailer teaser for the new app from Firstborn. The game has already been released and is patiently waiting in the app store for you. Unfortunately, it is only available for iPhone users (super sad face for Android users — me included). The game is also only available for NYC users, but people in other parts of the world can still read about the different murders (of course, that's not as fun).
DISCLAIMER: Due to the violent and mature content of this game, it is highly recommended that only mature users play this game. (I don't wanna be responsible for the terrible nightmares you may or may not get from watching a real life, right-in-your-face gruesome murder).